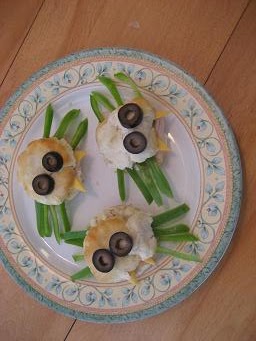 The two spiders muffin tin was a bit of an adventure this week.
The first challenge came in trying to create a sour cream spider web on the spider web nachos the way While He Was Napping did on hers. I couldn't make a fine enough line. After three attempts I laid some whole wheat spaghetti on the nachos and prayed that people looking at it would think it was a web.
The second challenge as trying to make the muffins look like spiders. I thought using green peppers would look okay and be a healthy thing for JDaniel to eat. He loved the muffins along with the turkey and cheese inside. The olives disappeared quickly. The green pepper legs were handed to me with the suggestion that I might like to eat them. JDaniel thought the muffins looked like spiders. My husband wanted to know why JDaniel was eating cats. Aren't cats a Halloween symbol? Is there a spider cat? Do they really look like cats?
The third and final challenge was trying to get JDaniel to try wearing the spider rings. He won't wear bugs on his fingers he told me.
The carrots and apple weren't a challenge. Thank goodness they went over with JDaniel. I was done with challenges for the day.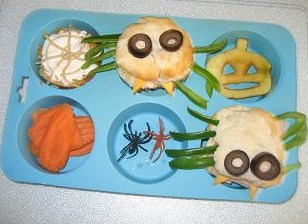 (Visited 247 times, 1 visits today)