When
Mom in Management
asked  her readers what our favorite Thanksgiving Recipe was, I immediately thought of the Ultimate Cheese Ball. I am so excited about being able to share it not only with you today, but with her readers as well.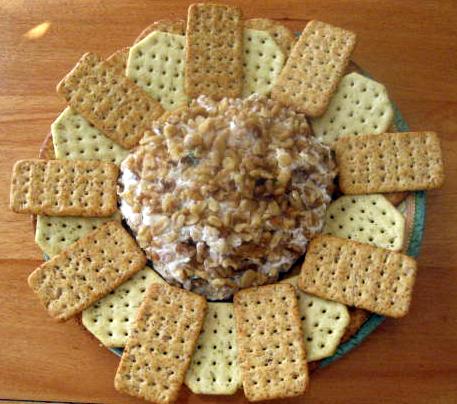 My sister Michelle found this recipe in a church cookbook years ago and she shared it with me. I really love how easy it is to put together and how wonderful it tastes.
Cheese Ball Recipe
Ingredients
2 8oz. pkgs cream cheese (softened)
1 Tablespoon Seasoned Salt
4 Tablespoons finely chopped green pepper
1/2 of 8 oz can crushed pineapple (drained)
4 Tablespoons finely chopped onion
1 cupped chopped nuts (I use pecans.)
Directions:
Beat soften cheese with fork or mixer. You will want it to have a cream texture.
Next stir in ingredients (except the nuts). Again you can do the mixing by hand or with a mixer. If you like bigger chunks in our dip, you will find stirring by and will give you a chunky cheese ball.  If you want the flavors mixed more thoroughly and  in smaller pieces, the blender would be your best choice.
Then you will form the mixture into a ball.  I like to set the mixture on a piece of plastic wrap. I can then use the wrap to help me form the ball.
Finally, you will need to roll in chopped nuts. If you want to press the nuts into the ball, you can rolls the nut covered ball in plastic wrap. Put on plate and cover with plastic wrap. Refrigerate one day. Serve with crackers.
You will put the cheese ball on plate and cover with plastic wrap. (Yes, more plastic wrap.) I like to refrigerate it overnight before serving it with crackers. It seems to let the various flavors blend together. That give the cheese ball a deeper flavor.
(Visited 155 times, 1 visits today)