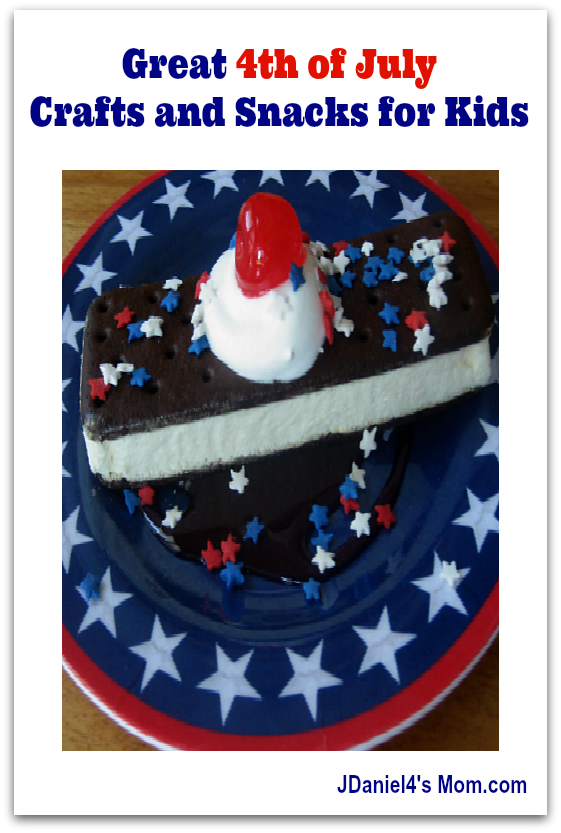 The Fourth of July has always reminded me of fun and easy foods. People just seem to want to a cookout or have picnics with great food that doesn't keep them tied to the kitchen. The Fourth of July ice cream sundae at the top of this post is such fun to put together and so easy to make. Actually, your guests make it for themselves.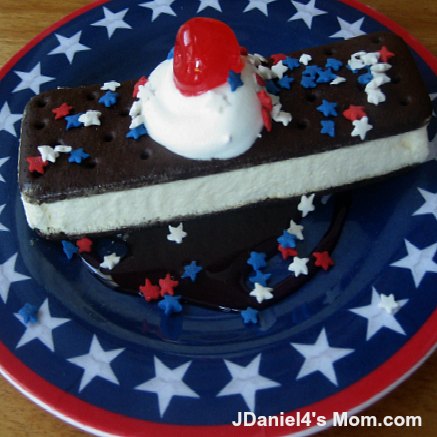 All you need to do is setup an area on a table with ice cream sandwiches, your favorite ice cream toppings, whipped topping, cherries, and sprinkles. Your guests construct the sundae with their favorite things.

I have been serving them on plates, but they could just as easily served in bowls.
Below you will see several 4th of July crafts and food creations I have shared here or on others blogs in the last week or two.
The cardboard flag mobile was part of a post I shared on Not Just Cute last week. The post was called Book Activity: Pledge of Allegiance. I shared a wonderful book called the Pledge of Allegiance and how it helped me explain the Pledge to JDaniel. The mobile now hangs in JDaniel's room under his ceiling fan. It is one of my favorite 4th of July crafts.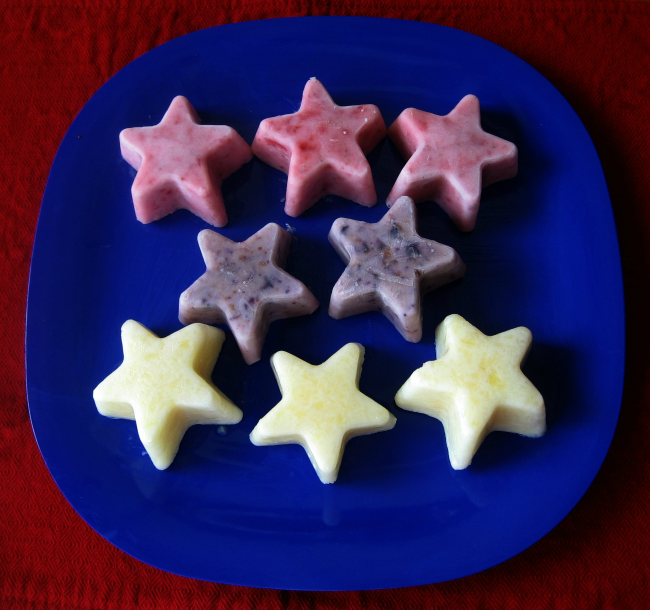 I have shared these Red, White and Blue Frozen Smoothie Stars with you in a muffin tin meal. The post on how to make them was a guest post I did for Come Together Kids. It was my post, but Laura did the layout for this picture. She did an awesome job.
JDaniel created a wonderful 4th of July crafts idea for chalk drawing. It was shared on Kids Activities Blog called Craft for Kids: 4th of July Fireworks! We had fun adding the ribbons on at the end!
You may remember seeing the post for Memorial Day Recipe- Fruit Flavored Watermelon Stars right here on JDaniel4's Mom at the end of May. I thought these stars would be great for the 4th of July too.

(Visited 334 times, 1 visits today)