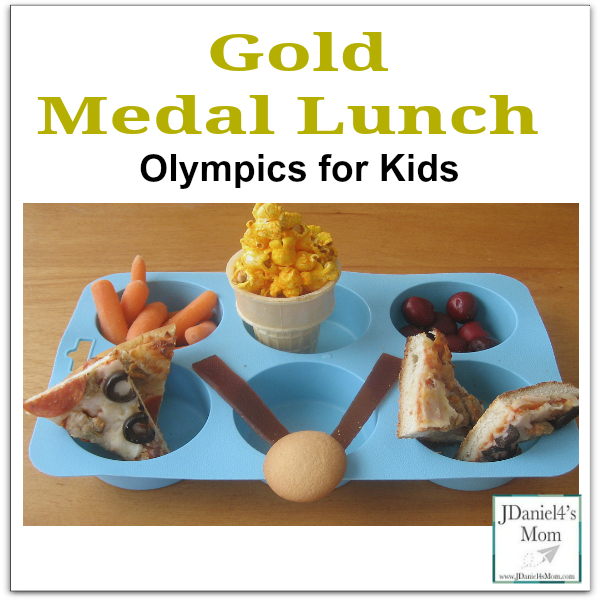 It feel like I haven't done a muffin tin lunch in ages. After creating Olympic related meals and snacks in the past few weeks, it was time for one  a muffin tin. If you like this lunch idea, please take a few minutes to visit some of my other Olympic food creations. There was an Olympic symbols bento and fruit filled snack Olympic rings.
Gold Medal Meal
All in all this is a gold medal meal. It is filled with lots of healthy things and a few treats. The top row has carrots, cheese popcorn in a cone, and cherries. Just below you will find pizza that we added black olives to, a vanilla wafer cookie with a healthy fruit strip ribbon and more pizza.
Hint: You could use broken pieces of cheese cover rice cakes or a small pile of goldfish instead of popcorn. Although stacking fish might be tricky in the long fun popcorn is easier to pile up.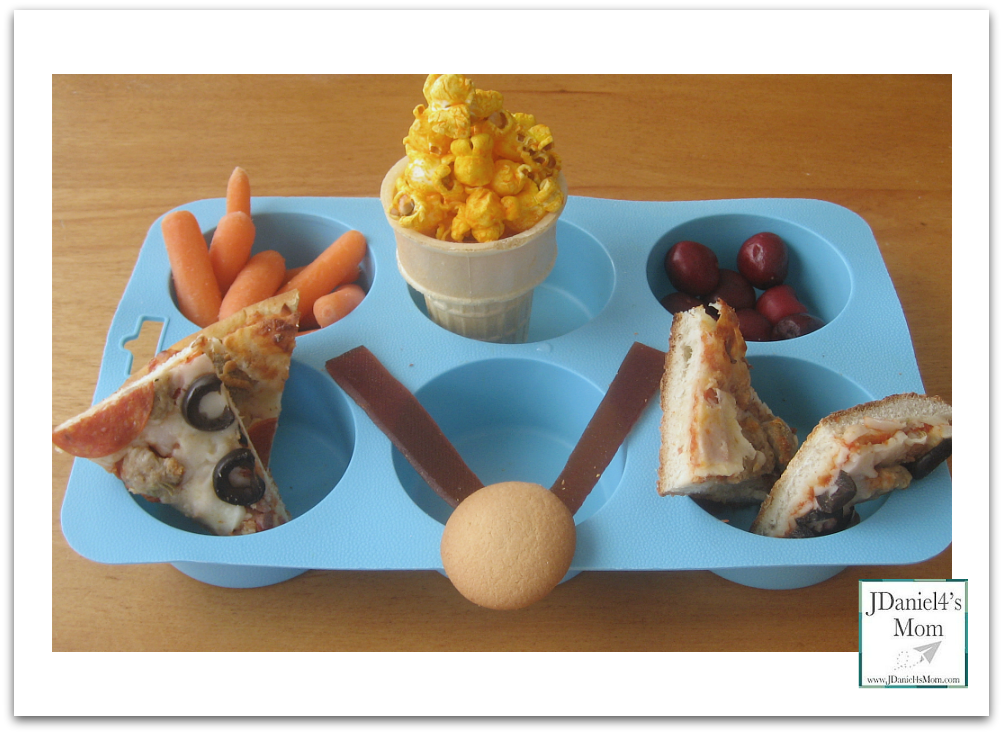 Olympic athletes need to have a little sugar and some carbs to give them energy to compete.  The ingredients in this meal would given them sugar and carbs as well as fruits and veggies. I am not saying that they would make the same choices I did when creating this gold medal meal. Maybe I am just trying to make myself feel less guilty. The ingredients were added to this meal to make it feel cute.
Warning: If you try to recreate the torch like effect in a cone with cheese popcorn, place each kernel carefully. One false move could cause the whole thing to fall over!  Then you will  have to start it all over again.
If you like this gold medal, here are some more Olympic related ideas for kids:
Kids Printable Olympic Passport
Winter Olympic Themed Graphs and Diagrams
Exploring the Olympic Value of Friendship
Exploring the Olympic Value of Respect
Exploring the Olympic Value of Excellence Citizenship

(Visited 559 times, 1 visits today)