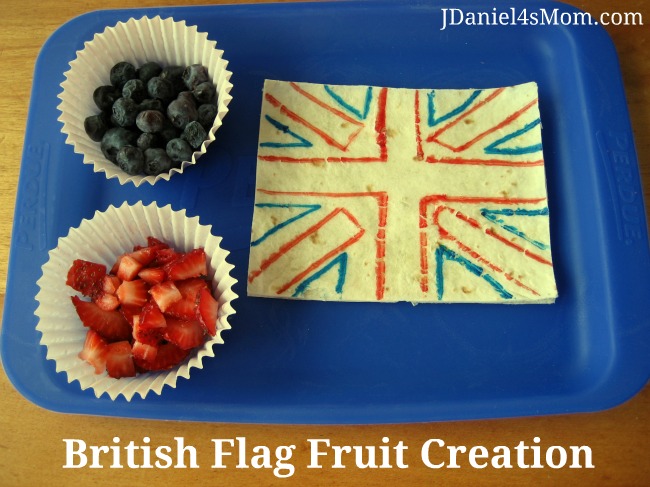 After sharing four Olympic related meals and snacks, I thought JDaniel and I would build the Union Jack fruit creation this week.
The Union Jack or British Flag was easy to draw on a tortilla using a food marker. I wasn't sure how they would do. This is really the first project I have really used them on.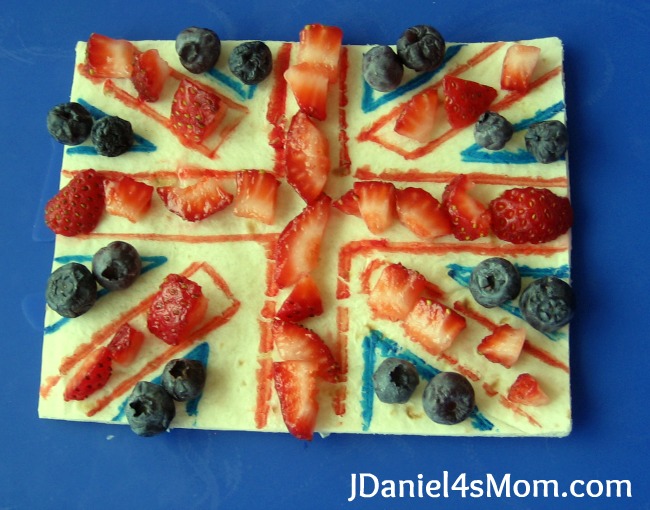 Blueberries and strawberries have been in our fridge all summer. They are both favorites! Their blue and red colors made them the perfect choices to decorate the flag.
The flag turned out well in my opinion! I just love that the flag is filled will wonderful fruit. I am always looking for fun ways to incorporate fruit into meals and snacks. ( I bet you are doing the same thing at your house with your children.)
 As predicted, JDaniel loved the fruits! He did surprise me by saying the tortilla had to be saved for later. It was too much!The flag tortilla disappeared at breakfast the next morning.
Last week I shared an Edible Olympic Torch on the Kid's Activities Blog. I thought you might enjoy seeing a glimpse of it here. If you would like more information about it, please head over to the Kid's Activities Blog.
Today
I am sharing a non-Olympic post on Growing a Jeweled Rose on
Making S'more Pancakes
to celebrate National S'more Month. Did you know this month was
National S'more Month
? If your kids are like mine, they are totally going to love them!
Here are some more wonderful food creations I think your kids will love:
Star Wars Food Creations for Kids
Fun Foods – Cookie Cutter Food Creations with Watermelon
Kid Friendly Recipes- Teepee Snack

(Visited 452 times, 1 visits today)