Today is one of my two places at once days. The amazing Shell of Things I Can't Say  invited me to come and share something that is on my heart on Her blog. To say that I was thrilled to be asked doesn't full explain how I felt.
Shell is a big blogger with her feet on the ground. Her blog posts are filled with heart, humor, and love. While I was just content to be a her friend, I am over the moon about sharing my words in her world.
If you get a chance, please stop by and read them.
_ _ _ _ _ _ _ _ _ _ _ _
This week I am going to share a wonderful children's book called The Gingerbread Man Loose in School by Laura Murray.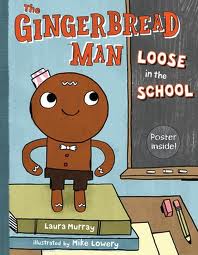 This wonderful tale of the gingerbread man searching his school for his class is such fun. He wanders the hall looking for them and gets to meet various school employees and see where they work. The school nurse, coach, principal, and art teacher are all visited.
Finally the gingerbread man finds them and finds that they were look for him.
This books is presented in a comic book style. There are multiple areas of text and illustrations on the page. JDaniel didn't have trouble following this story though.
What did we do with the book The Gingerbread Man Loose in School?
Gingerbread Man Snack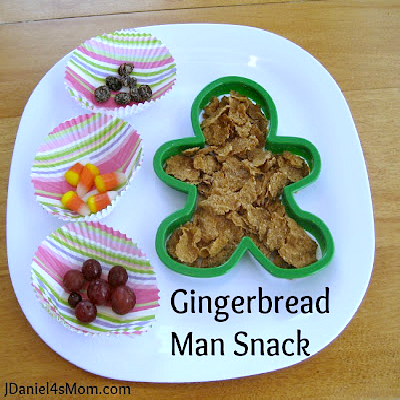 A gingerbread man cookie cutter filled with bran cereal and a few items to decorate him with was JDaniel's afternoon snack on his first day of school.
The raisins taken out of the bran cereal, a few candy corns, and a couple grapes were the decoration options.
JDaniel loved each and every item in this snack. He did not feel like creating a gingerbread man with the decorations though. He did inhaled all of the food. A few stray bran flakes were left on the floor, but that is all.
Reviewing Body Sections Game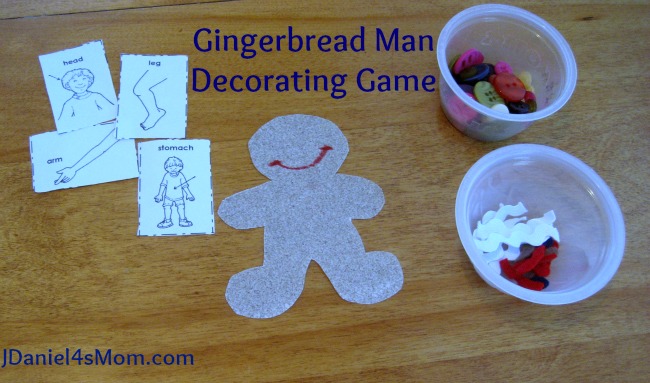 JDaniel and I sat down to review four sections of the body using word/picture cards, a sandpaper gingerbread man, and some items to decorate with with.
I sounded out the words on each card after he told me what body part was pictured.  When we had reviewed each card a few times and he had found that section on his body, he had decorated that section.
Here are some of my favorite Posts from last week's Read.Explore. Learn. link up:
Academy at Thousand Oaks
linked up this amazing Viking boat after reading books on Vikings. JDaniel saw this boat and said, "Wow!"
This amazing Great Wall of China was created as a way to explore books
Teach Beside Me
 had read on China with her children.
No Twiddle Twaddle
made these amazing sensory bottles for each of the four season to go with a Kevin Henkes book Old Bear.
How have you explored children's books this week?

(Visited 436 times, 1 visits today)