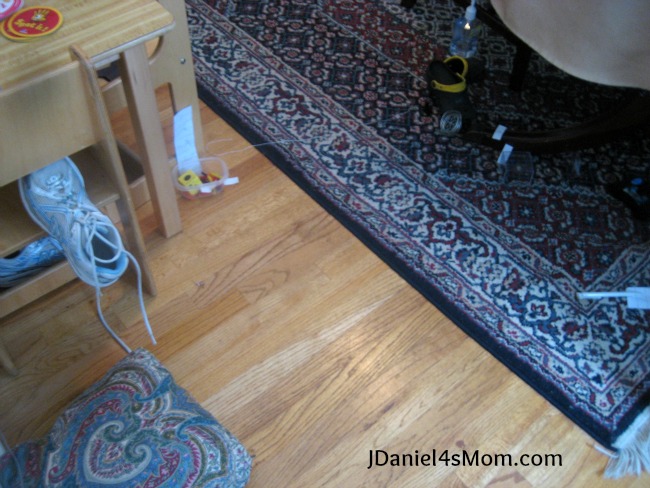 There has been a lot of talk about alternative energy lately. JDaniel must have heard some of it,  because he decided he needed to create his own type of alternative energy. I decided that is would be a great time to create an invitation to play.
In some way my sneakers are the originating power supply. The shoelaces under the table connect to an old plastic applesauce cup filled with treasures. Apparently all that old junk that is in your junk drawers is a great invitation to play. It could be a  a vital part of the alternative energy gor traveling better. 
I really tried to understand how how they helped the process, but I didn't quite get it. Odd toy pieces and junk may be what is needed to lower gas prices. I am all for sending them to whoever would be in charge of bringing this ideas to life. There is a ton of it all around my house. I may need a refrigerator size box to hold all of it.

A simple piece of string connected to a gyroscope and a croc that is one size too big for JDaniel are the next part of the energy process. In the demonstration I was given the gyroscope wasn't moving. I was told it is filled with potential energy. Why kinetic wasn't used I still don't understand? It would have been fun to see the gyroscope moving.

Yes, JDaniel seems to understand what potential and kinetic energy is. He says he learned it from Ruff Ruffman on the show Fetch! on PBS.

Little pieces of paper taken out of the Bad Kitty alphabet game I made last week were spread all over the floor. I am not sure they are part of the alternative energy. They may just have been part of the creative process of spreading treasures all over the floor.
The bottle of hand sanitizer by the croc doesn't seem to have a purpose. Maybe creating alternative energy sources is a messy business the creator of this type of energy didn't seem to know. Once the demonstration was over he needed to use human energy to clean it up. There was no alternative.
This post is linked to Alphabe Thursday.

(Visited 113 times, 1 visits today)