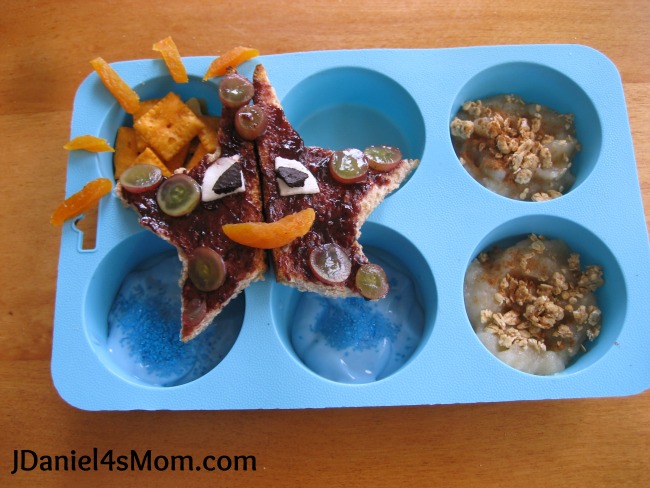 Yes, I know I am a day behind. I usually share a food creation with you on Monday, but this week I am running a little behind. I did make a fun starfish muffin tin meal for kids to share with you.
We were at the beach most of last week and I am a still trying to get back on course. We had a wonderful time away, but now I am trying to get back to our regular routine. I have been doing laundry, grocery shopping and housekeeping like crazy to get on top of things.
That said I hope you will enjoy my starfish and beach themed muffin tin. It is filled with some of JDaniel's favorite foods.
Starfish Muffin Tin Meal for Kids
He loves all kinds of cheese and cheese flavored products. Cheese crackers were his snack request for the beach trip. I try to bring a bag or a box of everyone's favorite snack to the beach. Amazingly enough we had leftover cheese crackers in the box to use for this lunch when we got back from the beach. The cheese cracker sun is surrounded by strips of dried apricots.
The starfish is a piece of toast covered in blackberry ham, red grapes, an apricot smile and Oreo eyes.  I peeled the filling out of an Oreo and cut it into quarters. Two of the quarter are the whites of the Starfish's eyes and cookie pieces are his pupils.
The starfish is dipping his toes or lower arms. (Starfish don't really have toes.)  into blueberry yogurt with blue sprinkles in it. Blue is JDaniel's favorite color right now. Blue foods make him really happy.
Beside the starfish is the sandy shore or beach. The beach is made of homemade applesauce sprinkled with granola and cinnamon. When the starfish steps onto the beach, he may complain of the roughness of the sand. JDaniel on the other hand loved all the components of the beach and ate them all without a fuss.
More Meal for Kids Ideas
Apple Chicken Salad Bento Lunch
Minion Lunch with Blueberry Overalls

(Visited 48 times, 1 visits today)