We are excited for the opportunity to share our Time to Play with you as a guest post on JDaniel4's Mom. We both share a love of books and how to incorporate them into our children's lives through play.

Balancing life with a 2, 6 and 19 year old can take to prethinking to make sure everyone has their playful moments with Mom.  Since we share share a weekly ideas of after school activities on The Educators' Spin On In It.  I want to share with you how important it is to take the opportunity for some afternoon play with your child after school.  Luckily my two year old has been napping as we come home from school so, we get a chance to have some one on one time together and then the girls love playing once homework is done.  Children don't get anytime at school to just be kids and playtime is such an important role in childhood.  



The Educator's Spin on It

Now here's comes the fun!

 

Did you see JDaniel4's recent
Own Post
?

 

 

We loved it
especially since it's
Owl Week
at The Educators' Spin On It!

 

I'm excited to share with you our playful afternoon moment we had!

 

We've been spending more time walking home from school together.

 
We've even made some
fun discoveries
of plant life and animal life! 
We brought home tons of leaves from our walk one day and decided we were going to do something with them together.  We sat and looked at the leave together and sorted the leaves.  Something I've observed about my daughter is that she likes to categorize things during playtime.  Even as a toddler she would find pairs of things and line them up.  It doesn't surprise me now that she's in love with math. I'm so glad that I've observed that about her play over the years.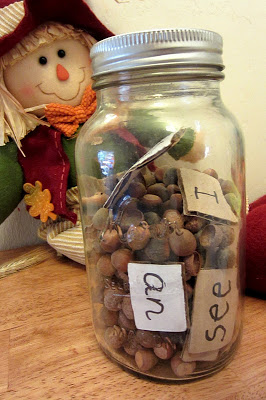 Link below is an affiliate link.
While playing with the leaves she had a moment where we remembered a special book,Look What I Did with a Leaf! by Morteza E. Sohi  that creates pictures from Leaves.   
She ran inside to grab the book and then she came up with the idea of creating an owl from the recycled cereal box.

 

So we gathered all our supplies and got to work.

  She glued on the feathers, beak, nose and wings.   

Once the owl was dry it was showtime!

 
At the very end of the day she used the owls she made to put on an Owl Puppet show to practice her lines for the Owl Play that we were practicing for.

 

Sorry I was part of the show so now pictures from this part but it was such fun to talk in character with her and just see into her imagination.

 

Plus what a fun way to play with words to get ready for her performance!

 
 I was so proud of my little owl! We hope you'll stop by for more Owl Inspired Fun at The Educators' Spin On It! 
Kim is the co-author of The Educators' Spin On It. As an early childhood teacher and a mom of three, she's learned many tips and tricks of parenting and teaching along the way in the past 20 years. She shares her "Educator's Spin" on parenting issues and how make learning playful and playtime meaningful. You can also find The Educators' Spin On It on Facebookand Pinterest.

(Visited 136 times, 1 visits today)