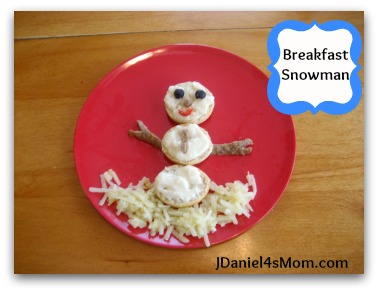 Most of last week JDaniel was down with a cold.  He had very little energy and his nose was running like a faucet. Colds don't tend to take him down. This was the first time in a long time he seemed really sick. I decided to try to make him feel a little better by giving him a lunch that was filled with breakfast foods. We love breakfast foods at our house. They are always met with great enthusiasm by JDaniel.

For this meal I decided on a snowman theme. JDaniel has been hoping that we will get snow sometime this winter. While many of you have already had tons of it fall where you live. We are looking at days that are still in the high forties and sometimes high fifties here in South Carolina.  The only snow he may get to see is in the house so, I have been looking for ways make it snow inside.

The snowman contained breakfast foods that were new to JDaniel. He hasn't had milk gravy before. I actually had never made it before. It came out a little thicker than it should be, but it was delicious.  Even with blueberries, sausage and a tiny bit of strawberry mixed with it on biscuits.
I know because JDaniel came into the kitchen to look at the lunch, but announced he wasn't hungry and didn't want to lunch.  As I mentioned I love breakfast foods so, rather than covering the meal and giving it to him later I ate it.  It might not have been the right thing to do, but it was really good.

The sausage arms and hash brown snow were delicious too. I was in breakfast foods heaven. Yes, breakfast foods are truly heavenly to me.

When we was ready for lunch, he announced he just wanted a cheese taco and cantaloupe.  That is exactly what he got. Since he likes cheese tacos for breakfast along with fruit, I guess he ended up with a breakfast foods meal anyway.
If you like this snowman food creation, here are some more food creations you might like:
Breakfast Rice Recipes
Chocolate Covered Cookie Balls
Teepee Themed Snack

(Visited 98 times, 1 visits today)