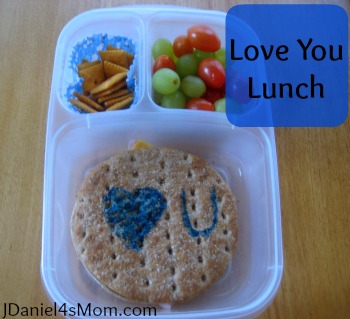 Many of you have commented that you don't have the time or the creativity to put together a lunch for you children the way I do.  Putting to together lunch recipes for kids lunches doesn't have to be hard. It can be as simple as using a food marker to write a message on a sandwich.
There are mornings that I don't have time to pull out my cookie cutters or think of a fun theme for lunch. I barely get JDaniel's Easy Lunch Box and thermos pulled out. The super simple turkey and cheese sandwich is throw together and I rummage through the fridge for some fruit and vegetables.
JDaniel is fine with a regular lunch especially if I add in some cheese crackers. (He loves them). I still want to do something special for him though so, I reach into my jar of muffin liners and grab one to dress up the compartment with the cheese crackers. Then I whip out a food marker and write a quick message on the bread of his sandwich.
Lunches Recipes for Kids Get Flair with Food Markers
The message on this lunch was Love U. It took only a couple of second to put on the bread, but JDaniel was thrilled to find it in his lunch when he sat down to eat it a Lunch Bunch.
I found the food markers at A.C. Moore, but I think you can find them at most hobby stores. The muffin liner I got at an after Christmas sale for 40 cents for the package.
Creating fun lunches doesn't have to take a lot of time or require lots of special tools. I think it makes lunch fun for my son and that is why I do it.
Here are some lunch recipes for  kids creative lunches:
-sandwiches cut into shapes with cookie cutters ( I save the scraps to make croutons.)
-toothpick kabobs of fruit or vegetables.
-muffin liners in bento boxes
-messages written on ziplock bags
– messages written on food (Bananas skins are great to write messages on.)
-napkins leftover from birthday parties
– a small bag of sprinkles to put on yogurt or apple sauce
– stickers added to a napkin
You will find more lunch ideas on my Food Creations board on Pinterest.
What are some lunch recipes for kids you have created?

(Visited 78 times, 1 visits today)