Sneezy the Snowman by Maureen Wright is the tale of snowman that doesn't like to be cold. He has a lot of trouble when he attempts to warm up. A drink of hot cocoa, time in  hot tub, and sitting by a fire all make him melt.  The children in the story have to keep making him over and over again.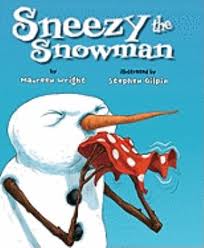 The links below are affiliate links.
The children also try to share their winter clothes with Sneezy the Snowman
. They end up feeling cold and he ends up feeling hot. The story ends with everyone going to get ice cream.
JDaniel loved the rhythmic lines and  rhymes in this story as well as the text that repeats every time he melts.
What did we do to explore Sneezy the Snowman?
Observed Snowman Ice Cubes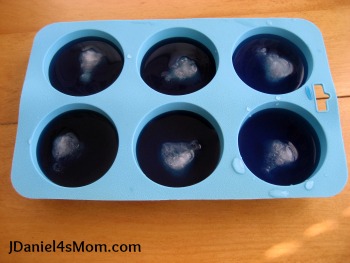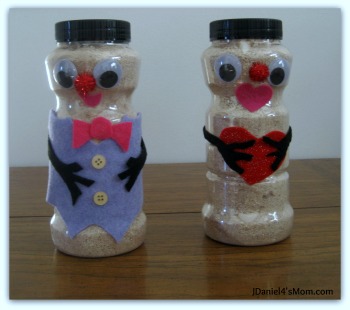 We made snowman shaped ice cubes in a special ice cube tray. When they were frozen, I placed them into a silicone muffin tin. Each muffin cup was filled with water dyed blue. I thought it would make the snowmen look like they were encased in icebergs.
I had hoped that we would be able to see the snowmen in frozen in the disks, but they were barely visible. I probably should have made the snowmen with blue water and the disks with clear water.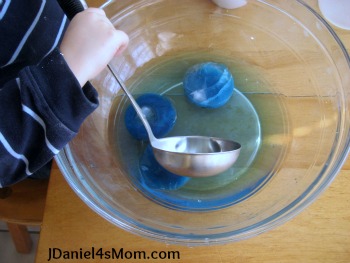 JDaniel didn't seem to care. He  had a blast playing with the disks in a large bowl with kitchen utensils. It was fun to watch them melt the more they were played with. This was a great way to explore how solids become liquids.
Made Snowman Soup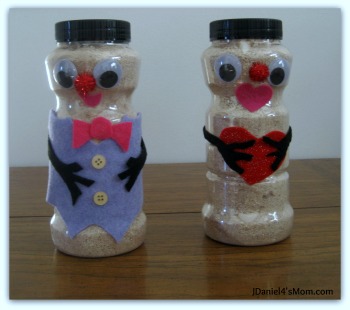 I really like to give JDaniel's teachers homemade gifts on holidays. We made snowman soup drink mix to give  his teacher and the teaching assistant in his class. Prior to making the mix I decorated two peanut containers to resemble snowmen to hold the snowman soup. The recipe we used made tons of snowman soup mix. It took four containers to hold it all. We ended up digging one out of the recycling bin and another bottle from one of the snowman soup ingredients.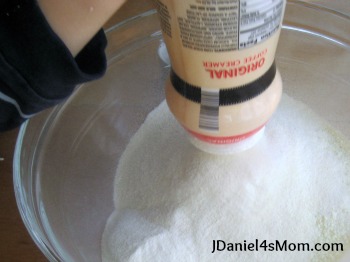 JDaniel dumped 1 container of coffee creamer, 1 can of instant chocolate drink mix, 2 cups of powdered sugar, and  5 cups of powdered milk into a bowl. He had the best time mixing all of the ingredients together. We used a large bowl to keep the ingredients in the bowl.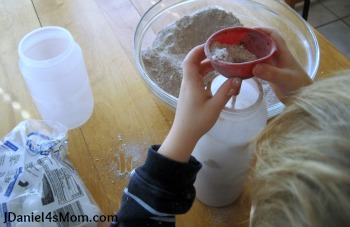 Once everything was thoroughly mixed, the soup was placed into containers. I put the snowman soup mix into the decorated bottles. JDaniel used a funnel to add the soup mixture into the now empty coffee creamer container and another bottle we had on hand.
We both added  large marshmallows into our bottles periodically. I think I added them half way up and at the top. JDaniel added them randomly through his containers.
How have you explored books this week?

(Visited 1,762 times, 1 visits today)