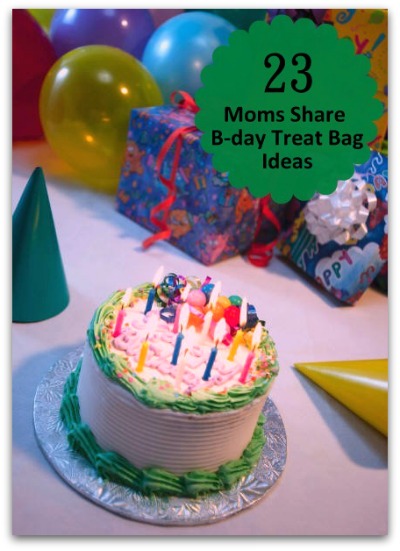 JDaniel's birthday party is on Saturday and I really want to put together really fun treat bags that the kids will love and that won't cause parents to groan when they see its contents.  JDaniel has been a wide variety of things as a guest at his friend's birthday parties. I had some thought of my own, but I decided to ask the mom bloggers on the Kid Bloggers Network what the like and don't like to find in treat bags.
Many shared their thoughts on treat bags and several shared great party guest gifts they have given.
Here is what they shared-
Jenny  from The Good Long Road shared:

My mom made reusable treat bags from Winnie the Pooh fabric we had for our Pooh themed 2nd party for one of the boys, and we put teddy grams in them. We had also thought about adding gummy bears, but their were little ones coming and we thought teddy grams were better.
Cari from Time for Play shared: 
We like to give a book that goes along with our birthday theme, I get them through Scholastic. The worst thing is whistles or anything noisy. They are terrible for the drive home after the party. Those usually disappear when we get home. I went to one party where they put air horns in the gift bags!! Ugh! That's just mean!!

Erin from The Usual Mayhem shared: 
For younger kids, I always include a tub of Play-Doh. It is inexpensive and always a hit.
Deborah
from
Teach Preschool
shared:
CD'sThe worst is an apple or banana slices! ( I can't imagine giving banana slices. They would be a mess.) Sensory or messy materials like Play Dough, finger paint, tattoos, and makeup can be messy too.
Laura  from Come Together Kids shared:
One year I burCDswith my son's favorite songs.I made little labels and covers to put on them.
Ticia from Adventures in Mommydom 

shared :
I always like to give something slightly bigger to go with the party, rather than lots of little things. For a pirate party a few years ago we did a bandana, piract patch, and a foam swords. All told we spend $2 per kids.
Erica of What We Do All Day shared:
The worst is tiny plastic toys. I love the idea of giving a book as a party favor instead of a bag filled 
with
 lots of different items.
Oh, and once my 3 year old got a homemade superhero cape as a birthday treat! All the kids got capes with their initials on them. It was awesome. That mom was waaaaaaay more ambitious that I am.
Jill of Blessed Beyond a Doubt  shared: 
A gift certificate to an ice cream place or some place kids like to eat. They can get an ice cream or something little with it.
Chelsey of Buggy and Buddy shared:
My daughter was just at a party and her 'goodie bag' was actually something the mom and daughter made for all the kids. It was a silk scarf wand and a homemade little bag.
Cathy 

of the Nurture Store shared: 
We like to keep birthday treat bags simple and make something at the party for the kids to take home with them. At our 'baking' party the kids took home the cookies they had decorated.
Becky shared: 
I really hate cheap plastic trinkets so, I went to a clearance section at a bookstore and bought 25 different books. Each for about a dollar. We set up a library on a table outside and as the kids left they could pick out a book to take home. Parents repeatedly told me it was the best party favor ever. (
Crystal
of True Aim and I both think this is a wonderful idea!)
Christine
of
Scribble, Doodle and Draw
shared: 
I have to agree with others above books are great, baking, stickers, play dough, bubbles, but the worst is the plastic toys. As well we have gotten into problems with having boy-girl twins because my son would get cars and stuff which of course my daughter wants and she would get candy and makeup which then he would want. So if possible gender neutral toys that are the same would probably be appreciated especially in families that have siblings attending.
Jamie of Frogs, Snails & Puppy Dog Tails shared: 
We made homemade soap for my son's first bday last yr and homemade lip gloss. I put them out in a try and had decorated paper bags next to it with a sign to make a goodie bag to go. For my older son we did Oreo pops one year and homemade cookies and soap another because it was such a hit at little brothers party.
Sujua of
Blog Me Mom
shared:
If you don't want to go the homemade favors route and not a big fan of plastic trinkets there is always these wonderful "create your own kits" which are always on clearance at the craft store and at Target Create your own owl, squirrel, hedgehog etc..There is always a kit like that that would work as a favor.
Monko of Taming the Goblin shared: 
We hired a place for goblins third birthday and they provided the bags and they included plastic whistles. Needless to say nearly every mum sent me a smack down email for their horrendous trips home with their kids tooting the whistles the whole way. Oops!
The best part bag we have had want a bag, it was just one thing, a sticker book. All you needed. It was great!
Anna of the Imagination Tree shared:
I usually make homemade play dough in a jar with a cutter. I've also sent home a plant pot which the kids had painted at the party and planted seeds inside, sticker books, picture books etc. I hate small plastic treasures with a vengeance!
Kat of Creative Playhouse shared:
I think homemade playdough, pots of glitter and tubes of glitter glue, notebooks and pens, stamps and mini ink pads, and  books are great.
Kristen of  Busy Kids= Happy Mom shared: 
I love it when birthday party activities become part of the goody bag. We made rocket "jet packs" and those went home with the boys. We usually try to give 1 good thing- like a Lego mini figure instead if a bunch of small stuff. I also thing that consumables are great (candy, school supplies , etc). That stuff doesn't linger around for too long.
Gina of East Coast Mommy shared: 
I have a collection of 30 ideas here for treat bags in this post. 

Cerys of Rainy Day Mum shared: 

I put in craft kits themed on the party theme with a combination of stickers, paints, cardstock, glitter etc…
Mari  of Inspired by Family Magazine shared:
We love goody bags! If you're making paper treat bags don't stick a cookie, yummy bread or cupcake in it without place in it in a baggie or wax paper otherwise the butter/grease will seep and it doesn't look too cute with a huge butter stain on it.
Jacquie of KC Adventures
We've included practical but fun things such as fun hair accessories, school supplies that fit our party theme, shoelaces. Both of my kids also have enjoyed including small science or magic kits and mini notebooks with mini crayons.
I will be sharing the treat bag I created for JDaniel's birthday party next Tuesday in  post on his birthday party. 
Disclaimer- Not all bloggers that responded left their blog name. If I was given their blog name, I linked their comment back to their blog.

What do you like or dislike finding in birthday party treat bags?
(Visited 10,150 times, 1 visits today)