I rarely ever have JDaniel wearing white. He can be a messy eater, crafter, and player. At the end of the day I can usually point to his shirt and know what he has had to eat and what he did during the day. There is usually a few magic marker spots, paints splotches, dirt streaks , grass stains, milk drips marks and food stains all over it. That is why I think bold moms break rules with whites. The rule with most boy mom's I know it avoid white.
White clothing can just make the stains in his clothes stand out more. Seriously his clothes at least look better as he goes through the day if they have pattern or designs on them. At least I am not tempted to change them as often.
Last Thursday I decided to try to put the bottle of Tide Bright +White  that I had been sent to the test. I dug through JDaniel's shirts to find the one white t-shirt that he owns. It took a little bit of looking to find it. The shirt was at the very bottom of a pile of t-shirts. JDaniel was happy to wear it. He loves the dinosaur on the front of it.Once he was dressed, we started the test.
Bold Moms Spot Collecting Test Number One 
This test was done while cleaning out the shed in our backyard. JDaniel loves to help sort through things and he jumped into this task with both feet. When we finished cleaning out shed , his shirt was spotless. I don't know how he kept it clean. Well, it may be have protected a little by the hooded sweatshirt he had on. It was cold in the shed. I did unzip it so the shirt was at least partially exposed. Even that area stayed clean.
Bold Moms Spot Collecting Test Number Two
This test was done in the garage. We have several junk boxes on shelves in the garage. My husband strongly believes many of these items can be used later on , but some really just needed to be place in the giant garbage can in the garage. Our hands got really dusty and dirty doing this test. Usually JDaniel will wipe his hands on his shirt, but he didn't this time. The shirt still remained clean.
Bold Moms Spot Collecting Test Number Three
Coloring with markers is a guaranteed way to add spots to a shirt. The markers didn't let me down. Some how JDaniel got blue marker spots at the bottom of  his shirt. I didn't catch if he had swung his arms while holding marker or how they got there.
Bold Moms Spot Collecting Test Number Four
Jelly has always seemed to drop from the bread JDaniel is eating right onto his clothes. Apparently the grape jelly leapt from JDaniel's bagel right onto the left side of his shirt this time. Once he  noticed it there, he tried to wipe it off with his hand.  
That gave us spot number two.
Bold Moms Unplanned Spot Collecting
JDaniel had a bloody nose in the afternoon  and tried to stop it with his hand. Rather than wipe his hand on a towel, napkin or tissue he rubbed a small amount of it on his shirt while I ran for the tissue he didn't think he wanted or needed.
Spot Collecting Test Number Five
When I dug JDaniel's shirt out in the morning, I noticed a few orange streaks on it. They look to have been left from an earlier spaghetti dinner. I decided to serve JDaniel spaghetti and see if he would create new tomato sauce stains on the t-shirt.
He did just that. He ended up with a number of new stains on his shirt. JDaniel would have had more, but he decided to use a napkin to wipe his face instead of his shirt. That may have been due to the fact that his shirt has short sleeves. If it had long sleeves, he might have added stains to the sleeves.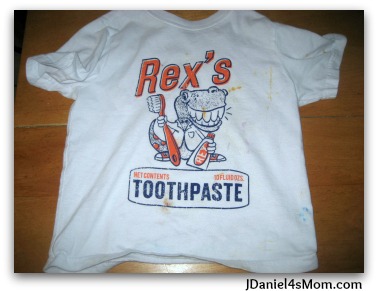 Here is what the shirt looked like by the end of the day. It isn't badly stained, but blood, marker and jelly stains can be tricky.
Bold Moms Stain Removal Test
Later that night I washed his now stained shirt with Tide Bright+White to see how it would do. It did a really good job. All the new stains were removed and the previous tomato sauce streaks had faded a little.  The shirt actually looked a little brighter too.
I am not sure how often JDaniel will be wearing white clothes this spring, but I am thankful that I have a wonderful detergent to clean them with when he does. 
 Tide Vivid White + Bright keeps whites brighter longer allowing you to break the rules of white. 

This is a sponsored conversation written by me on behalf of Tide. The opinions and text are all mine.


(Visited 38 times, 1 visits today)