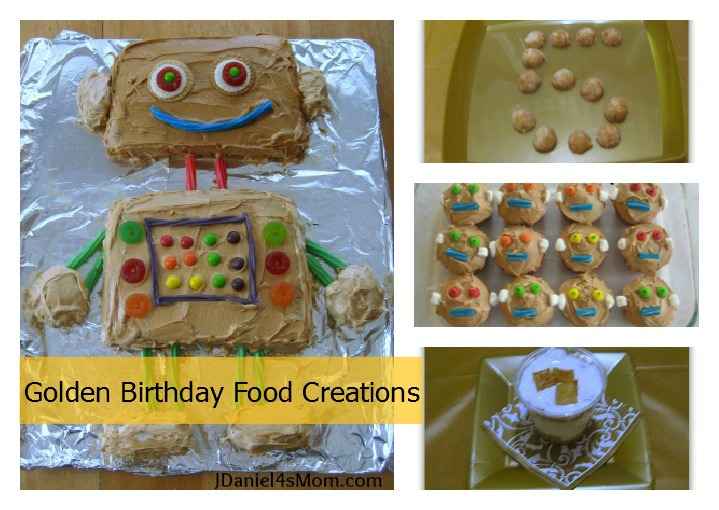 JDaniel celebrate his birthday several days last week. I guess if it is your Golden Birthday it tends to be celebrated many times due to the fact that it comes only once in your lifetime.  What is a Golden Birthday? Well, JDaniel celebrates his birthday on the 5th of March and he did turn five on that day. I shared with you last week his Golden Birthday breakfast.  Along with sharing the food creations from that breakfast, I wanted to share the cakes I made for his class and his Chuck E. Cheese party. 
Robot Birthday Cake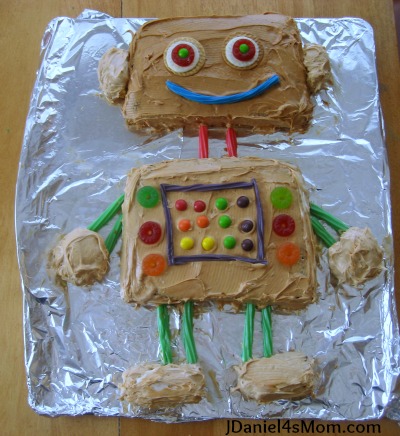 I looked forward to putting together his golden robot birthday cake all week. I found a robot cake on the Betty Crocker website and tried to create one like it. It was so easy to put together, but took me a little longer than I thought it would.
The cake is a simple yellow cake. The icing is caramel and was created stir in flavor packet and canned frosting. Before frosting the cake I cut 2/3 off the top and used it for the body. I also cut a narrow sliver off the body to use for his feet. Everything but his cupcake hands came from a cake made in a 9×12 pan. His hands are made from two cupcakes. Oh! and his ears or head bolts are made of a cupcake cut in half.
Once the cake was frosted, licorice to connect this hands and feet to his body. Extra licorice  Skiddles, Life Savers in gummy form, and golden Oreo like cookies to create his buttons and facial features. I had a blast creating them.
Robot Cupcakes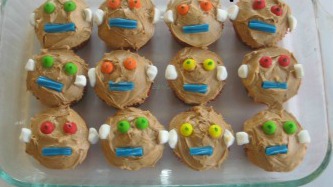 JDaniel took these cupcakes to school on Wednesday for snack. He doesn't go to school on Tuesday so, we had to wait a day to celebrate his birthday with his class. I asked, "What is a golden birthday?" They hadn't heard of it before and they thought is was cool.
I used the same cake mix and frosting combination to make his his cupcakes that I later used to make his cake. The robots also had the same licorice mouths. These mouths were  a lot more serious than the one on the cake. A food maker was used to draw eyeballs on the Skittles.  Marshmallow were cut in half to make the robot's head bolts or ears.
Golden Breakfast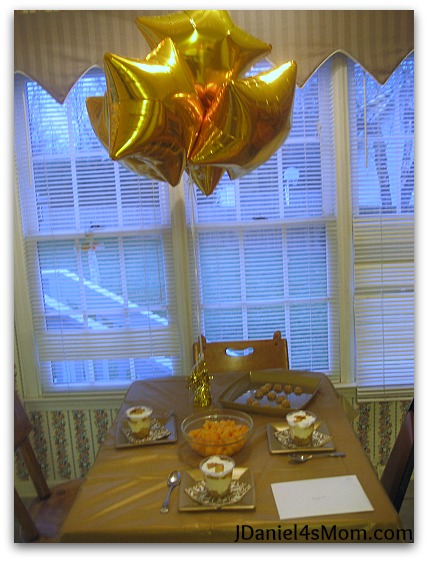 You may remember that JDaniel's Golden Birthday Breakfast  was filled with a variety of golden foods. He had golden apple parfaits made up of apple pie filling, yogurt, and Golden Grahams cereal layered in a cup. He also had doughnut holes served the shape of a five and apple juice. 
Golden Birthday Robot Treat Bags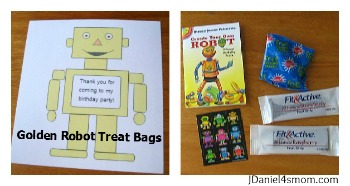 Last week I shared a post called 23 Moms Share Treat Bags Ideas with you. I loved so many of their ideas that I tried to incorporate them into JDaniel's treat bag.
I didn't buy special bags for his treats instead I used plain zip lock bags. They were so easy to seal and parents didn't have to deal with ribbons and party bag. They weren't pretty, but they were functional.
Into the bags I placed a thank you card for coming to the party, a robot sticker book, robot stickers, fruit chews, and two fruit strips. I didn't what to include candy or plastic trinkets  The moms in the treat bag post had said they didn't like to see them in the bag.
The parents seemed pleased with this and so were the kids.
I think this is my favorite party theme so far!
Did celebrate your golden birthday?

(Visited 181 times, 1 visits today)