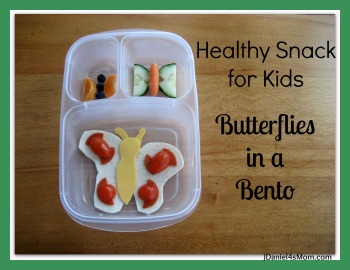 We visited the Tennessee Aquarium while we were away for Spring Break. At the top of the new aquarium building was a butterfly garden. JDaniel had a wonderful time chasing them around. He also enjoyed seeking them out under leaves and behind trees. It was amazing to see the wide variety of butter flies they had living there. In honor of our visit with butterflies I made JDaniel a healthy snack for kids butterflies in a Bento.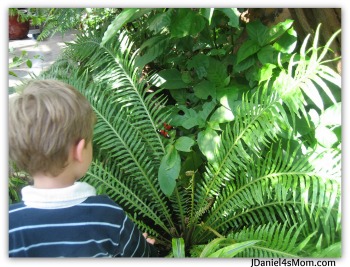 The butterfly was cut out of a flour tortilla free hand. It might have looked better if it had been cut using a cookie cutter, but we didn't have one large enough for a sandwich.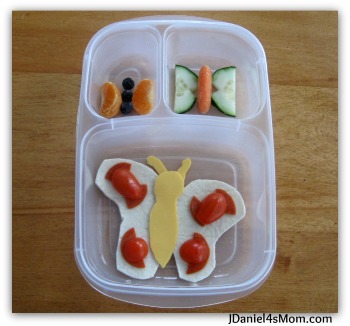 The butterfly's wing design was made using pepperoni and tomatoes layered. JDaniel really isn't into lunch meat right now. I do still include it in lunches just encase he decides he likes it again. The body of the  butterfly is made of a slice of cheese cut into the body of the butterfly. Small pieces of cheese are the butterflies antennas.
There is also a small butterfly created using a clementine orange and a blueberries. If you follow this blog regularly, you know that JDaniel hasn't been big on carrots. I do keep trying to put them in snacks and lunches. This time the carrot was paired with a slice of cucumber.
This snack Bento isn't filled to the brim with food and I did that on purpose. A small snack seems to leave JDaniel hungry for lunch or dinner later. If this snack had included a whole clementine with 12 blueberries, carrots with dip and a fully decorated butterfly, JDaniel would have been full at mealtime.
If JDaniel is full at meal time, he tends to want to take tiny bites of food and then flutter around the room.  I would rather that he eat his meal and nibble on a snack.
Here some more healthy snack for kids ideas:
Star Wars Food Creations for Kids
Bento Lunch with Cracker Sandwiches
You will find more wonderful healthy snack for kids ideas on my Food Creations Pinterest board.

(Visited 85 times, 1 visits today)