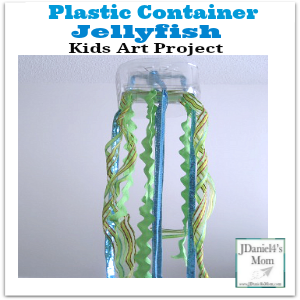 JDaniel has decided that gelatinous creatures are his favorite animal. We have both poured over pictures of them in library books. I think it is the ones that are found in the deep sea that he loves best. They have bio-luminescence which he think is the coolest thing. I decided to make a kids art project that focused on jellyfish. (I will tell you more aboutv the kids art project later.
Visiting Jellyfish

When I told him we were going to the Tennessee Aquarium during our Spring Break, he was excited. When we visited the aquarium's website and found out that they had a special jellyfish exhibit, he was over the moon. I don't know how many times we looked over the pictures of some of the jellyfish that were going to be in  the exhibit. 
While we were at the aquarium, we got to go behind the scenes to to moon jellies in incubation tanks. (The aquarium lets kids pick two special activities to attend during your visit. ) When I saw baby jelly fish on the activity board, I knew we had to select it. He loved it.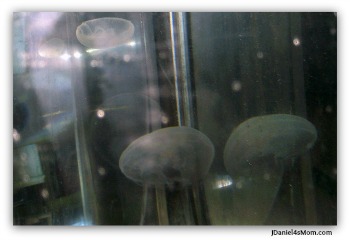 Moon Jellyfish in a Holding Tank
We searched from the top to the bottom of the first building in the aquarium for more jellyfish and didn't find any.  Then we searched from top to the bottom of the second building for them. Finally we entered the final exhibit in the building and found them.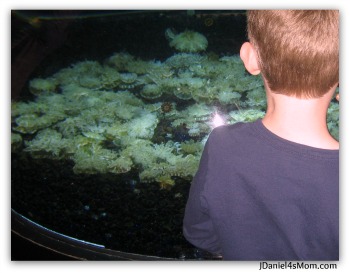 There were several wonderful tanks filled with jellyfish. Some glowed like the ones above. Others just looked cool like the upside down jellyfish below.
It wasn't until the very last tank that we saw the comb jellies. They are JDaniel's absolute favorite. I didn't end up with a clear picture of them or I would have shared it with you. They display a colored thread inside them that changes color. They really are cool.
Creating Our Kids Art Project Jellyfish
On the way out of the museum we stopped in the gift shop and looked over the jellyfish items they had on sale. There weren't many and one jellyfish that caught JDaniel's eye was a plush jellyfish with tentacles made of ribbon. I told him that I thought I could make him a jellyfish mobile for his room when we got home. He decided that I probably could.
When we got home I dug through our recycling bin and pulled out a few items we could use for the body of the jellyfish. They was a plastic jug that used to hold green tea and a plastic berry container.While JDaniel was at school, I put it together. I think he could have made this a kids art project he completed on his own, but I really wanted to surprise him by having it done when he got home.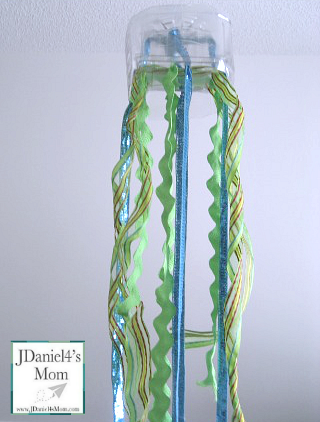 It is really just a berry container with two types of ribbon (One was wide with colored stripes and the other was bright blue with sequins.) and bright green rick rack woven through the air holes. One of the types of ribbon has a wire in it that allows the ribbon to be bent and twirled into place.
The berry container was placed inside a cut down plastic jug. I used fishing line to connect the two plastic items to together. I wove the fishing line through a hole in the jug and down into a whole in the berry container. Then I wove it back out through the berry container and up through  another hole in the jug.
The berry container was attached upside down so I could adjust the ribbons it I needed to and so I could put a light stick into the container from time to time. JDaniel would love to watch it glow.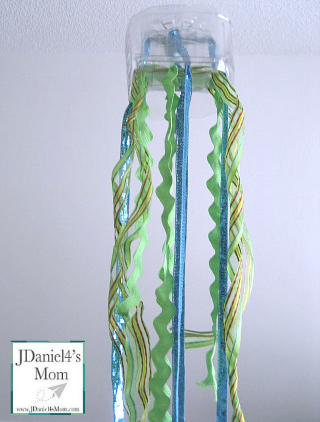 JDaniel was thrilled with it. It is now hanging from the ceiling fan in his room.  I don't mean to brag, but I think this plastic jug jellyfish is cuter than the plush jellyfish from the museum.
Earth Day is coming up. I hope you will dig through your recycling bin to find items you can craft with. Maybe you could even make a kids art project or join the tissue box creation. The Tissue Box Challenge starts next week on the 16th. I hope many of you will enter the contest.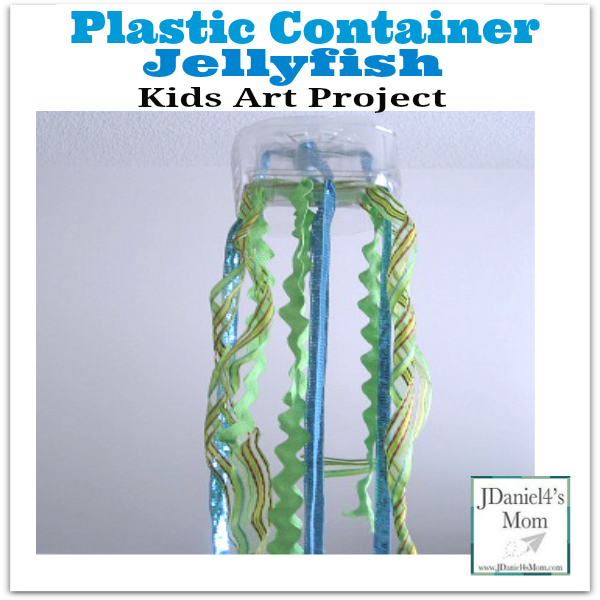 This post is linked to
Mrs. Matlock's Alphabe Thursday
. It is U week and this mobile is really unique.

(Visited 757 times, 1 visits today)