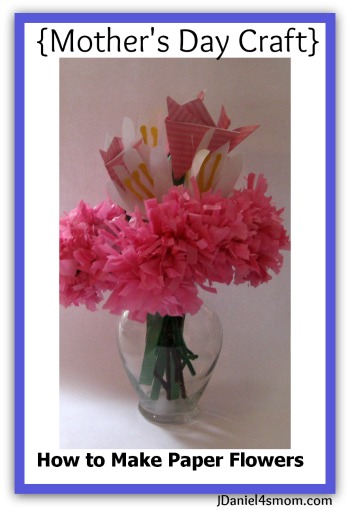 A simple bouquet of flowers make a wonderful Mother's Day gift. A simple bouquet of paper flowers crafted  by their child or children will melt their hearts. I love to get Mother's Day crafts from JDaniel so, I set out to show him how to make paper flowers. Wouldn't you like to get this bouquet?
We looked at three types of flowers. The first two were easy for him to construct and the third required fine motor skills that he hasn't yet developed. I think older children would have no trouble constructing them.
We created (He and I) hand print lilies, origami tulips, and tissue paper mums. Let me walk you through the steps we went through to make make paper flowers
How to Make Paper Flowers
How to Make a Paper Hand Print Lily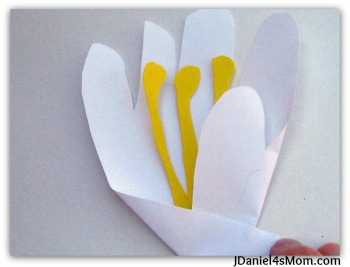 Trace your child's hand or have them trace their own.
Cut out the hand print.
Cut out the anther and stigma of the flower out of yellow construction paper.

Fold the thumb in and then fold bottom left hand side of the hand print up towards the thumb.
Wrap the end of the hand print that reaches past the folded thumb behind the hand.

Glue or tape it down.
Attach a stem made of green construction paper to the hand print lilly.
How to Make a Paper Tulip
Start by cutting a piece of scrapbook paper or wrapping paper into a square.
Then fold the square in half to make a triangle. Fold it so the fancy side of the paper is facing out.

Take the right hand corner and fold it up at an angle. It should be point to about 11 o'clock on the paper.

Then fold the left hand corner up towards about 1 o'clock on the paper. I hope the use of clock times isn't confusing. I thought that thinking about where the hands would be on an analog clock would help you.
Add a green construction paper stem.
How to Make a Tissue Paper Mum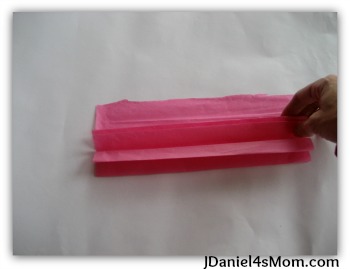 Place four sheets of tissue paper into a pile.Fold the tissue paper with a fan fold.
Place a pipe in the  behind the center of the folded tissue. I like fold about 1/4 of the pipe cleaner over the to the front and then twist it around the long end of the pipe cleaner. The twist needs to be done tightly.
Use scissors to make thin cuts on both of the long ends of the tissue paper.

Slowly pull up each layer of tissue paper to the center on each side of the pipe cleaner.

While I am showing you how to make three different types of flowers, I think that you could easily make one type of flower. A single flower bouquet would be lovely.
After you learn how to make paper flowers, you may want to create one of these other Mother's Day gifts:
Mother's Day Teacup Printable Craft and a Collection of Poems
Mother's Day Poem and Fingerprint Craft

(Visited 1,555 times, 1 visits today)