When I head that the theme for summer reading was going to be Dig Into Reading, I was thrilled. There are so many wonderful concepts and activities that children dig into. The first concept or theme that came to mind was gardening. My family loves to work on our yard and to garden. I also noticed that a large number of members of the Kid Blogger Network seem to like gardening too!

Why not give you a place to see and explore the wonderful posts that I was discovering I thought? Five amazing Kid Blogger Network bloggers agreed to join me in sharing not only their gardening themed posts, but those created by others.

You will find that some of the posts are actually about gardening projects while others are activities, crafts, food creations and more that have a garden theme. If you have posts with a gardening theme for children I hope you will link them up below and add the Dig Into Gardening badge.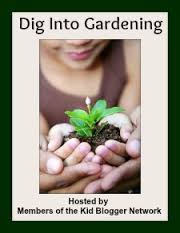 Mother's Day Plant Idea – M.O.M.  Herb Container Garden
I looked through a variety of gardening books for children to find ideas for a Mother's Day project to do with JDaniel. In the book I found a garden that featured  plants that matched a child's initials. This is a great idea, but didn't fit a Mother's Day theme. Why not look for herbs or flowers that matched the letters in mom I thought. JDaniel and I headed to our local garden center to look over herbs or flowers that started with the letters in the word Mom.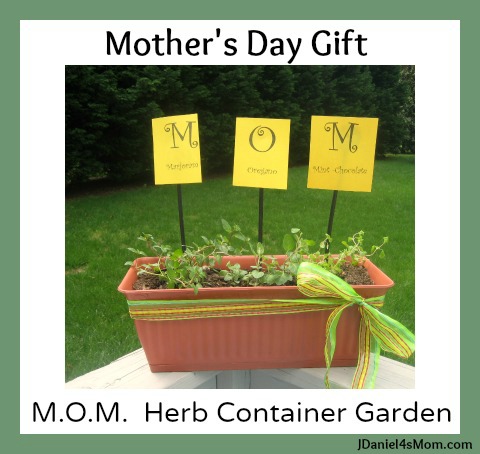 We didn't need to look for very long before we found the area to dig into. The herb section actually had five or six kinds of mint sitting right next to a pot of oregano that was right next to some marjoram.  It was like they were placed right there just for us.
It was hard to decide which variety of mint to select. We ended up having to decide between an orange mint and a chocolate mint.We ended heading home with a pot of marjoram, a pot of oregano and a pot of chocolate mint. The car smelled wonderful.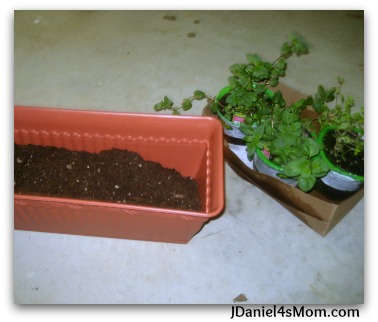 Unfortunately it rained all weekend. We ended up having to transplant our herbs in the garage. I am so glad we had the space in the garage to work on this project.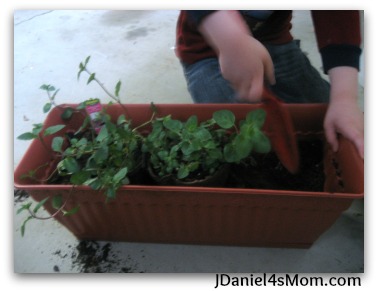 Thankfully the sun came out yesterday! I quickly added our plant markers made from stakes our lawn maintenance service leaves behind and signs displaying what each plant is. Some pretty ribbon left over from making our
plastic jug jellyfish
was also added to made the planter a little bit dressier. Then I rushed our container out into the sun to take pictures.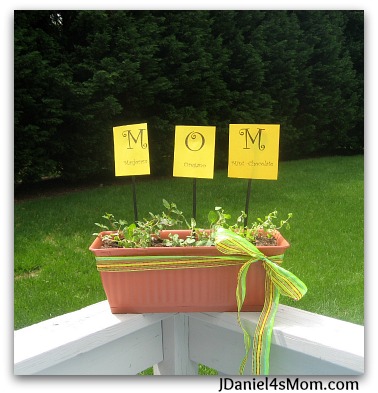 Here are the hosts of this Link Up:
JDaniel4's Mom
Royal Baloo
The Usual Mayhem
Growing Book by Book
Frogs,Snails & Puppy Dog Tails
Edventures with Kids

(Visited 2,053 times, 1 visits today)