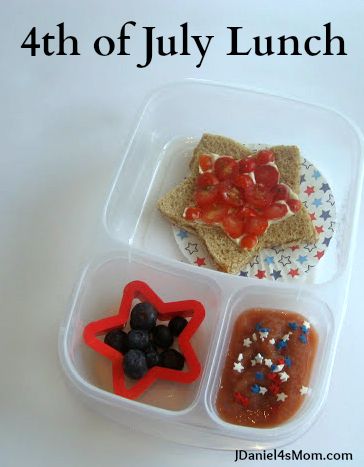 Summer time lunches at my house are filled with fresh fruits, fresh veggies and fun! Thankfully my son loves all of those things in his lunch! Thankfully he is open to my healthy lunch ideas!  I made his this 4th of July bento meal and he couldn't wait until lunch to eat it.
That's right he ate his 4th of July bento way before lunch. I created this lunch while I was making dinner last night. JDaniel came in and wanted to know what as making and I showed him this lunch. Needless to say he wanted it for dinner . I convinced him to wait by pointing out that I was serving one of his favorite meals.
The next morning I slipped upstairs to work online just as JDaniel was heading downstairs for breakfast.  He must have immediately pulled this bento lunch out of the fridge and asked my husband if he could have it.  My husband must have told him that he needed to ask me, because JDaniel called up the stairs to inform me that the sprinkles were melting and needed to be fixed.
I called back down that whatever sprinkles he was looking at could be taken care off. It really didn't click with me what he was talking about at the time. When I saved what I was working on and headed downstairs, the bento box was sitting in the sink. The sprinkles he had asked about were in the cherry berry applesauce that had been a part of  the 4th of July healthy ideas bento.
I had totally missed to opportunity to take a picture of him eating the lunch during breakfast.  I was blessed to find that he had eaten every part of the lunch. My husband commented that he seemed thrilled with each food.
Maybe I need to start making him breakfast bento. He really seems to like them.
What was in his 4th of July Healthy Lunch Ideas Bento?
There was a whole grain bread star with a light mayonnaise star painted on it. A medium sized cookie cutter was used to cut out the bread. Creating the star on the bread was so easy. I placed a small star cookie cutter on the bread and spooned mayonnaise into it. Then I smoothed the mayonnaise around in the star. I kept the small star in place and put small pieces of grape tomatoes into the cookie cutter.
The small star was then cleaned off and used to hold the blueberries in one of the lower sections of the bento box. It is amazing how cool a filled cookie cutter looks in a lunch!
Cherry berry applesauce was placed in the final section and star sprinkles were added. Sprinkles like cookie cutters can really add to a lunch's cool factor.
I hope you have wonderful 4th of July lunch filled with healthy lunch ideas!
Follow JDaniel4's Mom on 

Facebook

, 

Pinterest

, and 

Twitter

.
(Visited 90 times, 1 visits today)