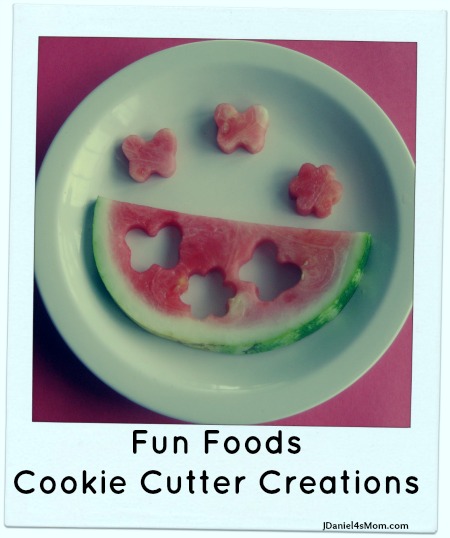 I have loved creating fun foods for JDaniel using cookie cutter food to make my creations. We have quite a collection of cookie cutters. Some are mini and others are full size. You have seen them in JDaniel's bento and muffin tin lunches. Recently we pulled out the cookie cutters to make two really fun food creations.
Watermelon Puzzle Snack
The first was a watermelon puzzle snack. JDaniel helped me select mini cookie cutters to use to make the puzzle. It was fun to set the them into the watermelon and try to fit them in the right place. Despite the fact the butterflies were cut using the same cookie cutter, they were not exactly the same. One side of a slice of watermelon was slightly thicker than the other. When the wrong butterfly was in the wrong space it stood taller than the watermelon slice around it.
Idea for Later
After we used the butterfly and flower cookie cutters, I had a thought. Using a minis star cookie cutter in the watermelon would make a fun 4th of July treat. The cutouts could be used in a fruit salad or set out on plates with the slice of watermelon they were cut from for guests to play the puzzle game with too.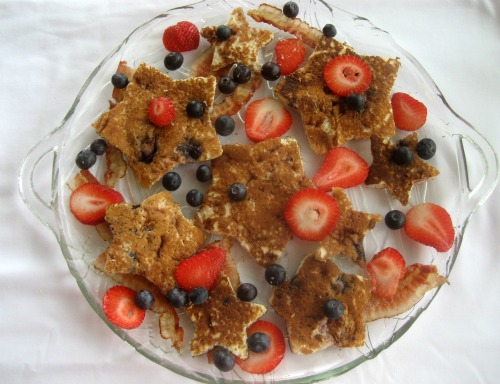 We made these delicious strawberry and blueberry star shaped pancakes for a post that appeared on the Type A Parent. JDaniel and I first picked the strawberries for these pancakes and then mixed them with blueberries and pancake mix. They were awesome. JDaniel inhaled them.
I think we will be taking our cookie cutters out all summer to create fun food creations.
Here are some other fun foods we have made:
Kid Friendly Recipes- Teepee Snack
You will find lots more fun foods and food creations on my Food Creation Pinterest board.

(Visited 158 times, 1 visits today)