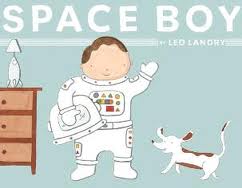 Space Boy
 by Leo Landry inspired the space learning activities we did this week. Space Boy is the story of Nicholas  who needs a little time away for the noise and commotion of family life for just a little while before he goes to bed. His home is filled with his sister's crying, a barking dog, and the radio blaring. ( I believe his parents turned it up to drowned out the sound to the baby crying and the dog barking.) Oh! His neighborhood is noisy too.
He decides that he need to get faraway from it all so, he packs a healthy snack and puts on his spacesuit. Then he gets into his rocket and heads to the moon. (Apparently he has made space trips before.)
The moon is quiet and the perfect place to have a bedtime snack. It is also a wonderful place for a quiet moonwalk. There is something meaning on the moon. Nicholas quickly realizes that he miss his family and wishes his family could shared trip to the moon with him.
Nicholas rockets back to Earth and checks on each member of his family just before going to bed.
I think parents and children may both feel as Nicholas does at the end of the day. Taking a off for a walk on the moon is something everyone may enjoy from time to time. If only we all had a getaway rocket waiting for those days in our backyard.
What did we do to explore this book?
Sight Word Rockets on the Moon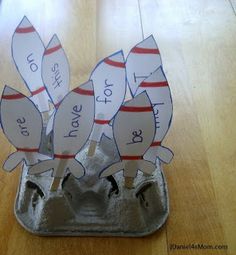 We used rockets on sticks and an old beverage holder to work on sight words. JDaniel was asked to read me the the word on each rocket. When he had read a word, he was able to land it into one of the slots on I had cut into the beverage holder.
One of the fun things about working with rockets on sticks is that you can have them zoom through the air and you can make rocket noises as it travels to it landing slot on one of the moon hills.
Space Science Experiment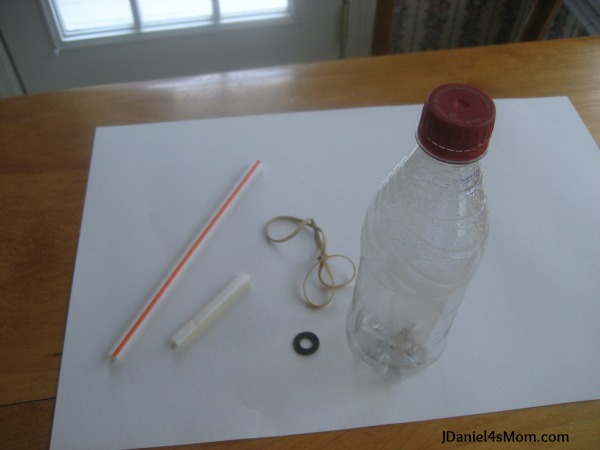 I found a science experiment in a library book that I thought we could easily put together. The materials were ones we already had and it took just a little while to put it together. There were just a few challenges. Putting the holes in the top of the bottle cap with washer on top and the base of the soda bottle were a little tough.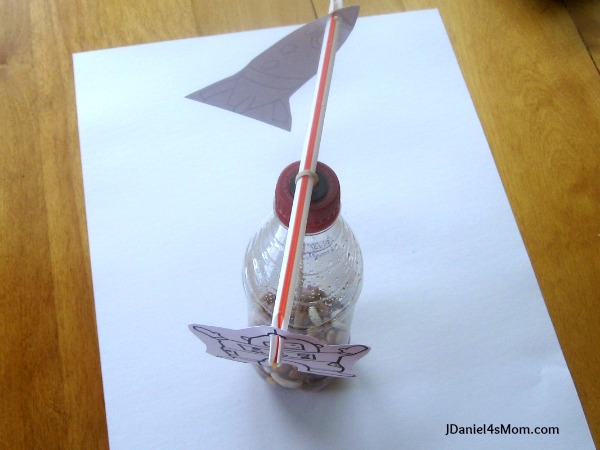 Joining the two rubber bands together to feed through the holes as easy. After a few slips of the bands out of holes, we quickly secured each of the rubber bands with straws. Each of us took responsibility for one of the rubber band loop.
Adding the beans was super easy for us. We tried adding them by handfuls, but later moved to adding a bean or two at a time.
Once we secured the rocket and astronaut to the straw, we thought that the experiment would go smoothly. We turned the rubber bands as tightly as we could and then let the large straw with the pictures on it go and nothing happened. Literally nothing.
JDaniel suggested we turn the bottle upside down and try the experiment. It worked! The astronaunt and rocket flew around and around.  I am sure why it worked better, but I am glad it did.
Rocket Snack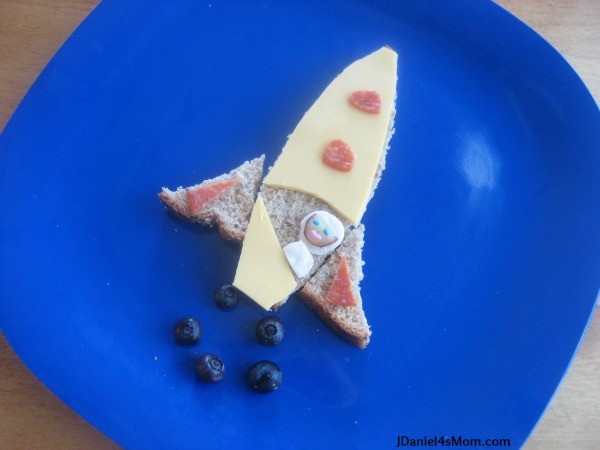 JDaniel has been asking for snack food creations lately. I decided to make him a rocket sandwich with a trail of blueberry flames.
When I finished it, it looked liked it was missing something. I cut out little pieces of a flour tortilla and a small grape slice to make an astronaut for the rocket. Some tiny sprinkles were used to give him eyes and a mouth. My husband thought it was clever. My son just like the way it tasted. I think we would enjoy another Space Boy snack.
How did you explore books this week? If you have a post you would like to share, please link it up below. Once you have added your post, please visit at least three others.
Disclaimer: This post contains affiliate links.

(Visited 577 times, 1 visits today)