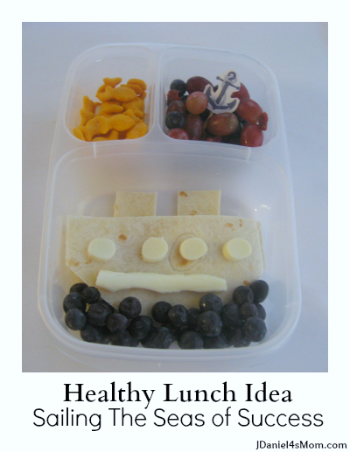 The cruise ship is really a ham and cheese sandwich made with a tortilla, American cheese, honey baked ham, and string cheese.  I was so pleased to see that he ate the whole ship when I cleaned out his backpack.
The ship is cruising on a sea of blueberries. JDaniel loves blueberries so I knew these would be missing from his Easy Lunch Box bento.
I thought he would love the goldfish crackers. He loves them at home. He informed me that if I made his lunch the night before and put his lunch in the fridge the goldfish get mushy. Mushy goldfish are not very appealing to me either. I thought that they wee thick enough to not get mushy.
The grapes and dried cranberries disappeared from the fridge too. Thank goodness they don't get mushy!
Have you made special Back to School lunches for your kids? What did you put in them?
My Back to School Traditions link up continues through September 8th. If you have a Back to School post, I would love for you to share it.  One of the bloggers who links up will be randomly picked to win a set of Tiger Tale Books. One commenter that leave a kind comment will get a CamelBack water bottle and one commenter who leaves a comment saying that they have visited a post in the link up will get a KizMos Kid's Kitchen Tool Collection.
(Visited 19,553 times, 1 visits today)