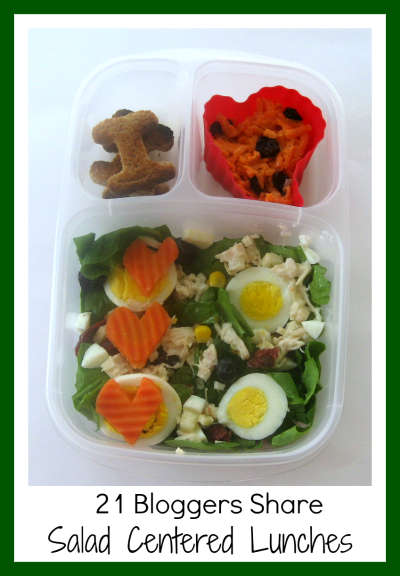 Last month I shared with you
lunches without sandwiches
created by 21 different bloggers. Many of them were in bento boxes. All of them were delicious. I decided to continue the lunches without sandwiches theme with a focus on salad lunches this month. A call was put out to my amazing bento blogging friends. They were asked to share lunches with salad as the main dishes. They answered my call with amazing salads that kids and adults are going to love.
Salad Lunches
Biting the Hand That Feeds You made an awesome salad with flowers cutouts scattered through out it. It is so pretty. The sides that go with it look delicious too.
Zoe's Lunchbox's Greek Salad looks wonderful. I would love to try it. JDaniel will love the olives in it along with the hummus and chips served on the side.
Bento Lunch
made a wonderful chef salad with a super cute face made from hard boiled eggs, blueberries, and tomatoes.
Eclectic Lamb's star themed salad lunch is filled with a wonderful salad and yummy sides.
Becoming a Bentoholic made a  super delicious lunch in a Lego bento. It contains an antipasto salad and fruit salad.
My Epicurean Adventure's Post NYC Gluttony Lunch looks so good. It is filled with yummy ingredients and has wonderful side dishes. It looks delicious.
Eating Well's Bento has a wonderful egg salad.
Organized Bites has a wonderful garbage salad called Watza Matzah. It not only has matzah in it. It is filled with fresh fruits and veggies galore. The bento container can barely hold them all.
More Salad Lunches
Biting the Hand that Feed You's fish food salad is something special. It is so cute.
Healthy Eating Starts at Home
took a leftover chicken patty and created a chicken salad lunch JDaniel would love.
Beneficial Bento created a collection of low-calorie salads. Her Greek Salad (featured in a Trader Joe's cookbook looks wonderful. I also like her chef salad on a stick.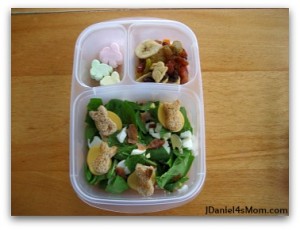 More Salad Lunches
JDaniel4's Mom made a tossed salad with bunny croutons. Yes, this is one I made.
Oh! Bento has a wonderful curried chicken lunch with yummy vegetables. JDaniel hasn't tried curried chicken, but I think he might really like it.
Lunch Box Dad shares how to serve a strawberry mango chicken salad three different ways. Each of the options is wonderful. I think the finger food version would be JDaniel's favorite.
Beneficial Bento has created a really cute daisy and ladybug salad. Kids will love finding this in their lunch.
Healthy Eating Starts at Home shares two delicious salads side by side. Both are vegan, but I think non- vegans will love them.
Bento for Kidlet's salad with stars displays wonderful foods that children will love to eat. There is something cool about stars in a lunch.
Diane Rambles chicken salad sandwich looks wonderful in this post as does her yummy Asian salad. I think both would be great to try.
Even More Salad Lunches
Bentoriffic created an amazing mini gnocchi lunch. JDaniel will love the black olives and all the fruit. I love all the bright colors in it. 
My Epicurean Adventure made a post fasting lunch has the cutest mini tomatoes in two colors.
Bentos on the Bayou made a wonderful chicken salad. You have to stop by to check out the face on her chicken salad. It will totally make you smile.
Creative Food selected a veggie pasta salad for her Back to School Essentials post. It is filled with brightly colored veggies and  many colors of pasta.
Oh! Bento made a bento with several salads. There is a noodle salad, fresh green salad, and yummy cherry tomatoes.
Lunches Fit for a Kid wonderful salads for the whole family in bentos. I love that the meat in the salads is served on a butterfly themed skewer.
Final Group of Salad Lunches
JDaniel4's Mom created a three salad meal with a spring flower theme. Yes, this is another one of mine. It isn't in a bento, but it is fun.
Blame It On the Bento used small butterfly cookie cutters to create a salad lunch that is filled with butterflies. It is so cute!
Bento for Kidlet has a super cute roll decorated to look like a boy along with an awesome salad.
Beneficial Bento mentioned a post on How to Make a Salad Bar. I seriously love her salad bar container from a craft store. So cool!
Bento for Kidlet made a super easy lunch that features checkerboard designs.
Do you have a favorite salad centered lunch?

(Visited 169 times, 1 visits today)