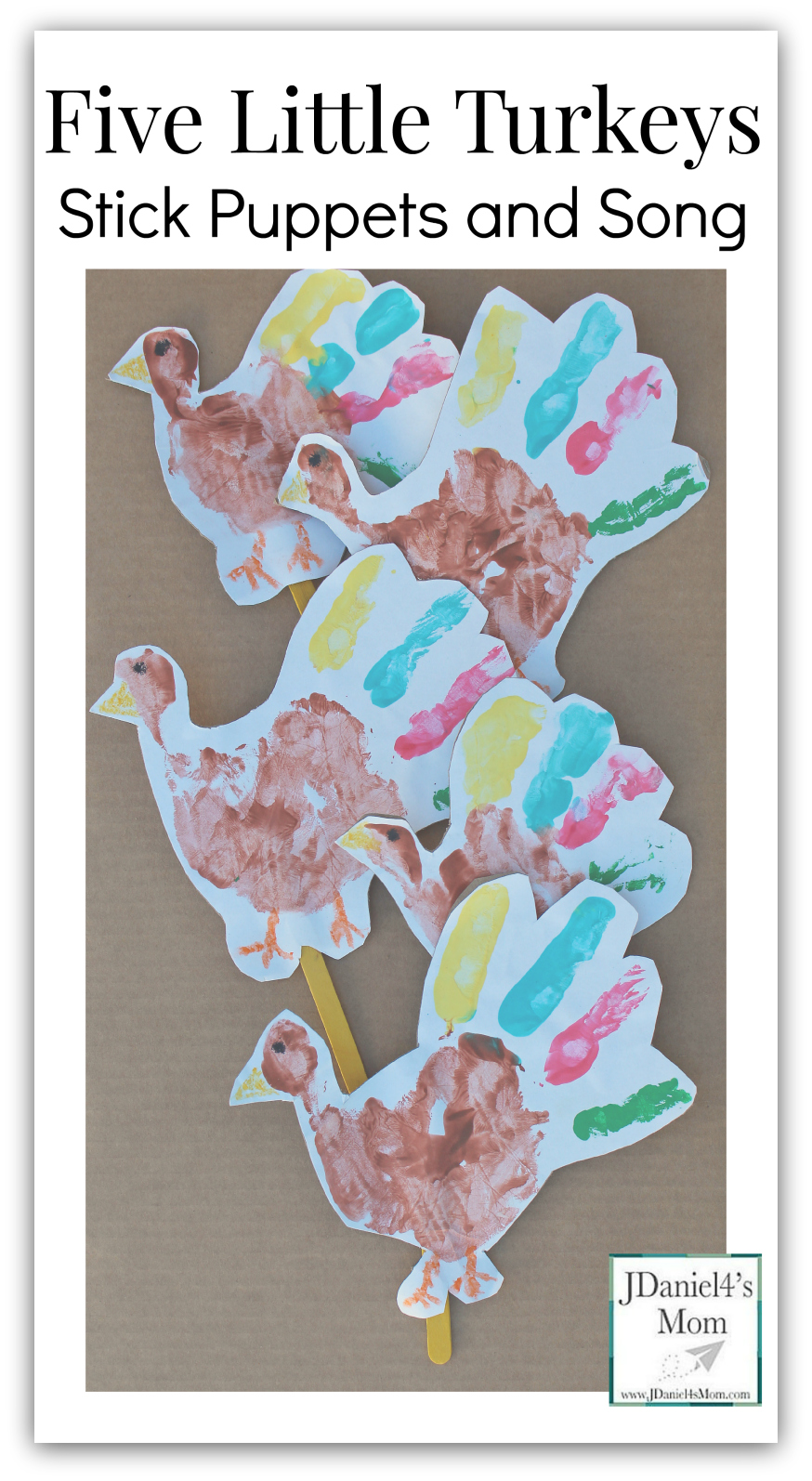 Have you ever sung the song the Five Little Turkeys with hand print turkey puppets? If you haven't you, really should. It really is a lot of fun.  We did it recently at our house. We put this activity together, because JDaniel loves the Halloween book Five Little Pumpkins .When I clear out the stuffed animals on his bed, I usually find the Five Little Pumpkins under one of them. Finding a Thanksgiving song that was similar and making puppets became a mission of me.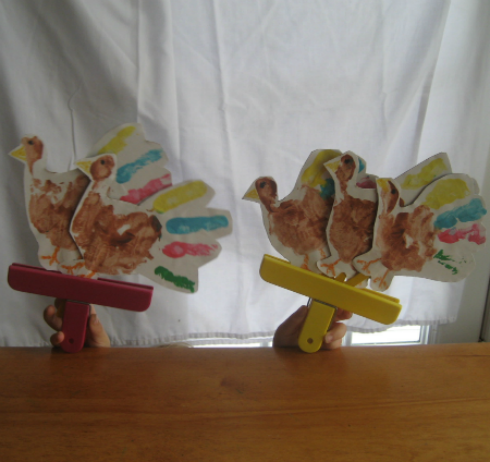 On a pretty day last week, JDaniel and I made turkey hand prints on our deck. I had to be careful not to tickle him as I applied the paint. After a few JDaniel sized turkey had been created, it was mine turn to make a couple.  I think he did a better job of pressing his hand down to make a print then I did.  I made a few extra turkeys so we could decide which of mine were the best five little turkeys.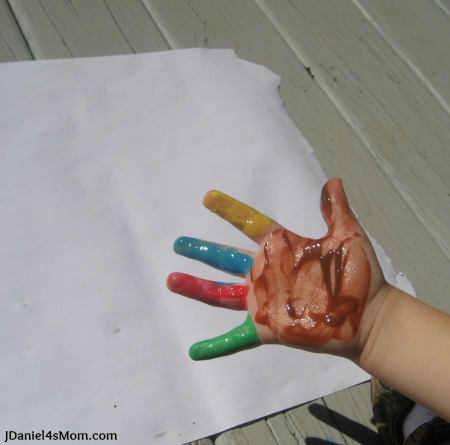 We were so fortunate to have warm day. The turkey dried quickly. I think the fact we used washable paint on white drawing paper helped too. Construction paper and acrylic paint seems to take longer to dry. When they hand prints were dry, we added beaks and feet.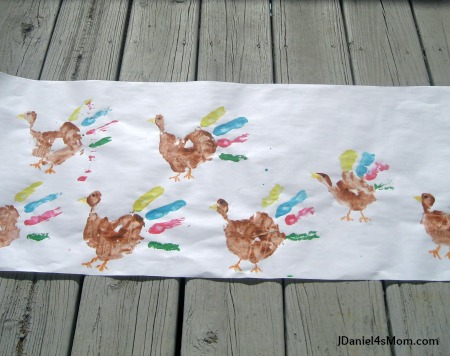 Then they were ready to cut out. We also cut out twelve by eight pieces of cardboard from cardboard boxes in our recycling box. The cardboard would be used to make the turkeys a little bit stiffer. A colored popsicle stick was threaded through two horizontal slits I made in the cardboard.(I didn't think the popsicle stick glued between the hand print turkey and the cardboard would stay in place.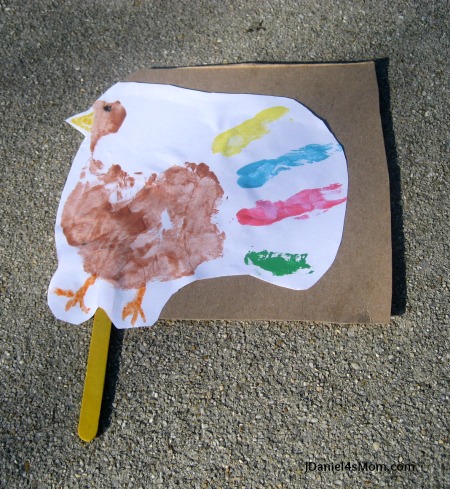 The hand print turkeys were glued onto the cardboard pieces and then cut out. It was a little tricky cutting through the cardboard even though it wasn't that thick.
When all five little hand print turkey puppets were done. We worked on the rhyme. It was easy to learn its words. Holding the turkey was a challenge. We found that JDaniel needed to hold some and I need to hold others or we needed a tool to help us. The tool we found that worked the best was a chip clip. Two or three turkey could be attached to chip clips and the clips' handles could easily be held by two hands.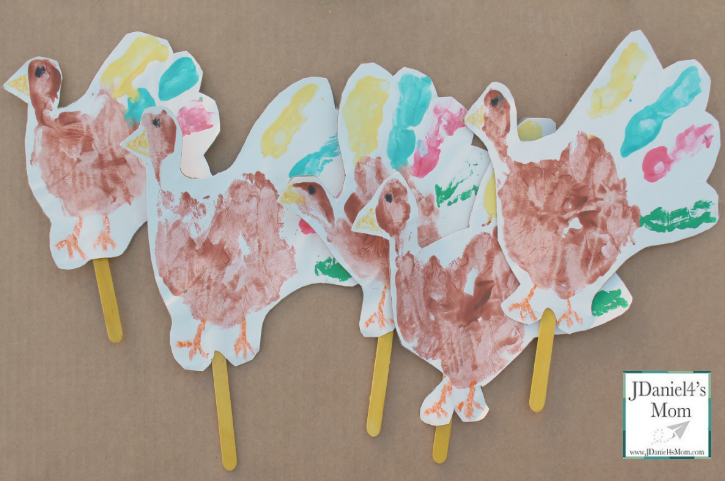 The side of the kitchen table with a white sheet over the back door was a wonderful stage for the five little turkeys to bob up and down and say their rhyme  from. We also found the end of the end of a bed and the railing of the deck worked too.
After singing the son a few times, JDaniel took the Thanksgiving decorations of our living room mantle and create a play with the five little turkeys. It was truly amazing.
Here is the Five Little Turkeys rhyme we used:
Five little turkeys standing at the door,
One waddled off, and then there were four.
Four little turkeys sitting near a tree,
One waddled off, and then there were three.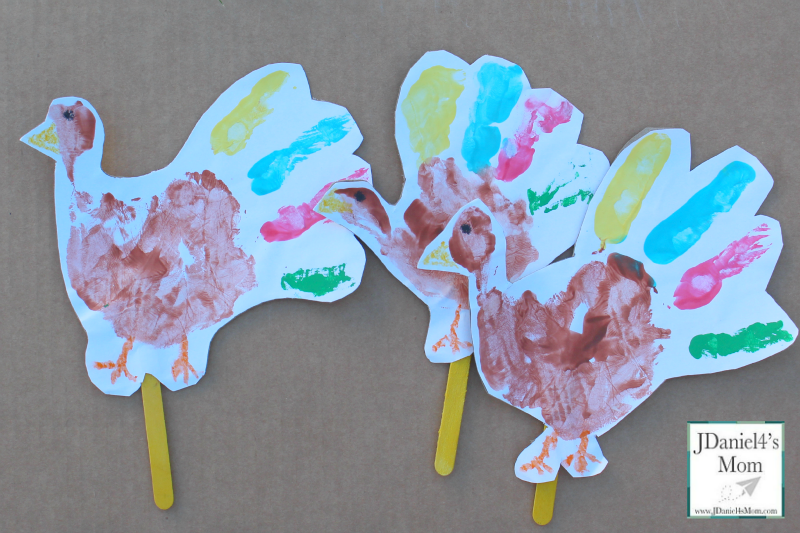 Three little turkeys with nothing to do,
One waddled off, and then there were two.
Two little turkeys in the morning sun,
One waddled off, and then there was one.
One little turkey better run away,
For soon it will be Thanksgiving Day.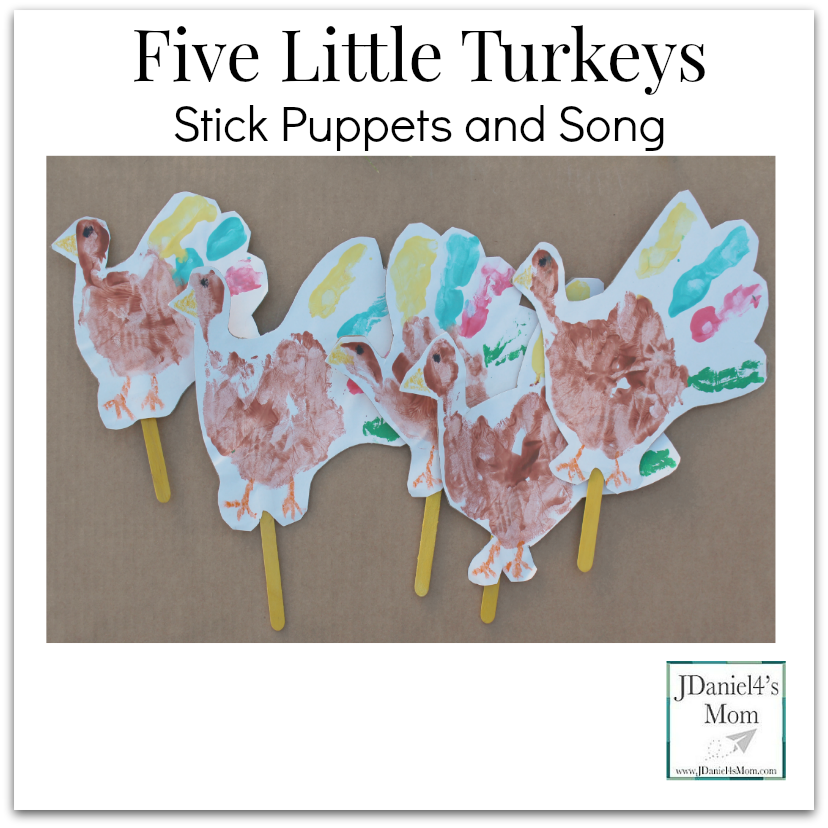 If you have the opportunity to make hand print turkey puppets, you may want to think about having them say a Thanksgiving rhyme. Five little turkeys on stick puppets and a Thanksgiving theme rhyme are just plain Thanksgiving fun!
(Visited 597 times, 1 visits today)