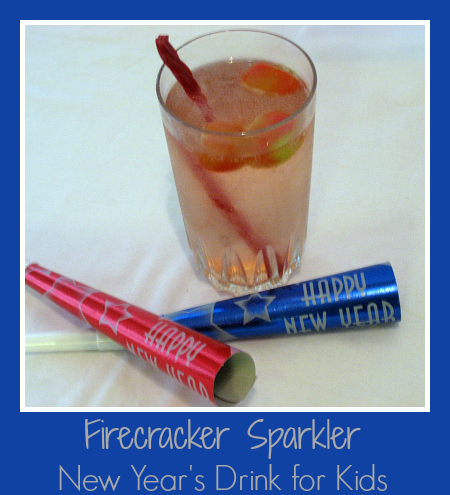 My son loves special drinks. I think it is because he is served milk at breakfast, lunch, and dinner. A special drink for New Year's needed to be super special and have a super special name like the Firecracker Sparkler.  This New's Year's Drink for Kids is something super special. It includes ingredients my son will love celebrating with.
What is in our Firecracker Sparkler?
Sprite
Fun Flavored Popsicles
Licorice
How do you make one?
A Bubbling Beverage
It is really simple to put together. You simply pour Sprite or your child's favorite fizzy drink into a glass. If they don't like soda, you could use juice instead. I chose to use Sprite in our Firecracker Sparkler. A sparkling apple or grape juice would also give this New Year's Eve Drink some bubbles.
Fun Chillers
We cut fun striped popsicles into cubes to add a fun color to the drink along with additional flavor. We used Sprite which has a lemon lime flavor. The popsicles we selected also had a citrus flavor. They were lime, orange, and watermelon. As the popsicle ice cubes melted, this New Year's drink for kids got better and better. Matching your popsicle ice cubes flavor with your choice of beverage is a lot of fun.
Fun Straw
A fun straw was totally needed to accessorize our New Year's drink. We used a stick of licorice as a straw because JDaniel loves red licorice. A fun twisty straw or sparkly straw from a party store might be fun to use in the drink too.
This New Year's drink for kids isn't super fancy. It contains items you could easily find in any grocery. My son loved just loved. I bet if you a celebrating at noon on New Year's Eve or just before bedtime your children will love this drink or a variation of it too.

(Visited 840 times, 1 visits today)