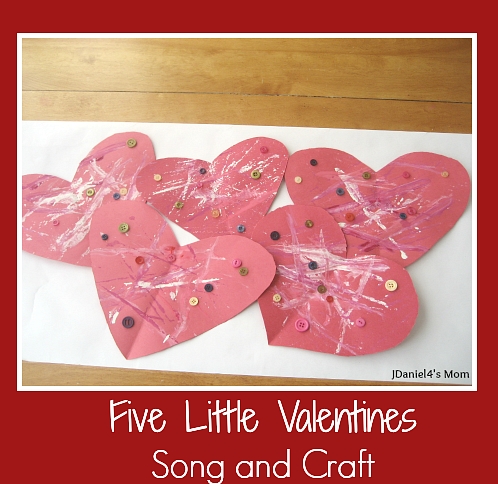 There is something wonderful about receiving one, two, three, four or even five little valentines that might lead you to want to sing a song or do a craft for someone. I remember opening each little card I received in my decorated card box on Valentine's Day at school. I just loved to read the rhymes on them and see what kind of card each person in my class had selected to pass out to the class or to give to me.
There were always a few homemade cards in placed in my box each year. Those really stood out to me as did the ones that came with candy attached. There were never lots of either, but I think that is what made them special.
Recently JDaniel and I sang the Five Little Valentine's Song and Craft. These Valentine's Day cards will be sent to people we love to let them know them know they are remembered.
Here is the Five Little Valentines song:
Five pretty valentines sitting in the store,
[Child's name] bought one, and then there were four.
Four pretty valentines left on the shelf,
[Child's name] bought one, and then there were three.
Three pretty valentines waiting for a home,
[Child's name] bought one, and then there were two.
Two pretty valentines standing side by side,
[Child's name] bought one, and then there was one.
One pretty valentine left all alone
[Child's name] bought that valentine and all were gone.
Here is how we made our five little valentines:
First we gather the following supplies:
Paint (red, pink and white)
Yarn
Construction Paper
Glue Stick
Buttons
Scissors
Then JDaniel and I ran short strings of yarn through paint. We found that pulling the string back and forth through the paint really loaded up the string.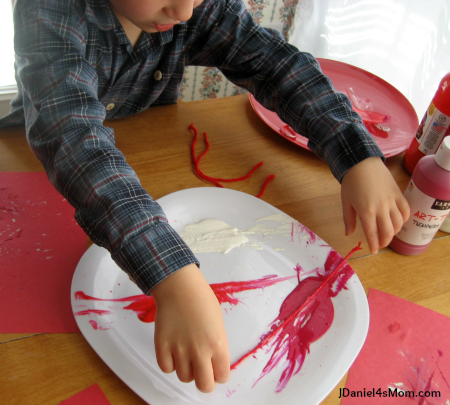 Next the string was rolled, dragged, and smashed onto the paper. A  spoon was rubbed over the paint loaded the string to encourage the paint onto the paper. Lines of paint were randomly applied all over five pieces of construction paper.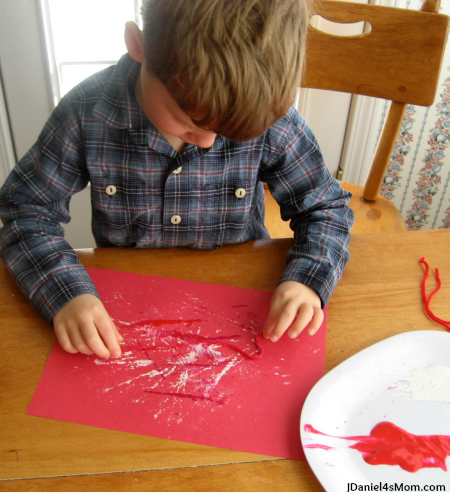 The painted sheets of paper were then left to dry or mostly dry. When they were mostly dry, we folded them in half and cut hearts out of them. The paint that was still damp made an imprint on the opposite side of the paper when it was pressed together adding to the paper's design.
When the paint was completely dry, various size and colored buttons were attached to the hearts with a glue stick. It was very easy to rub the bottom of the buttons onto the top of the glue stick. The bottoms ended up fully coated and this made them easy to attach to the heart.
Our five little valentines ended up with a modern art feel. I hope that those who receive them will love them as I think the people who received the five little valentines in the song loved getting their cards.
Other Five Little songs we have a song and crafted about:
Deirdre Smith writes/owns 

JDaniel4's Mom

. After twenty years as an elementary school and technology resource teacher in Northern Virginia, she became a stay at home mom in upstate South Carolina. Her blog features ways she and her 5-year-old are exploring learning, crafting, creating healthy meals and living life to its fullest. Deirdre can also be found on twitter as 

@jdaniel4smom

 and on her 

blog's FB page

. You can also check her out on 

Google+

.

(Visited 4,024 times, 1 visits today)