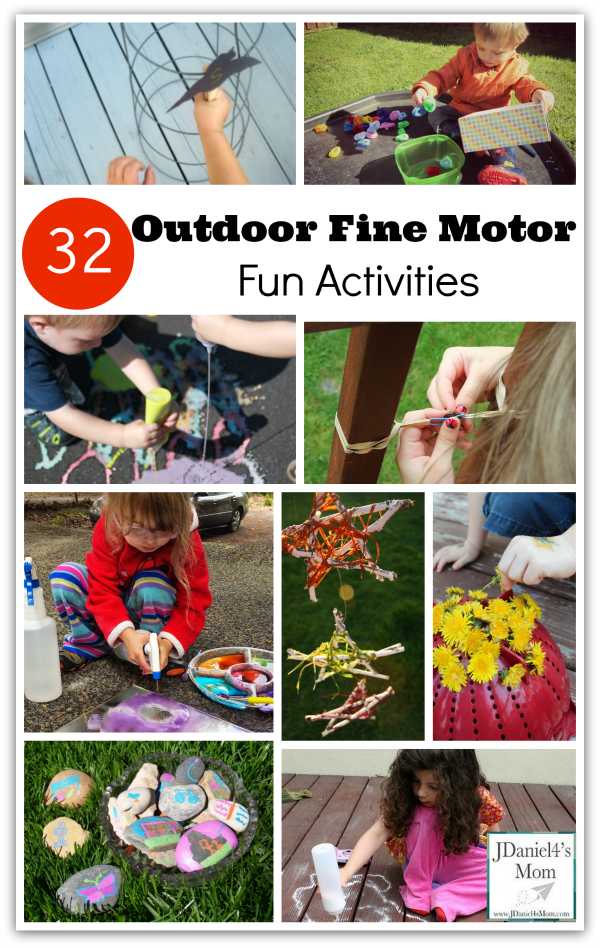 Today I have two amazingly wonderful opportunities for you! The first is an amazing collection of kids outdoor fine motor activities collected from top kid's blogs! You are going to love visiting each and everyone of them.  The second opportunity is to enter the largest giveaway that I have ever been able to offer. The giveaway is for  three cash prizes of $500. Yes,  there will three people who win $500. Actually I am participating in this amazing giveaway a number of other members of the Kid Blogger Network. The posts shared below come from a number of their blogs.
Let me share the amazing kids outdoor fine motor fun activities first, then the giveaway information and finally the other blogs participating in the giveaway's round ups.
Kids Outdoor Fine Motor Fun
Let me start by sharing the wonderful kids outdoor fine motor fun activities! They really are amazing. Each activity will have children working on the muscles in their hands that they will use for cutting, coloring, and writing. Building up these muscles and having children get used to using them really helps them with other school related tasks.
The Preschool Toolbox shares amazing ways to explore and learn with found objects bits of nature. I just love her nature crafted dominoes.
Lemon Lime Adventures shares how to use ice, tongs, and letters to play a really fun version of I Spy. I know my son will love it. It bet your kids will too.
In the Playroom has created a fine motor Easter egg hunt that gives kids the opportunity to work on their pincher grip while looking for eggs.
Teaching Mama takes kids love of gathering dandelions and has kids work on a fun learning activity with them.
Gathering the ingredients and then "cooking" garden soup as Happy Hooligans had a children do looks like so much fun.
Happy Hooligans summer twig ornaments are just gorgeous! Kids will love making them and you will love displaying them.
Simple Fun for Kids has found a fun way for kids to work on their cutting skills in the backyard.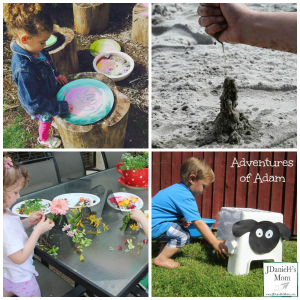 You will have to go the beach or your nearest sandbox to build Still Playing School's sand drizzle sculptures, but I think you will totally think it is worth it.
Still Playing School's fine motor sling shot looks like loads of fun. My son will love trying it out on our deck.
Munchkin and Bean has a wonderful sensory art mirror play activity that will entertain your children for hours.
Adventures of Adam shares fun post on sheep shearing. You need to stop by to see the step stool sheep. It is adorable!
Coiled pipe cleaner dropping looks like so much fun. I love how Adventures of Adam uses a variety of tools to lift and move the coiled pipe cleaners.
KC Edventures has an amazing idea to get kids moving outdoors. Kids help make the wonderful activity rocks that they will later use to encourage various types of outdoor play.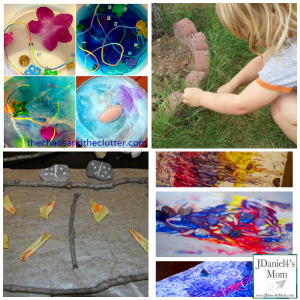 Learn how to make homemade paint for your sidewalk by visiting Learn Play Imagine. The recipe is so easy to follow.
Therapy Fun Zone shares their six favorite outdoor water fine motor toys. I had the best time looking over their list and how each of them were used during water play.
The Realistic Mama shares how to do outdoor sensory play with your baby. The pictures in this post are adorable!
Creative Play Central uses mesh frames as the base for kids creating amazing sculptures using items found in their yard.
Sand in My Toes shares a window painting post that could be done inside or outside your house.
Buggy and Buddy introduces us to salt painting. What beautiful designs we are taught how to make in this post.
Plates filled with color sand are an amazing invitation to writing the alphabet or free form designs. This is such a cleaver post from Buggy and Buddy.
Treasures frozen in ice a such fun to excavate. The Chaos and the Clutter will show you how to create frozen treasure ice.
Left Brain Craft Brain shows us how to paint with nature. We have done this at my house and loved it.
Painting with rocks and mineral found outdoor is a lot of fun too. Lemon Lime Adventures looks like they had a great time doing it.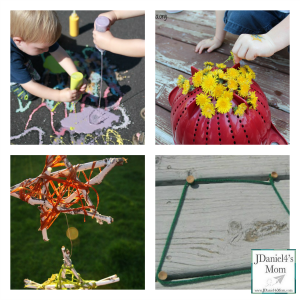 Here are some of my kids outdoor fine motor activities:
Playing Outside Chalk shares several wonderful we did outside with chalk.
Playdough Construction Site combines outdoor play dough play with exploring how construction machines do their work.
We created a spider web trellis in our yard. It is such fun to weave the humming bird vine over, around and through the web.
Combining coin dropping and reviewing vowel sounds is fun and challenge. We found that out when we played it with gold coins with vowels written on them.
Sand play can be a lot of fun for kids when you let them bring some of the tools from the kitchen out to play with them.  We used kitchen tools we had duplicates of.  This is post that I wrote for the MemeTales blog.
Another post from MemeTales shares how to craft an outdoor fire to read by. Painting the flames and the logs was great fine motor work.
Golf tees and yarn can used on your deck on in between the slats of a fence to explore shapes. This post I wrote for Kids Activities Blog will show you how.
Drawing a chalk face in the driveway and collecting fun twigs, flowers and more from your yard to decorate it is a lot of fun. This is another  post I wrote for the Kids Activities Blog.
Yet another post I wrote for the Kids Activities Blog looks at using a tomato cage to create a sculpture.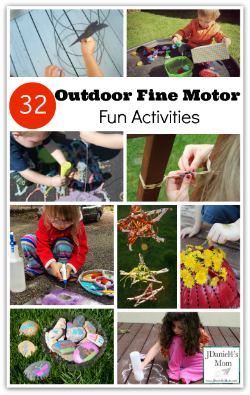 Mega Cash Giveaway
As I mentioned three people will win $500 in this giveaway. The $500 cash prizes directly in your Paypal account! This giveaway is open internationally. You must be 18+ years old to enter.
Giveaway Participant Round Up
There are a number of blogs participating in this amazing giveaway.  Each has created a round up of posts that fit a specific theme or learning area. I know you are going to enjoy visiting each of them and after visiting them you will be tempted to share their posts with others.  Please feel free to pin or share any of the round up posts below! Each one was carefully put together so that you would get to see great ideas on each topic shared.
I am thrilled you stopped by to explore the kids outdoor fine motor fun posts in this round up and to enter this awesome giveaway. I hope you will come back again to seek out  other great activities you can do with your kids.
Disclaimer: Win one of three $500 cash prizes directly in your Paypal account! This giveaway is open internationally. You must be 18+ years old to enter. Void where prohibited. No purchase necessary. Winners will be notified via email and have 48 hours to respond before another winner is chosen. Please see detailed terms and conditions below the giveaway for more info.

(Visited 994 times, 1 visits today)