There is something special about reading the words kids write in their journals.  When you read through a  journal entry you can see what they are  hearing as spell words, what they understand about sentence structure, and what is need to work on. This post contains several tips for helping kids write during the summer and a printable list on journal writing prompts called Capturing Summer Memories (Click on the link to right to get to the writing prompt printable.)
My son started journaling in kindergarten this year. Each month I looked forward to him bringing home his journal for us to read in home. I loved getting to see how his writing progressed during the year. It didn't make sense for him to stop writing during the summer.
Like most kids who are not totally into writing my son has claimed that he couldn't think of anything to write about in his summertime journal. I decide to create list of writing prompts that he could use to inspire his journal writing thoughts for the day. He hasn't had to use any of the prompts on the list if he can come up with one of his own. Having the list has really helped on those day that ideas just don't come to mind.
The summer journal prompts are kept right inside the cover on his writing journal. They are just placed there. They aren't stapled in place. I wanted him to be able to move the list to place across from the page he is writing on. I didn't want him flip back and forth.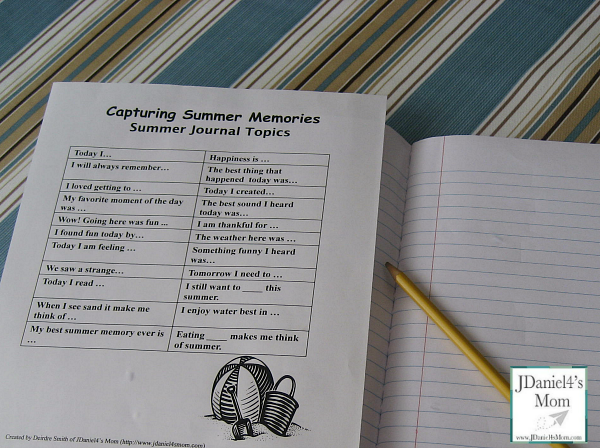 Tips for Helping Kids Write
Pick a writing spot that will aid kids in sitting up and holding their pencils correctly.
Have kids brainstorm out loud what they will be writing.
If not knowing how to spell a word will keep your  kids from writing, help them sound out the word or have them brainstorm with you words they need you to write on the page opposite  each day's journal page.
Let kids know what your expectations are for their journaling.
Examples:
Getting thoughts on paper
Capital letters at the beginning of  sentences
Punctuation at the end of a sentences
A certain number of words each sentences
A certain number of sentences
Correct spelling of all or most words.
Make writing a part of your daily or weekly summer schedule
I hope that you find having your kids write will help them hone and grow their writing skills.
Summer Learning Series
I am teaming up with several wonderful bloggers for the next three weeks to share great tips for summer learning.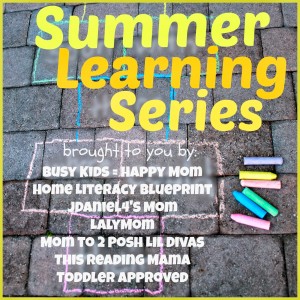 This post is part of a collaborative three-part summer learning series hosted by Mom to 2 Posh Lil Divas.
Be sure to check out these other great ideas:
15 Ideas for Summer Reading at Home- Mom to 2 Posh Lil Divas
Summer Reading Picture Graph- Busy Kids=Happy Mom
Choice, Games, and Family Time – Home Literacy Blueprint
Chicka Chicka Boom Boom Tree Activity – Lalymom
I am a week behind the other blogs in this series. Another post in my summer learning series will be up this Friday. It will look at finding math facts in your everyday life. I hope you will come back on Friday to check it out.

(Visited 804 times, 1 visits today)