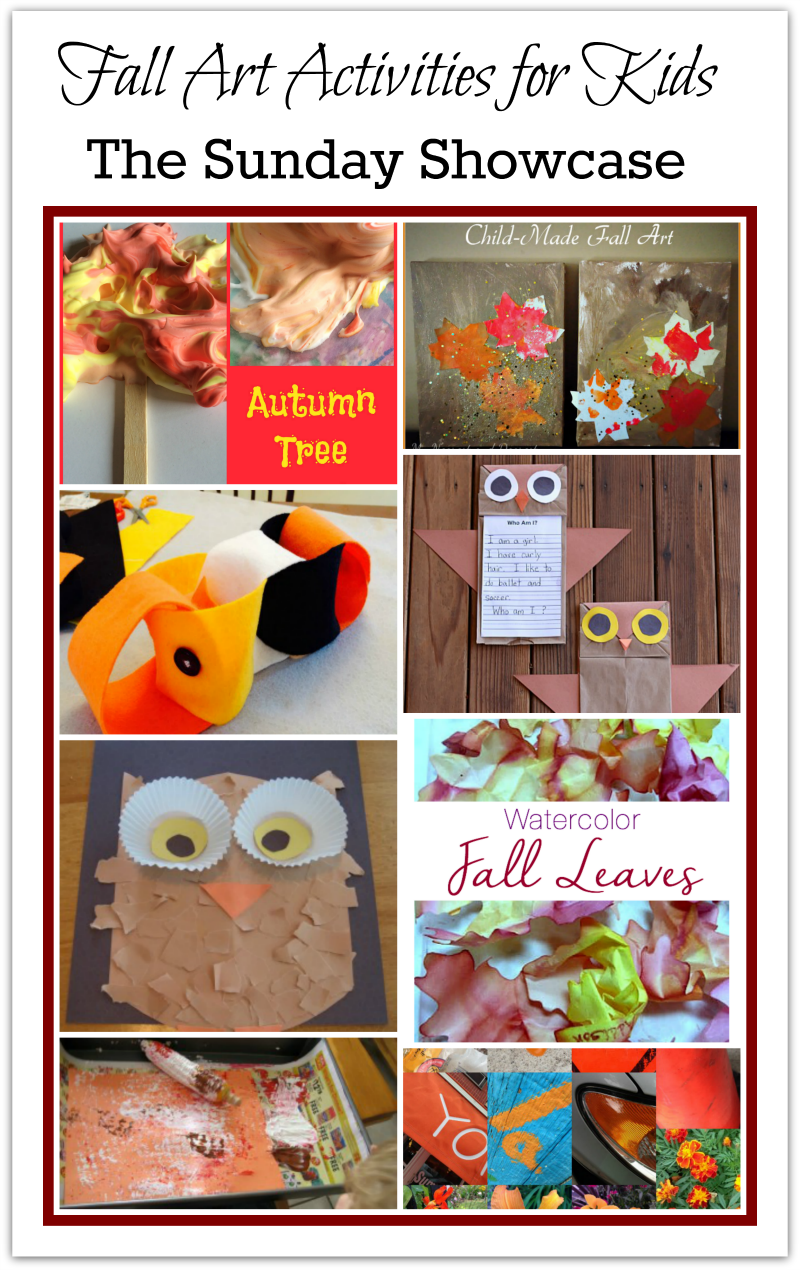 Fall art activities for kids  have started to appear on The Sunday Showcase. I found a number of them as I scrolled through the link up during the  last week. Theywere  awesomely fun and creative! Your children are going to love working on them.
If you have any fall art activities you would like to share in the link up or a wonderful child focused posts on another topic, please add it to the link up below.
Fall Art Activities for Kids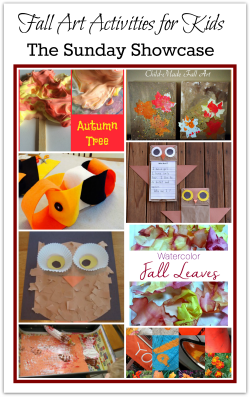 Teaching 2 and 3 Year Olds walks you through how to create gorgeous fall water color leaves. Some wonderful fall books are also shared in this post. What a wonderful way to welcome fall these will be!
Taking a walk to look for fall colors in the great outdoors and recording what you find in pictures is a wonderful fall art project. Kitchen Counter Chronicles shares more about this wonderful idea for a fall craft in a post called Going on a Colour Hunt with Kids.
Buggy and Buddy shared a wonderful fall crafted paper owl and guessing game they have called Who's Who? Owl Craft for Kids.  I know at least one child that is going to love crafting and playing this owl activity.
Children can craft their own fall garlands using the instructions found in Mosswood Connections Felt Garland's post. You will love displaying this fall art project.
Mini Monets and Mommies shared a Fall Shaving Cream Art for Kids that takes you step by step through creating amazing fall art trees. The various textures and layers in My Nearest and Dearest's Fall Art for Kids art project are really beautiful. This post will walk you through creating unique and creative works of art.
Here are two fall art activities from JDaniel's Mom:
The Sunday Showcase is hosted on the following blogs:
JDaniel4′s Mom
We each feature different posts that have linked up, so be sure to check everyone out! We'll also be pinning our favorites to our Pinterest board.
If you are here for the first time please read this informational post on Mom to 2 Posh Lil Divas' site  for the full details.  Anything kid friendly and/or child centered is welcome!  You are welcome to share more than one post,  but we don't accept links for giveaways,  shops, or downloads for purchase, etc.  They will be deleted.


(Visited 233 times, 1 visits today)