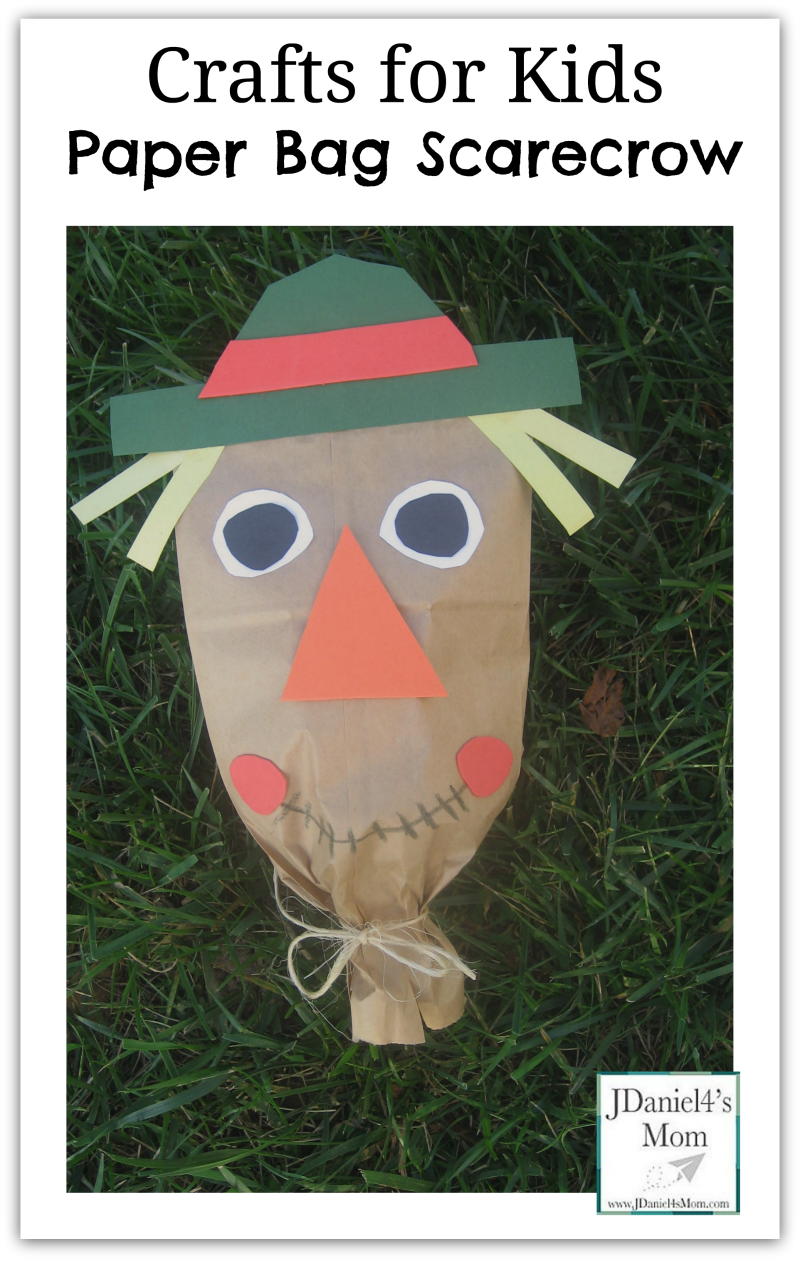 Scarecrows remind me of fall. They protect fall crops like corn and pumpkins as they start growing toward adulthood and toward fall.  My son and I have seen them at every orchard and patch we have visited to get apples or pumpkins. Why not make a stuffed paper bag scarecrow craft I thought as fall started this week. It could be set up on its own or glued to a piece of construction paper. He would be our reminder of fall.
A paper lunch bag was decorated with a scarecrow's face using crayons, construction paper and a bit of orange foam. The face that was created was long and took up much of the paper bag. There was only a small section left to cut slits into. If you want to have longer slits in the neck of your scarecrow, you will want to glue the facial features closer together.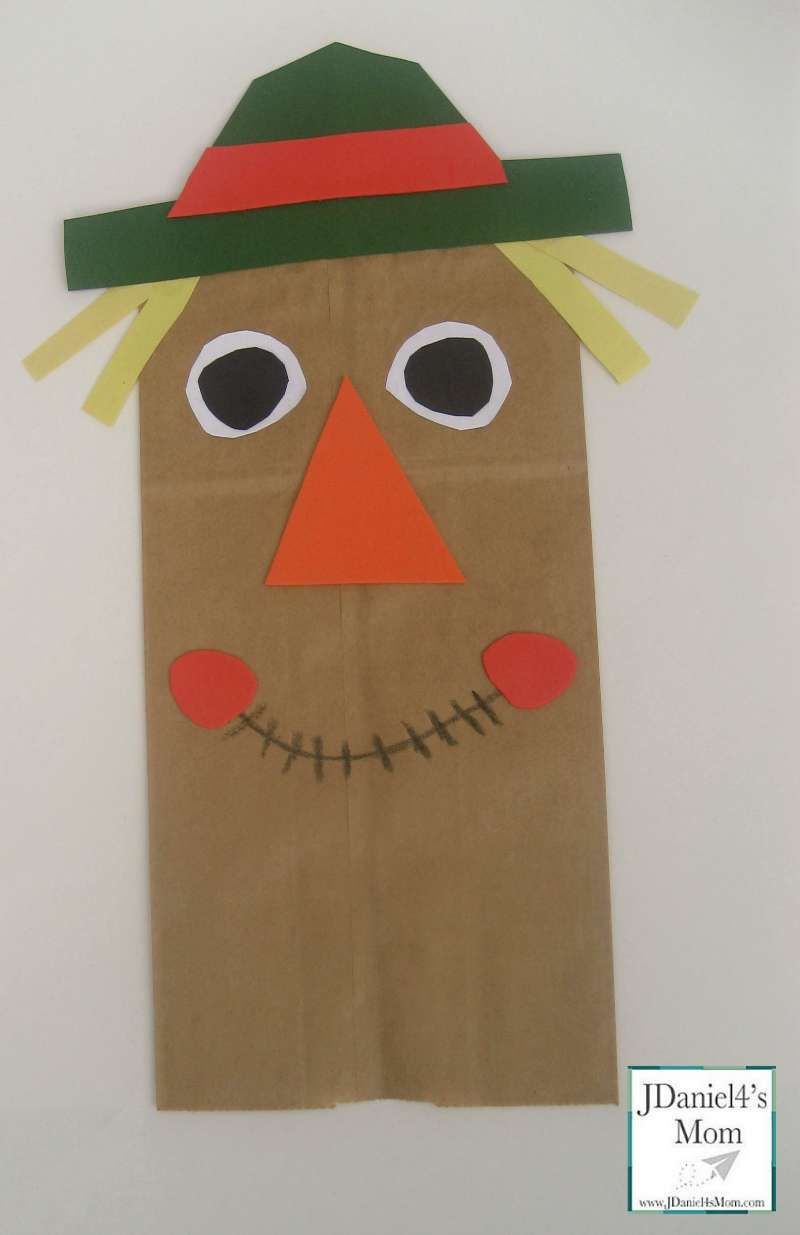 The scarecrow's head was stuffed with shredded paper to made the head three dimensional. ( We recently received a package that was filled with red shredded paper.) If you prefer a flat head, you can totally skip this step.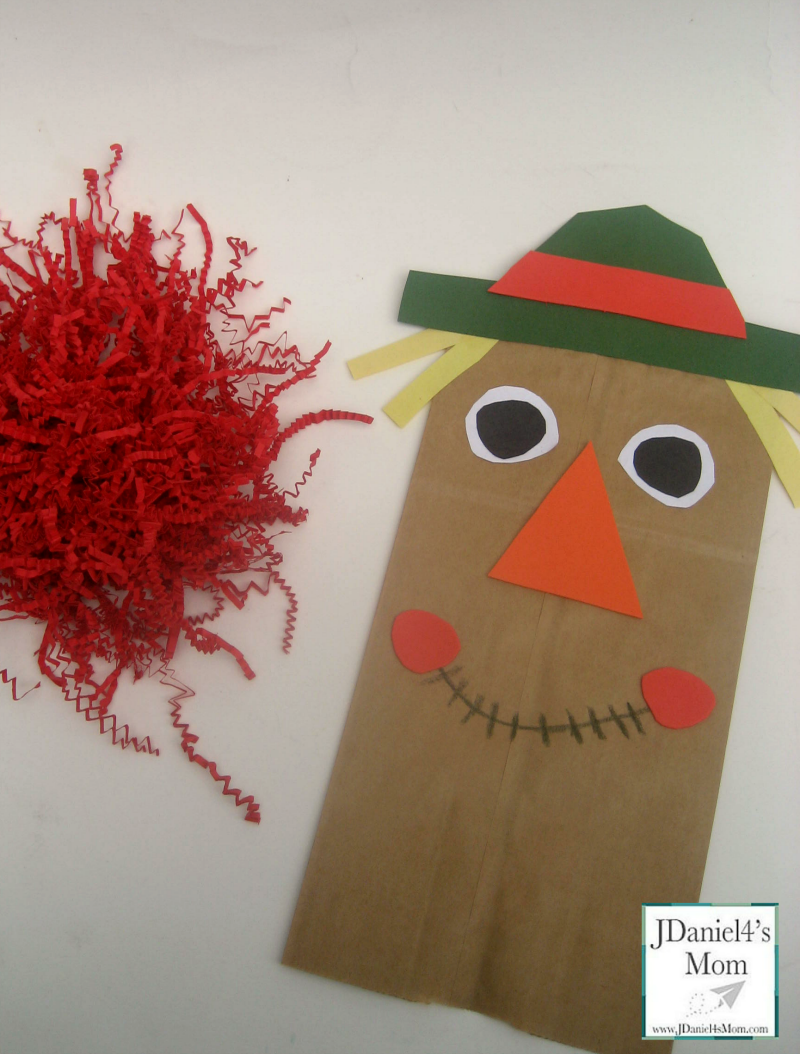 When the paper and been shifted around and was where it needed to be, the bag was tied shut with twine. I seriously thought about using bright orange ribbon instead. Ribbon would make it too fancy so, I shifted the idea of using twine.
The finished scarecrow head is sitting up in our kitchen hutch. As I mentioned earlier you could glue the paper bag scarecrow to a piece of paper. You could also place I stick or wooden spoon into the head to create a puppet.
.
Scarecrow Books
I love tying books to crafts. Below you will find a number of really wonderful books about scarecrows that you could read before creating a paper bag scarecrow or after.  You could always read a couple of them before you worked on your fall craft and a couple after it was done.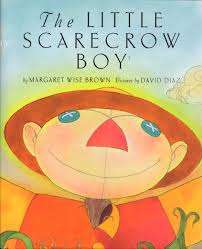 The Little Scarecrow Boy
 by Margaret Wise Brown tells the tale of a young scarecrow who feels he is more than ready to scare crows. His father tells him to stay home and practice making scary faces, but he sneaks out. When the young scarecrow is able to do what his father didn't think that he wasn't ready for. Boy! His dad is proud of him.
Scarecrow
  by Cyntia Rylant shares just what a scarecrow's life is like from his perspective. The book has soft and soothing words along with wonderful pictures.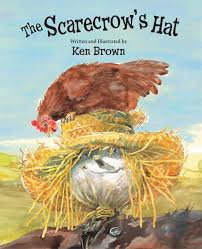 The Scarecrow's Hat
 by Ken Brown points out that if you really want something you may have to trade and trade again to get it. A chicken who wants a scarecrow's hat spends a whole book trading until he can get it.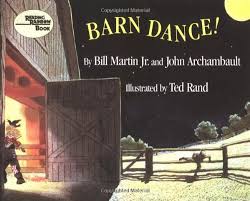 Barn Dance! By Bill Martin Junior is an old favorite of mine. A young boy sneaks to the barn when he hears a noise. When he looks inside he finds a rollicking barn dance going on. I love the rhythm and flow of this book.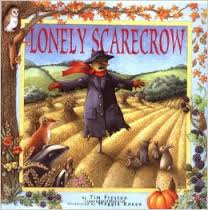 The Lonely Scarecrow
By Tim Preston shows how a fall of snow on a scary scarecrow gives him the opportunity to show the animals how kind he is. This is really sweet book. ( Here some activities we have done with The Lonely Scarecrow in the past.)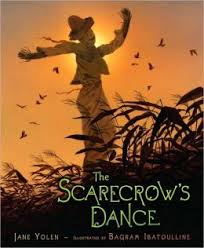 The Scarecrow's Dance
By Jane Yolen is about a scarecrow who tires of his job and decides to dance and romp in the fields. As he nears the farmhouse, he hears a boy praying for the corn about to be harvested and decides his job guarding the field isn't done.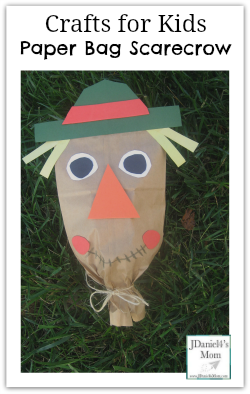 Do you have favorite fall book or craft?

(Visited 3,899 times, 2 visits today)