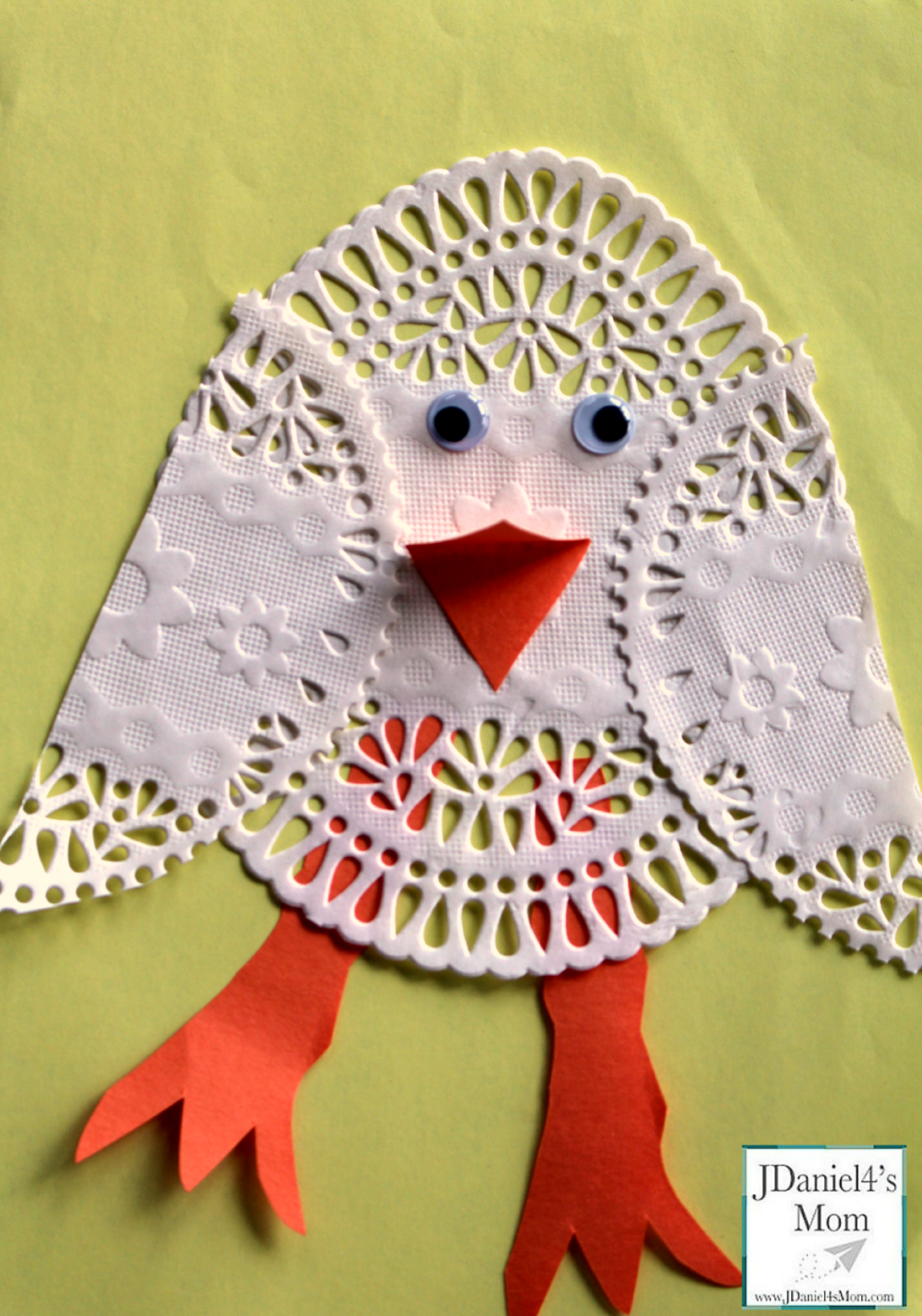 Although this doily chick is part of an Easter Arts and Crafts series, it could be created during a farm unit or a unit on the signs of spring. It is simple enough for young children to craft and could be made more elaborately by older children.
The link below is an affiliate link.
We started with two egg shaped paper doilies we found in our craft closet.  (I am not sure when we got them. It may have been an after Easter sale.) The idea was to create a chick with eggs. We kept one of the eggs whole and cut the second doily egg in half.
Then we paused a moment to talk about symmetry. We did have a whole egg that we could place the two sides of the second one. It was a great time to talk about how both sides were the same or almost the same. One side was a tiny bit bigger. Despite that fact is was still a good time to talk about symmetry.
Next we cut out chicken legs. I am not sure that a chicken's legs are really this chunky. We didn't look at picture of real chicken before doing this craft. If you decide to do create chicks as one of your Easter Arts and Crafts, you may want to take a few moments to see what a chick or chicken's legs look like.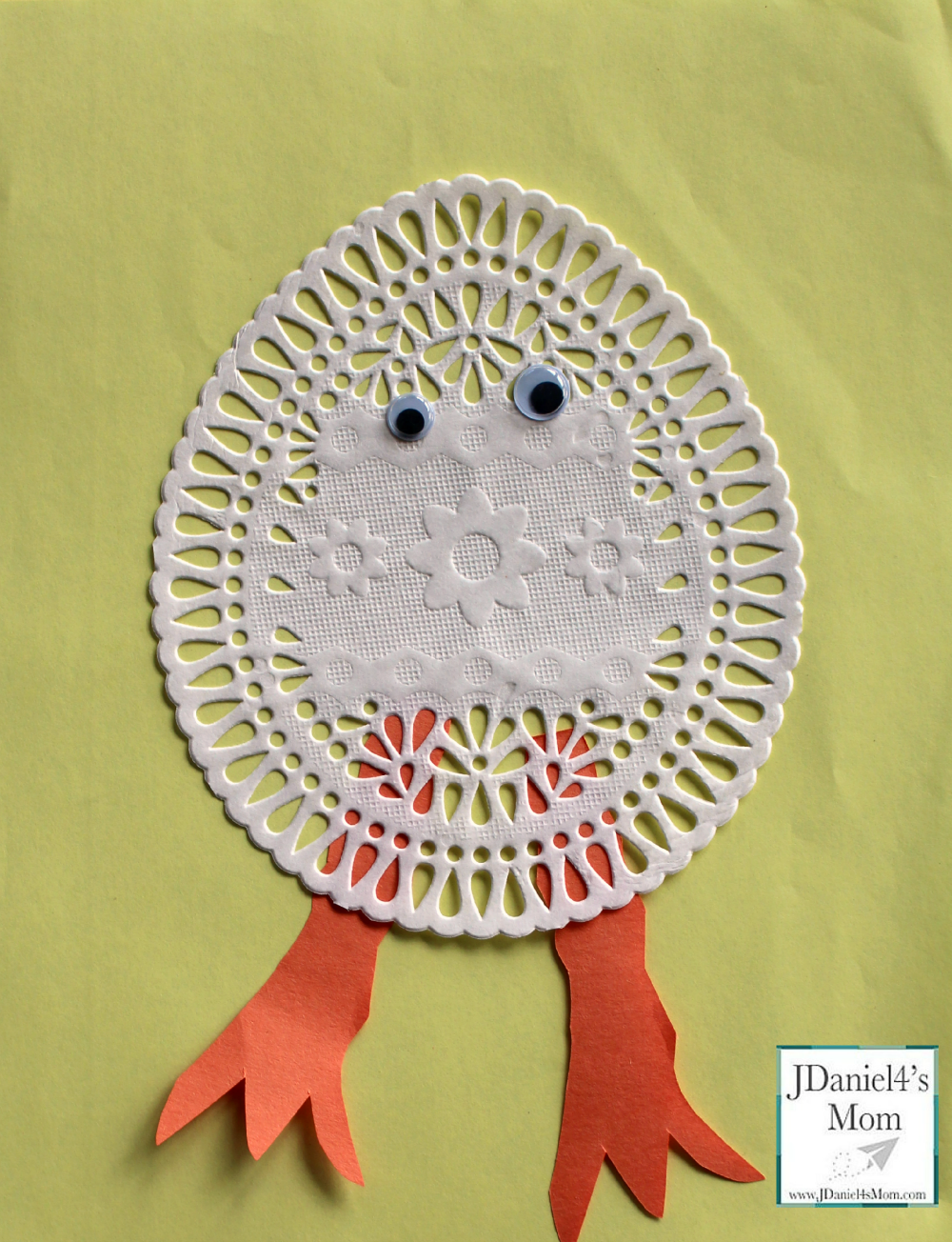 The wiggly eyes were placed on the Easter arts and crafts chick next. (We had a bag of eyes of various sizes so, we had to dig through to find eyes that match.) The first set I tried on my chick didn't match. They made him look sort of odd. While I could have left them on him, I decided to keep digging through and look for a matching pair of eyes.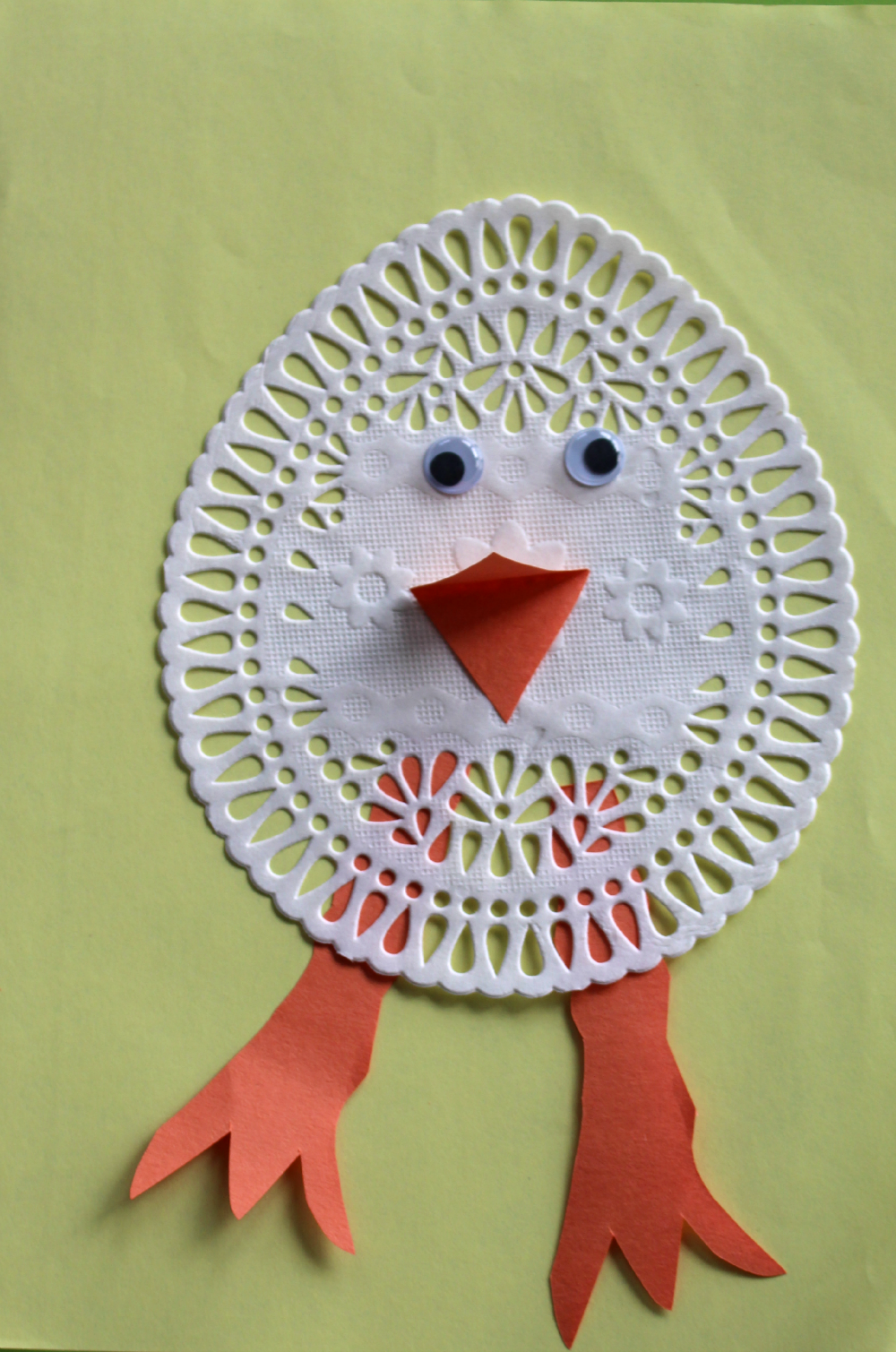 The chick's beak went on next. The beak could have been just an orange triangle.  Rather than have flat beak we went for a more 3 dimensional beak. It make it look like the chick might be trying to talk.
All that was  left now was to add the wings. Our wings were placed on top of the chick's egg shaped body. You may decide that you want to have the wings under the body. There really isn't a wrong way to craft this chick. Your children may decide to have the chick's wings flapping above its head.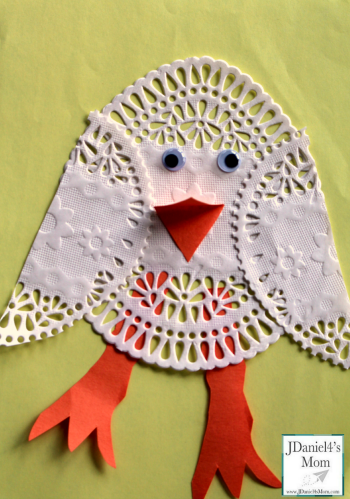 Other Easter Arts and Craft Ideas for the Doily Chick
You could add yellow feathers to the chick's head or wings. ( We didn't have any at home so, we didn't use them.)
Children could cut out small bit of yellow tissue to add a fluffy effect to the chick's body or wings. ( We didn't have tissue either.)
Various shades of yellow paint could be dabbed onto the chick. ( We did have paint, but decided not to use it.)
You could read the book The Golden Egg Book  before crafting the chick. It is a wonderful Easter story.
Here are some other Easter Arts and Crafts for Kids:
Cool Math for Kids- Easter Egg Learning
Fun Craft for Kids- Torn Paper Chick
If you try making any of these easter arts and crafts, please leave me a comment below or leave me a comment on my Facebook page.

(Visited 862 times, 1 visits today)