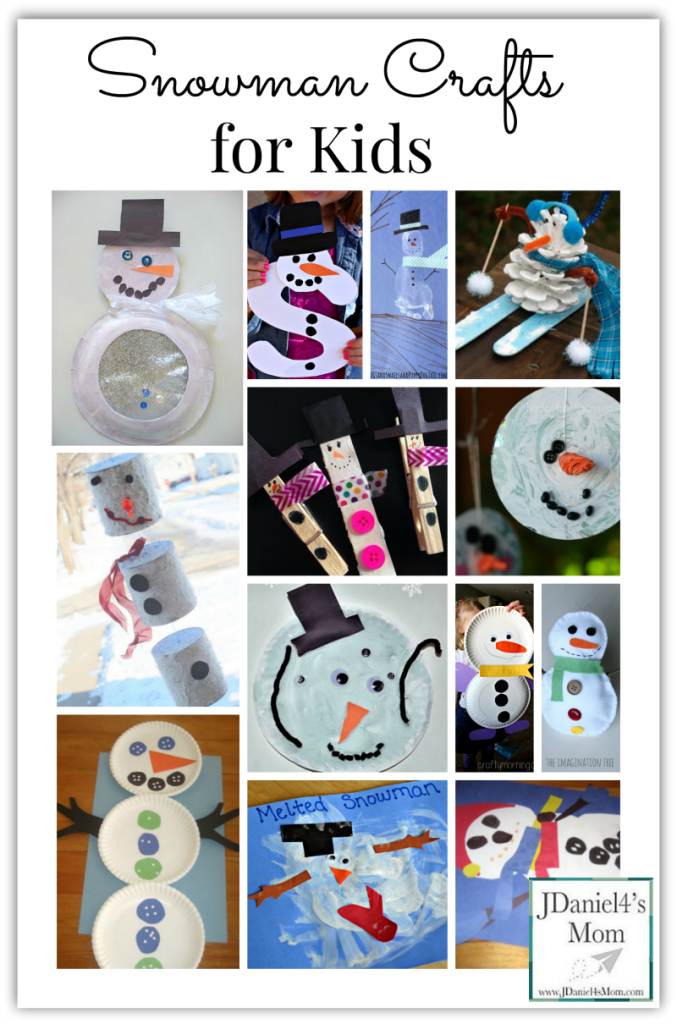 Snowman always remind me of winter. We don't get much snow here in South Carolina, but snowman are still popular winter crafts to make here.
Here is a collection of amazing snowman crafts for kids I think you will love. If you feel so inclined you can change these snowman crafts into snow ladies if you like. I don't think that would be hard to do.
Snowman Crafts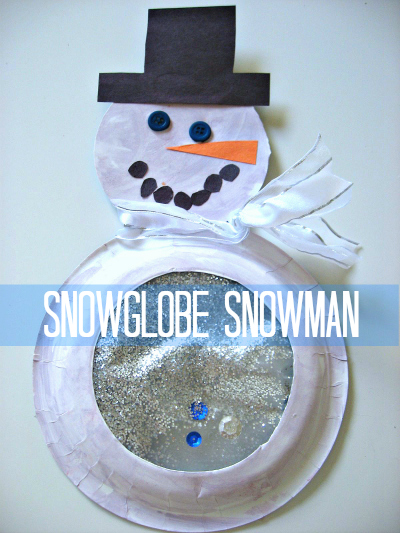 This snowman Snow Globe from No Time for Flashcards was a belly filled with glitter. What fun it would be to watch it snow inside your snowman craft.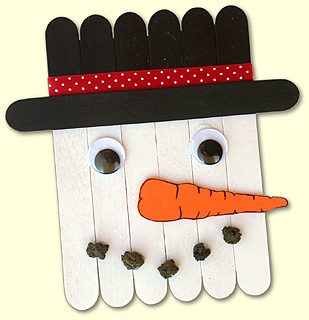 Craft Stick Snowman from The Learning Bug has added texture to the snowman smile by gluing down small rocks.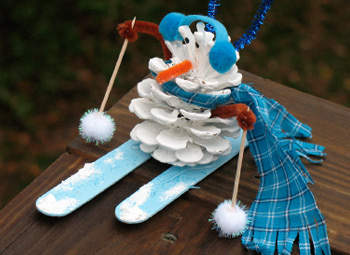 Pinecone Snowman from Fun Family Crafts is one of the snowman crafts in this collection that would be great for older kids.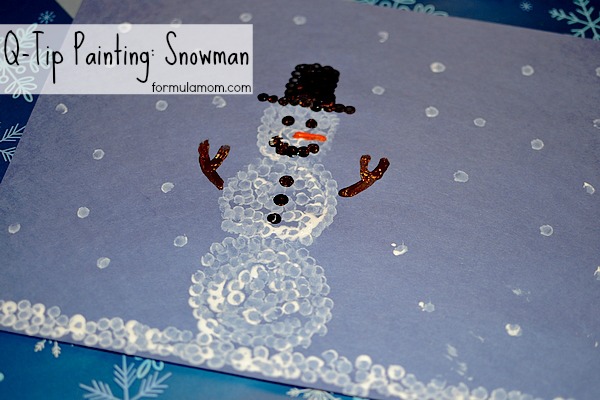 This Q-Tip Painted Snowman from The Simple Parent gives kids the opportunity to create three different sized circles. Kids can then fill in the area of the circles before adding details.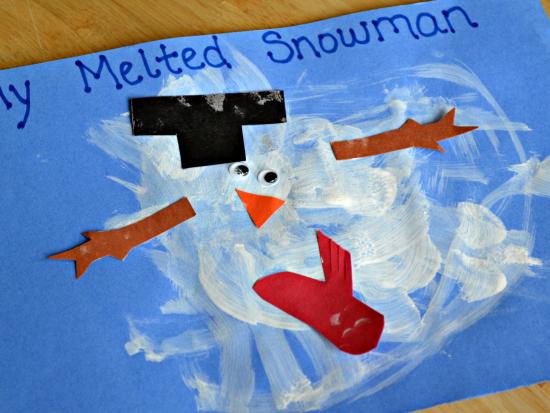 Melted Snowman Painting from Kiwi Crate is a craft with whimsy. I love that his hat is upside down. The snowman's scarf is descending to the ground. His arms and eyes have stayed in place though.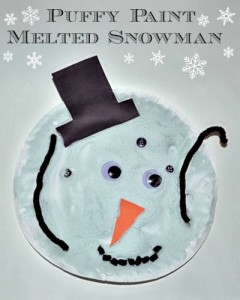 Puffy Paint Snowman from Artsy Momma was created on a paper plate. This is one of the snowman crafts I thought would be great for kids young and old.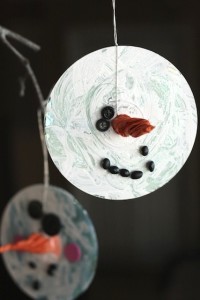 CD Snowman Ornament from Happy Hooligans just make me smile. I love the off center smiles and twisted noses.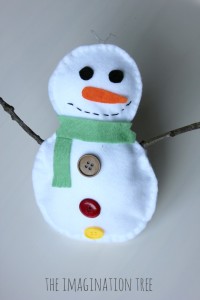 Stuffed Snowman Sewing Craft from Imagination Tree looks like a fun sewing project for kids.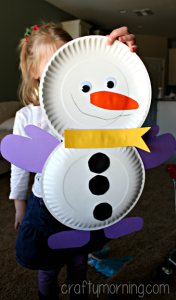 What fun this paper plate snowman from Crafty Morning is! It is cool that he has matching mittens and shoes.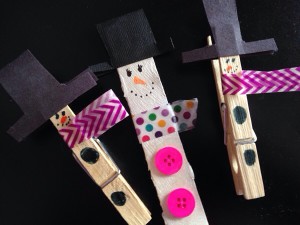 Snowman Bookmarks from Classy Mommy will hold your spot in your favorite winter themed book.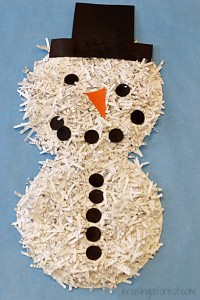 Shredded Paper Snowman from Housing a Forest has such a fun texture. Kids will love the fluffiness of this snowman craft.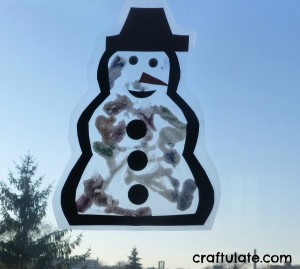 Snowman Sun Catcher from Craftulate lets the scenery outside your window decorate part of the snowman.  That is just too cool.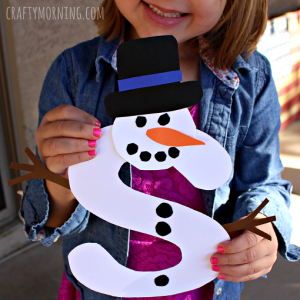 Snowman Winter Crafts from Crafty Morning is super cool! I love how his body is made of the letter S.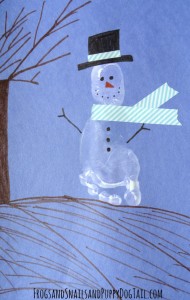 Footprint Snowman from Frogs Snails and Puppy Dog Tails looks like it would be fun to make.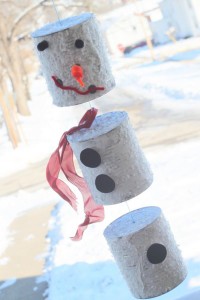 Tin Can Snowman from Hands On: As We Grow moves with the wind. What fun it would be to make one to hang outside your door.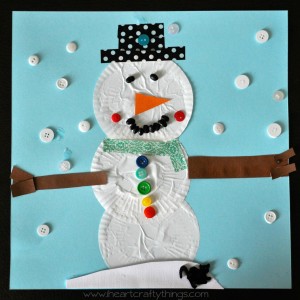 Cupcake Liner Snowman from I Heart Crafty Things features one of my favorite crafting materials. I love using cupcake liners in crafts.
Snowman Crafts from Right Here on JDaniel4's Mom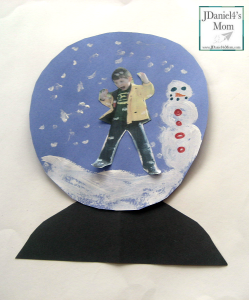 Snow Globe with JDaniel and Snowman Craft– JDaniel and I both took pictures of each other to use in our snow globes.
Hole Punch Snowman was made a part of a counting lesson. We both counted and he punch that number of holes.
For more winter crafts please check out my Winter Crafts Pinterest board.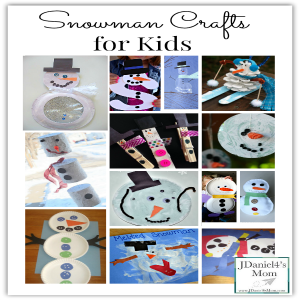 (Visited 1,666 times, 1 visits today)