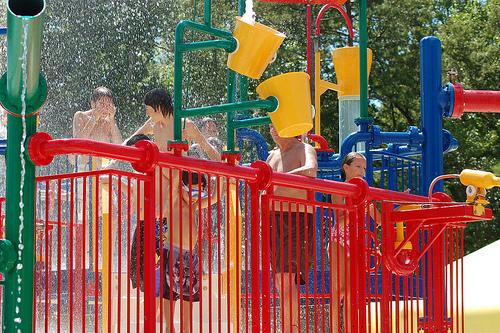 It can get hot and steamy in South Carolina in the summer. JDaniel, my husband and I have done various things to keep cool.
Discovery Island Water Park
We have enjoyed the Discovery Island Water Park in Simpsonville three times this summer. It is a little expensive, but children under two are free. (JDaniel under two so he has been a great deal. )When we had family visiting this summer it was a great place to take my niece and nephews. They can play hard, get wet, and find a water activity that is age appropriate for them.
The park has the following:
-Two water slides (one that you ride tubes on and one that you body slide)
-A lazy river
-A wave ride (My nephews loved riding the boogie board on the wave.)
-A playground of water buckets, spray nozzles, and more that get the children on the equipment wet and the passerbys.
Discovery Island is only open on weekends now that school has started until Labor Day.
The Fountains under the Hampton Inn
In fountains under the Hampton Inn or should I say beside it are a lot of fun. There are spray nozzles in the sidewalk where the Hampton Inn meets the Reedy River in downtown Greenville. We have had a great time running around in them. The nozzles or fountains go off at different times so it fun to watch and play in the water as it pops up. There is great parking at the Hampton Inn that isn't expensive or you can find parking along the road in front of the Hampton Inn.