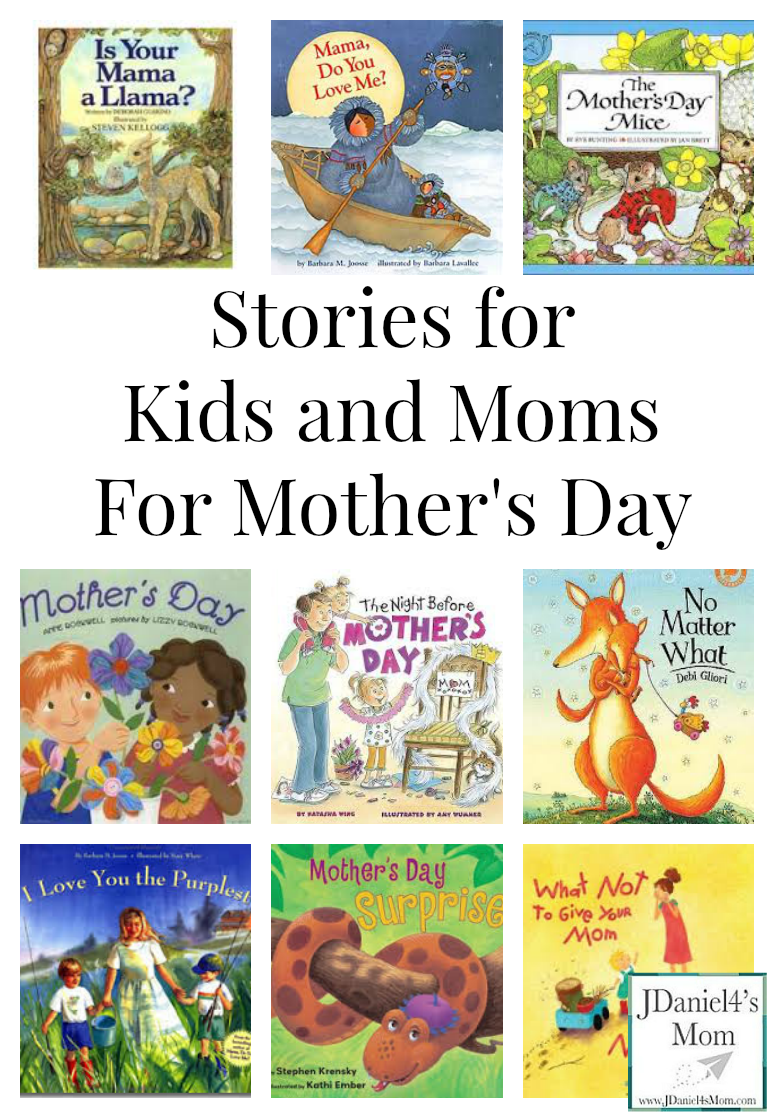 There is something wonderful about curling up and reading stories for kids and moms with your own child or grandchild! There are dozens of stories that feature kids and their moms. While they can be read all year long, I think reading one of these stories for kids and mom on Mother's Day makes Mother's Day extra special.
This post contains affiliate links.
That's How Much I Love You by Lisa Tawn Bergen shares the tale of a mother dog and her pup. They spend all day trying to so how much more they love each. They love each other more than the snowflakes in a blizzard and the bubble in a bubble bath. The illustrations in this book are gorgeous!
The Night Before Mother's Day
 and all through the house the children are preparing special things to show their mom that she is special. Children and their moms will love reading this book by Natasha Wing. It may give some children ideas of what to do for Mother's Day for their mom.
Anne Rockwell's Mother's Day
 looks at various ways students in a class share Mother's Day with their moms.  It includes are fun craft that the class makes and that you can make too.
Have you ever been given a bucket of worms for Mother's Day? The children in What NOT to Give Your Mom on Mother's Day
 by Martha Simpson have given worms and other very interesting gifts consideration. This is a book that will make you laugh.
The mice in The Mother's Day Mice
 end up skittering and scattering to find the perfect Mother's Day gift. This fun book is written by Eve Bunting. It is filled with fun text and super cute pictures.
Sometimes it is the simple gifts that moms like the best. The snake in the book Mother's Day Surprise
 by Stephen Krensky finds that creating a Mother's Day gift is a challenge without hands. Snake ends up having to use what they have to give mom a simply wonderful gift.
Mama, Do You Love Me?
 by Barbara M. Joosse shares a mother's unconditional love for her very busy daughter. The story is set in Alaska and shares activities that are a part of the Intuit culture. The title of this book is question children around the world have asked their moms.
Another wonderful Barbara M. Joose book is called I Love You the Purplest
.This story is about a mother and her two sons each wants to know who mom loves the most. The words and pictures in this book share how the mom finds ways that each boy is special. You will love finding out just what the title of this book means.
Deborah Guarino's Is Your Mama a Llama?
is a fun book filled with rhymes and wonderful illustrations by Steven Kellogg.  While a llama is searching for their mama they come across a variety of animals that share facts about their mamas. This is such a fun book to read.
No Matter What (Send-A-Story)
 by DebiGliori is a book I have given as a baby shower gift for years. I even have a copy of it in JDaniel's room to read at bedtime. It is a wonderful tale of small and how his mother Large reassures him that he is loved no matter what. Be warned this book has been known to make me cry.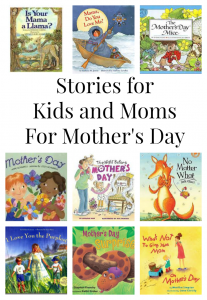 What are your favorite stories for kids and moms to read together?