Whether you are looking for a special treat to send into your child's teacher or you just love desserts with apples, you are going to love this apple cinnamon bread recipe. JDaniel and I made a trial loaf last week to make sure it would taste great and turn out well. Both my husband an JDaniel loved it. Actually I love it too. It is a little tart due to the Granny Smith apples and a little sweet due to the brown sugar.

I remember at the beginning of the school year having a parent stop by at the end of the first week with a treat. She thanked me for a great start of the year and wanted  to give me something to celebrate the beginning of the year with. That was over 25 years ago and I still remember her generous gift.

JDaniel's kindergarten teacher deserved to have the same thoughtful gesture at the end of her first week so, JDaniel and I made this wonderful apple cinnamon bread. (It a simple enough recipe for families to make together.) 
Apple Cinnamon Bread Recipe
Ingredients
1 1/2 cups of flour
1 1/2 cups of tart apples chopped finely
1 tsp of baking powder
2 tsp of cinnamon
1 cup of dark brown sugar
1/2 TBSP vanilla
2 eggs
1 cup of milk
1/4 of vegetable oil
Directions
Preheat oven to 350 degrees.
Rub the inside of your loaf pan with oil or shortening.

Mix together the flour, apples, baking powder, brown sugar, and cinnamon in a large bowl.

Mix together the eggs, oil, vanilla and milk in a small bowl.

Pour the contents of the small bowl into the large bowl and mix thoroughly.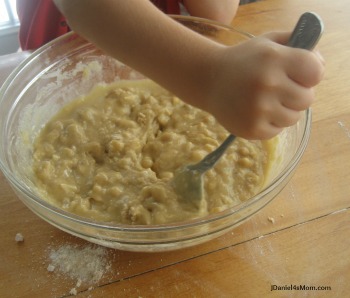 6.Bake at 350 degrees for 30-35 minutes. Check to make sure the bread is cooked with a toothpick. If it isn't fully cooked, put it back in the oven for 5 more minutes.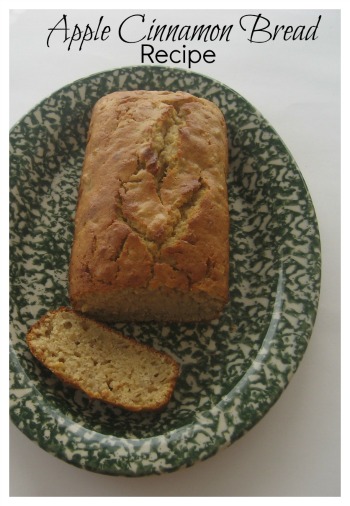 This super simple recipe would be great to share with teachers and others your care for. It is a fun twist on giving the teacher an apple to show them that you appreciate what they do. I bet there are other people that work at school that would love to try this bread recipe for apple cinnamon bread too.
More recipes for apples beyond this bread recipe: