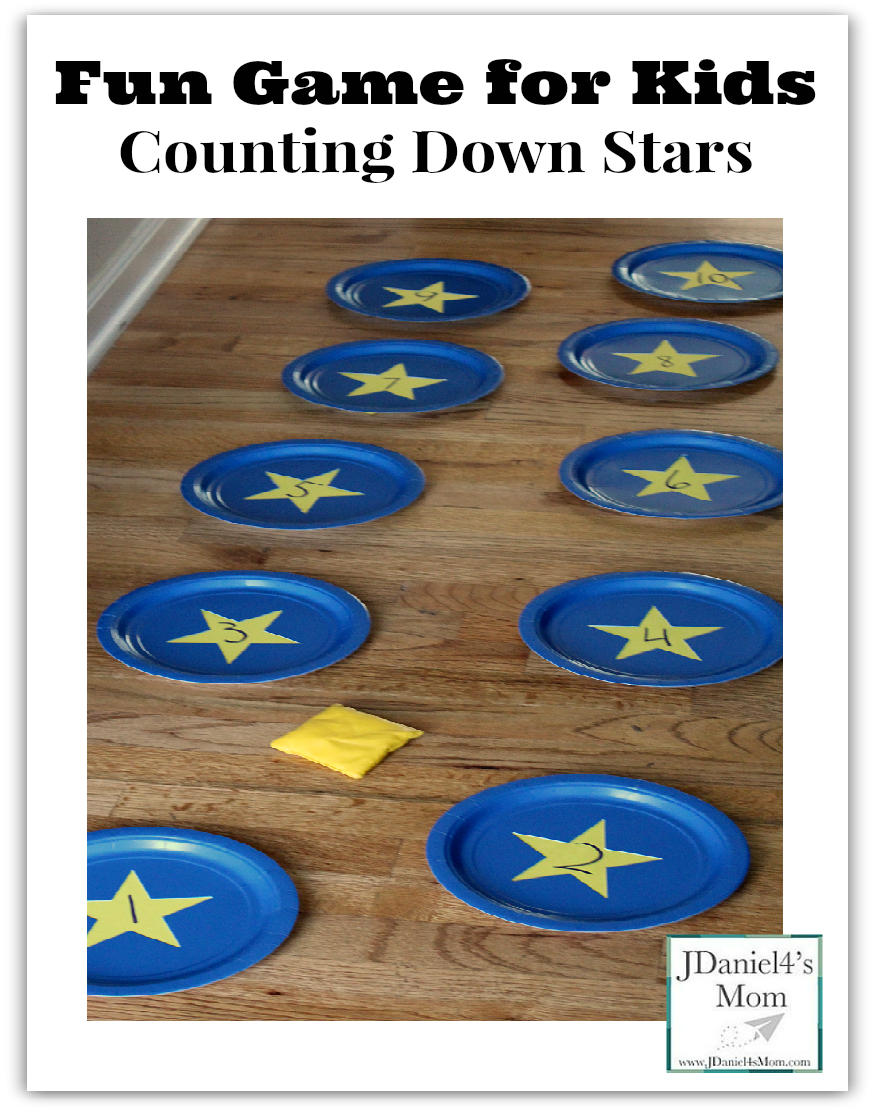 I know I shared a counting down activity with a New Year's Eve theme just last week. This fun game for kids that I am calling Counting Down Stars was such fun I thought I would share it with you too. It could be played on New Year's Eve, as part of a space unit or anytime you want to work on counting with them.
What You Need To Create This Fun Game For Kids
Blue cake size paper plates
Yellow construction paper
Magic Marker (Your choice of color)
Bean Bag
How to Put the Game Together
I have access to an Ellison press so, I was able to cut the stars out of the center on the blue plates. Then I taped yellow construction paper to the back on the plates. With the construction paper in place, I wrote the numbers one to ten on the the stars.
If you don't have access to one (I probably wouldn't  if I didn't teach at an elementary school.), you can create a cardboard star out of an old cereal box. You can  use it as a template to trace stars onto the paper plates or the construction paper.( I did try cutting a stars out of the paper plates. It was a little challenging, but not bad.) If you want your children to help with the cutting it would be easier to have them cut the stars out of construction paper. No matter what way you choose to have the stars cut out you children could definitely write the numbers on them.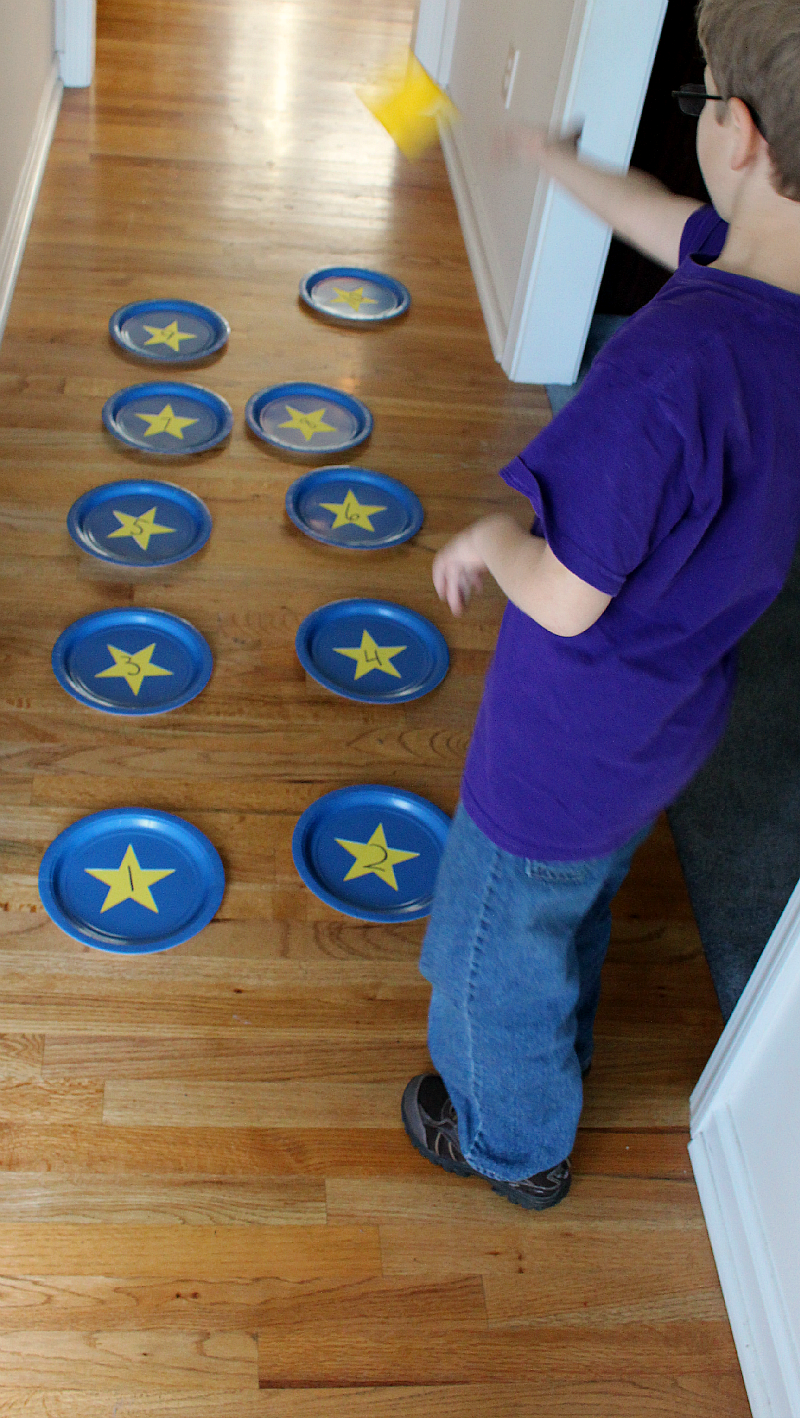 Ways to Play This Fun Game for Kids
There are a number of ways you can play Counting Down Stars. I will share with you the way we played it first and then a few other ways that you can play it. If after reading through these game ideas, you come up with a version of your own  please leave me a comment below or share it on my Facebook page.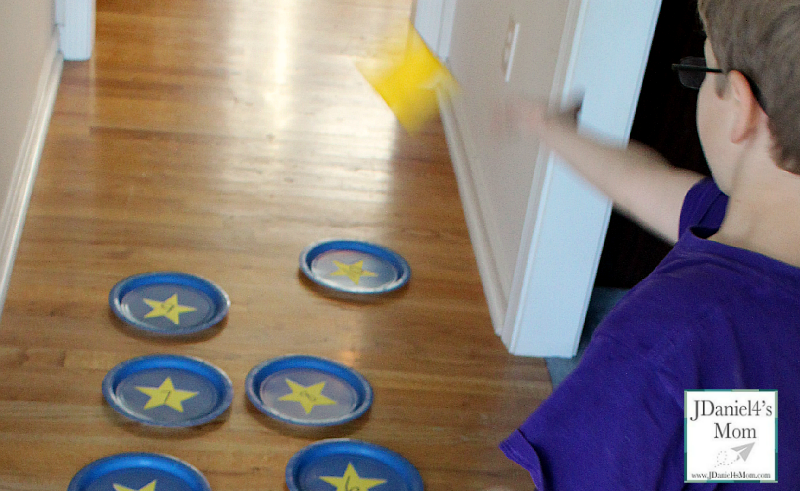 Our Version of Counting Down Stars
At my house we try to have the bean bag land on each plate in numerical order counting down. It was tricky. There is a lot of focus and eye/ hand coordination needed to try to get in on the right plate each time. It took several attempts to get it on each number.
Much Easier Version of Counting Down Stars
Have children try to toss the bean bag on a plate. Any plate will do for this fun game for kids. Then then have to countdown to zero from that number. If the bean bag lands on the ten there is a lot more counting to do then when it lands on the number one.
Tell You How Many Times to Count
Children have to countdown from ten the number of times that indicated on the plate they land on. You will probably notice them aiming  for the lower numbers for this version of the game.
Changing Position
This fun game for kids doesn't use a bean bag. Children will need to organize the plates in number order. Since this game is focusing on counting down, they would need to place the plate in order from ten to one.
Here are some other New Year's Eve themed activities you can do:
How to Make Noise Maker Shakers
New Year's Drink for Kids- Firecracker Sparkler