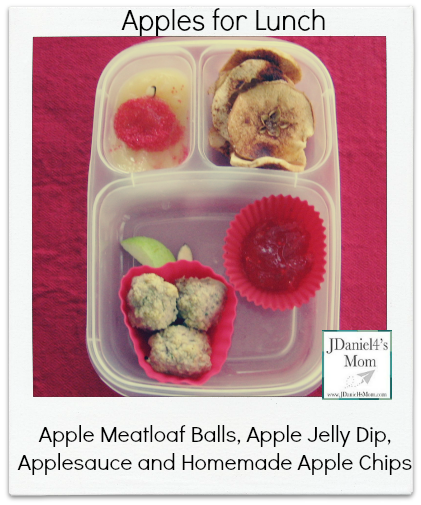 I should be thinking of lunches with leaves or maybe pumpkins, but I am still creating kids lunches with that are apple filled. Our recent trip to an apple orchard has filled our house to the brim with apples. Apples have been appearing during breakfast, lunch, and dinner. Oh! and sometimes snacks. I hope you will like this apples for kids lunch Bento.
This lunch contains several of the things that were leftover from my apple recipe experiments. The applesauce actually isn't homemade. JDaniel has been dying to help me make some, but we haven't had a chance between school, soccer and swimming. I did use red sugar to create an apple on top of the applesauce.
The apple chips are something we have made several times this fall. I share the recipe for them last week. They spend a lot of time in the oven, but take every little time to make. JDaniel was thrilled to find them in lunch.I found a wonderful recipe for turkey meatballs in a Taste of Home magazine that had apples in them. I followed the recipe almost completely. Instead of using turkey stuffing along with the egg, ground turkey, grated apple I used cornbread stuffing.
JDaniel complained that the meatballs were to spicy so, I gave him cup of apple jelly to dip the meatballs into. Apple jelly is really bland. It coated the spiciness of the meatballs and made them something JDaniel enjoyed having in his lunch. We will have to try using dips with other foods that a deemed spicy.
You will find more apple themed ideas on my Apples board on Pinterest. There are more Bento  ideas for kids lunch on my Bento Lunch board.
Here are some other wonderful apples ideas:
What apple dishes does your family enjoy?