While JDaniel isn't really a picky eater, he can be picky about how his carrots are served. So when I came across the book Rabbit Food
 at the library about a rabbit family that has a couple members that don't like carrots, I thought we should eat it. No I mean read it!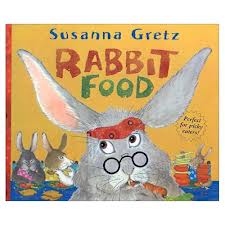 Mother and Father Rabbit really want their son John to eat carrots. His brother and sister eat theirs. They try everything they can think of to get him to eat them. They even resort to having Uncle Bunny come to their house so he can show him much he loves carrots.
There is one problem with that idea! Uncle Bunny doesn't like carrots either. He hides them in plants and under his napkin.
He is a fun uncle though. He makes baked potato rabbits for the little bunnies to eat. (His potato lacks the carrot ears though. ) He takes them on hikes. He lets them feast on foods that they like.
After their feast, Uncle Bunny heads to the kitchen to eat what is left to eat  and all that is left are carrots. He tries some and really likes them. He really does.
I love how this book about two picky eaters ends. What a fun book!
What did we do to explore Rabbit Food?
Pinto Bean Carrot Dip
I am participating in a 10 day e-course offered by SKILLTRI called Love for Lunch. One of the days focuses on dips. After having JDaniel not like the carrots in his Bounding Bunnies Bento, I decided to have him help me make their pinto bean dip. 
It was so easy. JDaniel helped chop up the parsley and scallion for it and then put it in the blender. He cut them into chunks rather than fine pieces and that actually gave the dip some texture.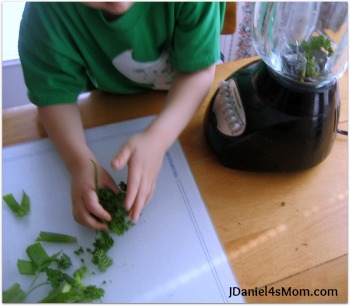 JDaniel then added part of a can of tomatoes that I had added some spices and a dash of lime juice into.

After blending it thoroughly, we placed it in a bowl and tried it out. I told JDaniel carrots would be just right to use with your dip. He surprisingly agreed with me and tried them. I think he ended up eating about seven carrots. I was shocked.
We will be making this dip again. He really likes it and I love that he eats carrots with it.
Carrot Number Activity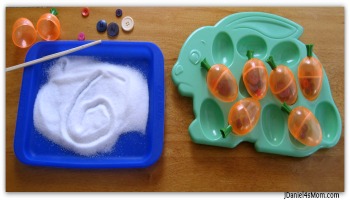 We have been working on writing numbers at our house. I think I may have told you that before. This week I  had JDaniel write numbers in a salt try with a chopstick. He was asked to write the number that equaled the number of button in each plastic carrot shaped egg he opened.
This activity not only helped he work on forming letters. It reviewed counting skills as well as working with viewing numbers with concrete materials.
I need to confess that he still doesn't like to write numbers and some are a little backwards. He did like getting to use the chopstick and salt to write them. I think we will be doing this activity again too.
If you like these Rabbit Food activities, you might enjoy these rabbit themed crafts.
Disclaimer -This post includes an affiliate link. I was given the opportunity to take the Love and Lunch e-course at no cost.