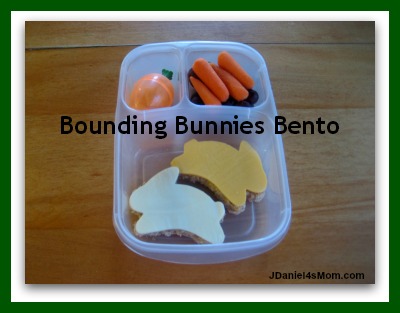 I really try to give JDaniel healthy lunches. Sometimes I am more successful than others. Lately he has gotten in a rut as to what he wants to be served or make for his lunch. ( He is big on making his lunch all by himself right now.)  American cheese sandwiches are what he has decided he likes. I won't mind much, but he also wants American cheese on a flour tortilla for breakfast. I needed to do something to shake this up a bit. I needed to come up with some healthy lunch ideas!

Wait! I know what you are thinking. This lunch has cheese sandwiches in it. Yes, it does. It has two colors of American cheese in fact. What you can't see is that under the bunnies are several pieces of pepperoni. Pepperoni isn't my favorite source of protein, but it is one that he will eat in his lunch. Having some type of protein in the lunch was one of my healthy lunch ideas.

Cheese crackers are another popular lunch item for him to request. I did include a couple cheese crackers in a carrot shaped Easter egg in this lunch, but not many.
What he got more of were carrots and red grapes. He says he doesn't like raw carrots, but I put them in anyway. JDaniel ended up eating half of them along with all the grapes. When he got home, he had just the two carrots in his bento box. Later when he asked for a snack I required he eat the two remain carrots. Having carrots on the menu was another of my healthy lunch ideas.

He made face while he at the carrots but, he did eat them. In fact he said they weren't that bad.
I keep telling him that healthy bounding bunnies who eat carrots have wonderful eye sight. My husband isn't big on carrots and he has worn glasses for years. I am hoping JDaniel will make that connection between the need to eat carrots or decide he would like to see the world the way a bouncing bunny can.
Here are some more fun lunches and snacks filled with healthy lunch ideas:
Disclaimer: If carrots really made him sick, I won't keep trying to get him to eat them.