You may remember that JDaniel conducted a peeps experiment for the science fair last spring. It featured Peeps candy in a rabbit shape and featured four liquids. Those Peeps were coated with blue sugar. We decided to try the same experiment with ghost peeps and some of the same liquids.
The question we sought to answer was "Will uncoated Peeps candy react the same way the sugar-coated Peeps did?" You will be totally surprised with the results of this Peeps candy experiment. I know we were.
Peeps Candy Ghost Experiment
Getting Ready
Before you can start the Peeps candy experiment, you will need to gather a few supplies. Below you will find a list of the supplies you will need.
Supplies
The link below is an affiliate link.
*You could use catsup or lime juice instead of the lemon juice if you like.
Printable
You don't have to use this Halloween Ghost Peeps Candy Experiment Printable if you don't want to. It is a fun way place for your children to record their predictions and experiment results.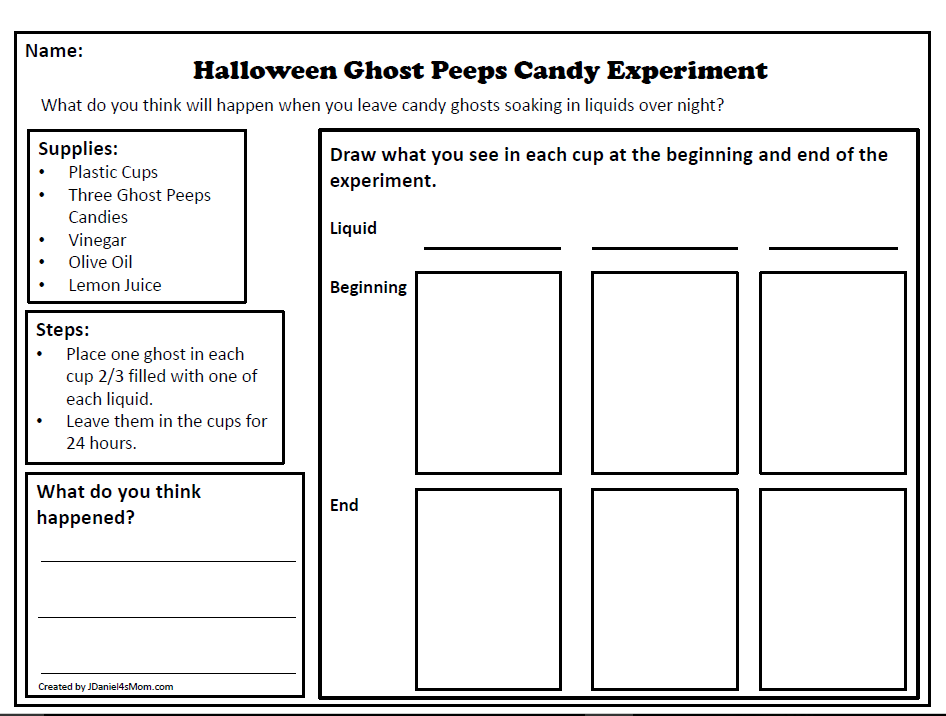 Getting Started with the Peeps Candy Experiment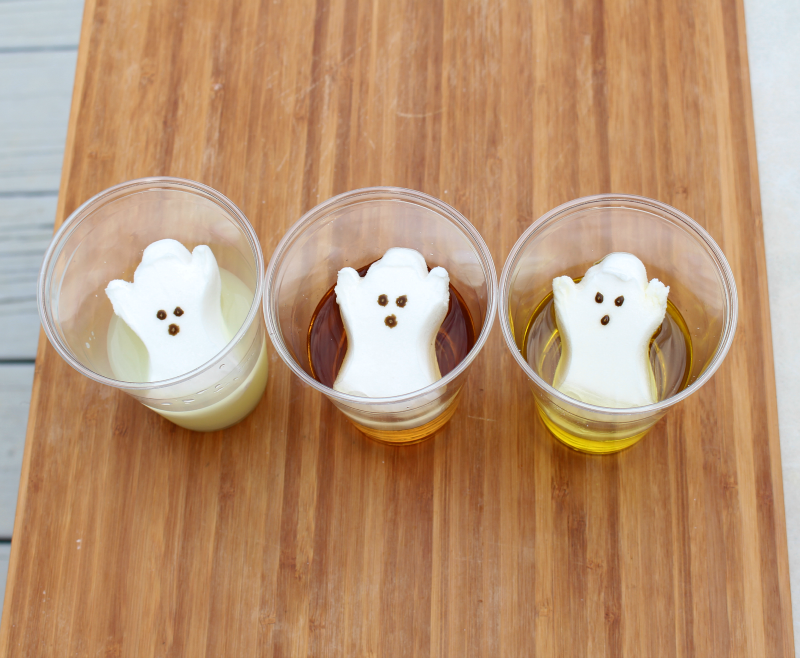 Step One
You will need to start by filling each of the cups 1/3 of the way up with one of the liquids.  Then you will need to place a candy ghost in each of the cups. Next, you will want to cover the cups with a large plastic pitcher or storage container to keep things from floating or falling into the cups. It will also create an air of mystery around the experiment.
Step Two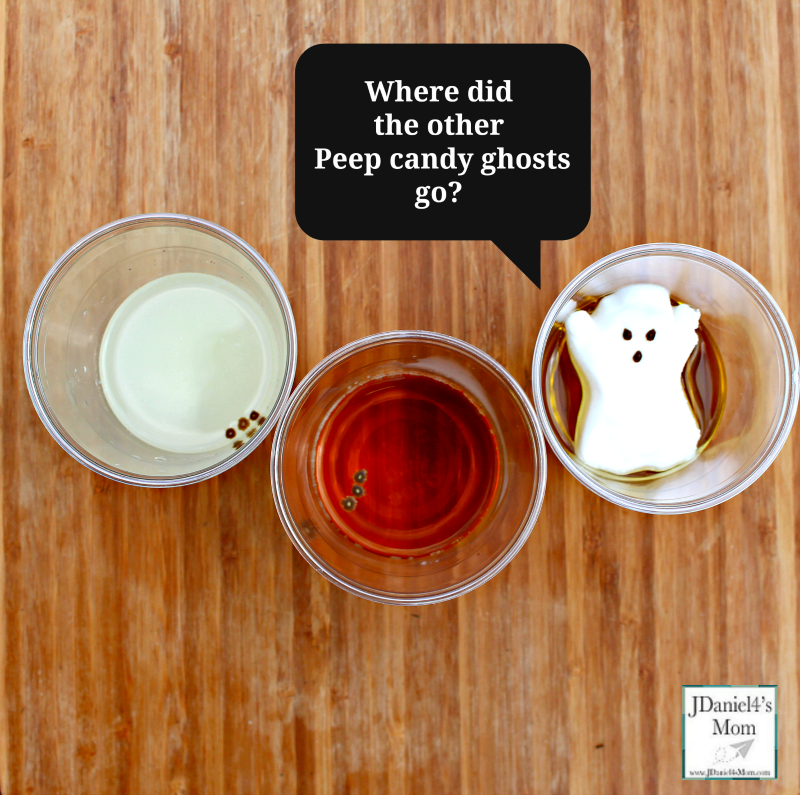 After twenty-four hours, you will need to remove the plastic container and observe what is in each of the cups. During the twenty-four hours, your children will be surprised to find that two of the ghosts have almost totally disappeared. They will notice that the two missing ghosts have left something behind. While their bodies have gone, they have left their eyes and mouth.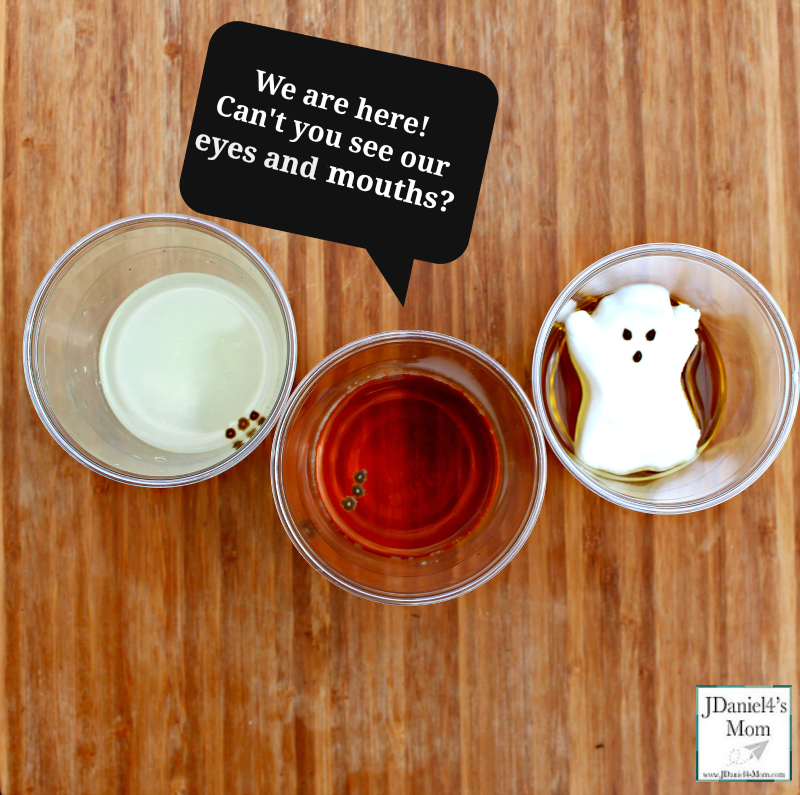 When your children look at the ghost in the olive oil, they may notice it looks a little shiny. Next, have them touch the ghost. It will probably feel really gooey and slimy.
If you like this Halloween experiment, here are some more you are going to love.
Fluffy Zombie Slime – Little Bins for Little Hands
Growing a Pumpkin in a Pumpkin-JDaniel4's Mom
STEM Pumpkin Printable– JDaniel4's Mom
Do Pumpkins Float?-JDaniel4's Mom
Discovering a Pumpkin: STEM Investigation – Share it! Science
Halloween Fun:  Spider Science Activities for Kids – Growing With Science
Halloween Ghost Balloons – Mama Smiles
Halloween Science: Static Electricity Ghosts – The Homeschool Scientist
Bubbling Pumpkin Experiments – Preschool Powol Packets
Halloween Robot Spider Craft – Inspiration Laboratories
Halloween Rock Painting for Kids – From Engineer to Stay at Home Mom
Happy Halloween Stained Glass Window – From Witty Hoots