We have been having lunch creations at our house for three years. I though I would share with you some of the Halloween themed lunches and snacks that JDaniel has enjoyed. I have called this post Halloween meals for kids.
Halloween Meals for Kids
If you see one that you like, please click on its link below and you will be taken to the meals' original post.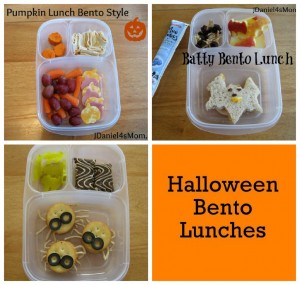 We have just started having bento meals this fall. JDaniel takes them to school once a week when he has late stay.
The first bento lunch in the collage is one he took to school just a few weeks ago it appeared in a post called Pumpkins Galore. Ham and cheese pumpkins were served without bread and pumpkin cream cheese rolls were served in a tortilla.
The second lunch in the top row is one that never had its own post. JDaniel took it to school two weeks ago.  It was filled with a batwich, apple bats, and chow mein noodles (JDaniel loves to snack on them.) with cranberries.
The bento in the bottom row has various symbols of Halloween. There are cheese and cracker spiders, neon green pickle cats and spooky sections of a Full Moon Brownie from Clif Kids. It was created for a Clif Kids Giveaway I hosted.
We had the best time making the food creation in the upped left hand corner of the Halloween Food Creation Meal collage. JDaniel and I visited the salad bar at Whole foods and he picked out of the food elements he used for
crafting a pumpkin salad.
I just made this owl sandwich for JDaniel to have when he came home from preschool for lunch. It is a simple cheese sandwich, but I think it ended up looking pretty cute.
The lunch in the bottom row is supposed to be a scarecrow's harvest lunch. The scarecrow came out pretty scary looking. I guess that it he would really scarecrows. JDaniel love the french fry corn stalk bundle in this lunch.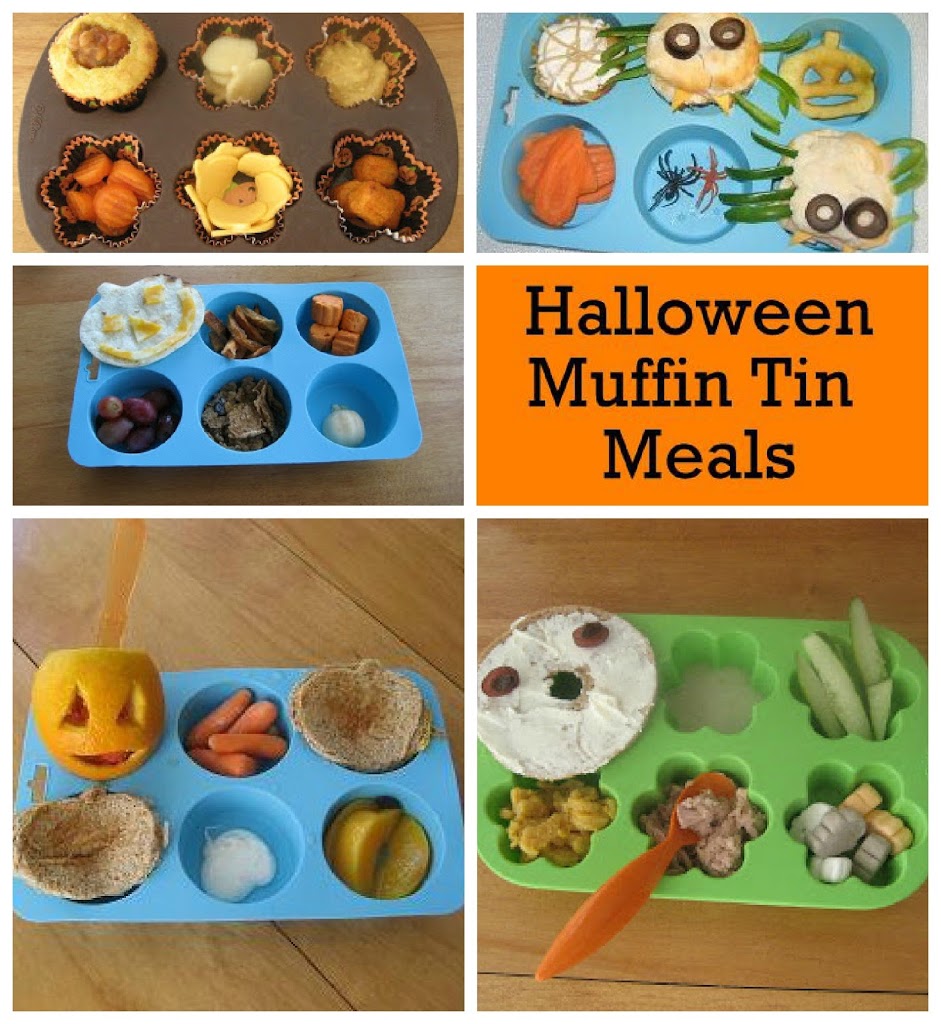 We started out our creative lunch journey by having muffin tin lunches. We linked them up to the Muffin Mom. As you can see a simple light blue muffin tin appeared in several Halloween meals.
The first lunch in the upper left hand corner is from a post called Muffin Tin Monday- Halloween. It was filled with wonderful fall foods. There was pumpkin chili served in a cornbread muffin, apple shaped pumpkins, pumpkin dip, carrots, cheese shaped pumpkins and sweet potato tater tots.
Two Spiders Have Lunch was one of my first muffin tin meal attempts. There was a web of sour cream nachos, spider biscuits, an aging apple slice pumpkin and some carrots. The web was so hard for me to create. The noodles seemed to have a mind of their own. This was one of those Halloween meals for kids that I thought would be easier to make that it turned out to b.
The meal on the middle row was featured in the
Pumpkins Galore post
. JDaniel had it for breakfast one morning a few weeks ago. He loves tortillas and cheese for breakfast so, I made him a pumpkin tortilla with cheese. He also had sweet potato french fries, pumpkin marshmallows, grapes, Raisin Bran, and a frozen yogurt pumpkin in this meal.
I saw the pumpkin face craved in a orange online and decided to fill it with fruit in this lunch from a post called A Great Pumpkin? Beyond the fruit salad pumpkin this lunch was filled with foods JDaniel loved as a two year old.
The last muffin tin is from a lunch called
Boo! for Lunch
. The title didn't come from the ghost shaped bagel. It came from the fact that the tuna and cucumbers were booed by JDaniel. He loved the mac and cheese, marshmallows and bagel though.
I hope you have enjoyed visiting our Halloween meals for kids from long ago and just a few days ago. I had a great time seeing what JDaniel has been served in the past.