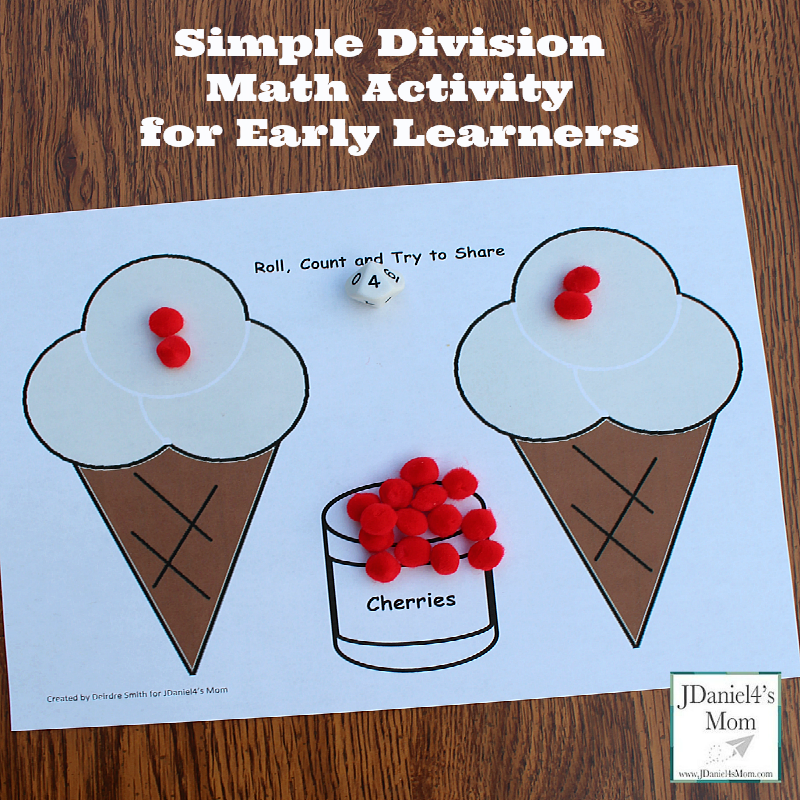 Earlier this week I shared with you a science activity based on the book Should I Share My Ice Cream? It was part of a weekly series I am doing with the Virtual Book Club. It can be used with young children and children my son's age.  I thought you might like to see another activity based on the book. This simple division math activity based on sharing. You can use it with children of various ages too.
Division Math Activity
Supplies
Some links below are affiliate links.
Directions for Playing This Division Activity
After reading the book Should I Share My Ice Cream?
, you will explain to your children that they are going to roll the die. Then they are going to gather up the number of pom-poms that matches that number. Next they are going to decide if they could share the same number of pom-poms with each ice cream cone. If they can, they will place each half in an ice cream section. If they can't, they will roll again.
The goal of this activity is to work on dividing by two. It also looks at even and odd numbers.  You don't have to tell your young children that they are dividing. You can tell them that they are looking for sharing numbers.  I would use the words dividing, even and odd with older children.
MORE FRIENDSHIP THEMED ACTIVITIES
Here are some more fun friendship themed activities from my fellow Virtual Book Club for Kids co-hosts. Click on the links below to explore all of the sharing and friendship activities.
Name Activities
Simple Friendship Concentration Game for Preschoolers- Toddler Approved
Spelling Names Ice Cream Center – Still Playing School
Number Activities
Sensory Activities
Kind Words Sensory Lesson – Preschool Powol Packets
Cooking Activities
Cupcake Cones – Kori at Home
Making Pumpkin Ice Cream with Friends – The Educators' Spin On It
Science Activities
Friendship Ice Cream Is a Fun Way to Practice Sharing – Mama Smiles
Color Activities