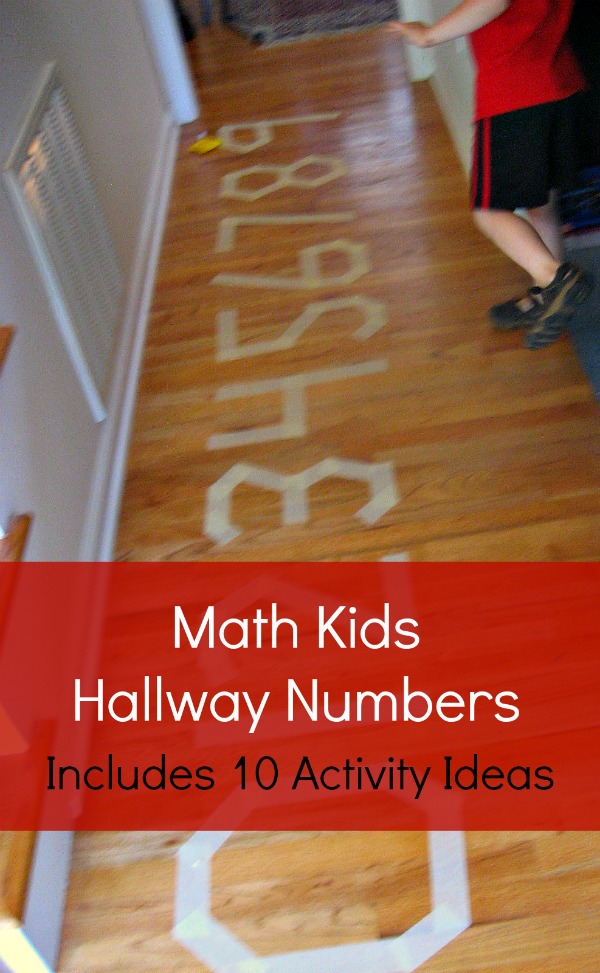 We don't have a lot of room in our house to spread out and work. The hallway that leads from the front to the back of our house is one of the few spots. I would like JDaniel to be one of those math kids that loves numbers and exploring them.
One morning while he was finishing his breakfast I grabbed a roll of masking tape and headed into the hallway. I had know idea how I was going to form the numbers with tape. The plan was just to make the numbers from 0 to 9 with tape.
I got to the number 4 when he looked in to see that I was doing. We were both excited about how they were turning out. I was thrilled that we both recognized what each number was supposed to be.
After he finished breakfast, I explained some of the ways I thought we could use these numbers. There were ten ideas I came with that I will share with you in a minute. I would like for you to put on your thinking caps and see if you can help me come up with more.  We are likely to have them on the floor for awhile and I would love the use them a lot.
 Here are the ten math kids activities that I came up with:
Blow a cupcake liner down the number line with a straw and count as it lands on each number.
Blow a cupcake liner as hard as you can down the number line and shout out the number it lands on.
Drop a cupcake liner from the stairs above and tell the number it falls on.
Toss a beanbag down the number line and whisper the number it lands on.
Toss a bean bag over your shoulder and see what number it lands on.
Hop down the number line and say each number as you land on it.
Trace the inside of the numbers with highlighter to work on number formation.
Roll a toy car in each number and count up to that number. ( This won't work for zero.)
Work on the concept of length. Lay objects over the numbers starting at one and see how long it is.
Pick a number and fill it with objects. Count how many objects will fill that number up.
Practice skip counting by jumping for a number.
What ideas do you have for the hallway numbers? 
Here are some other learning activities that use masking tape:
Let's Create a Graph on the Floor and Gather Data
19 Ways to Use a Tape Learning Maze