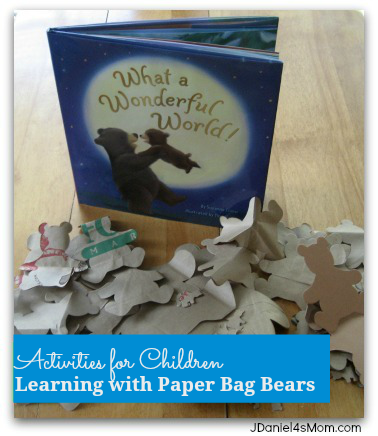 I  was recently sent the spring collection of Tiger Tales Book and What a Wonderful World!
was in it. It is wonderful tale told by a mother bear to her cub. She shares with them that we need to be thankful for each and everything placed on Earth for us to share. This book is filled with thanks to God the simply wonderful world we live in. The illustrations show the bears at the shore, the a field of flowers, in the forest and some much more. I love the warm illustrations. They draw you in and make you want to visit those same places to take them in and offer thanks for them. This wonderful book inspired a multitude of learning activities for children.
What activities for children we did with the book?

I went to JDaniel's school with a bunch of paper bags and used the Ellison to cut out a bunch of bears. We have a lot of brown paper bag and I thought we should use them in honor of  Earth Day. Paper bags really make a great material for learning activities.
Decorate and Weave
I had JDaniel decorate the front of the one of the big bears. Then we punched holes around the edge of two of the bears stacked on top of each other and wove them together.
Tell Me Your Favorite Part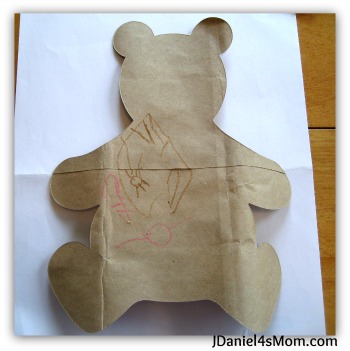 JDaniel was given a couple of big brown paper bears and I had him decorate them based on things that were  asked on a couple of index cards. I wanted him to draw his favorite part of the book, his favorite place, and something he is thankful for.
Alphabetical Order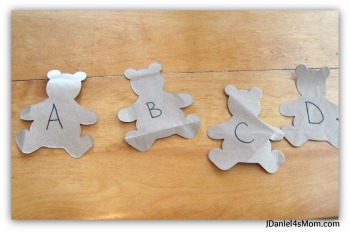 The bears were lined up on the floor in alphabetical order.
Before and After
I asked JDaniel to find the letters that came before and after a letter a placed on the table. It really made me think about letters.
Match the Letter to an Object 
I had JDaniel pick a letter and then find an object in the kitchen that matched that letter. We ended up with a lot of cooking tools. I think we should try this in his room and see what treasures he find there.
Write the Letter in Salt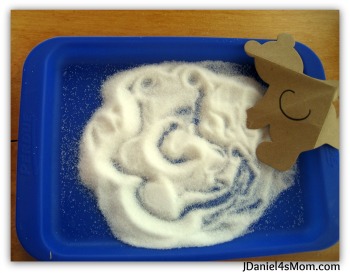 JDaniel wrote each letter he selected in a salt tray. We focused on uppercase letters this time. I think we will move on to lowercase letters next time.  JDaniel decided he needed to trace the bear and then write the letter.He did a great job on these.
Counting Buttons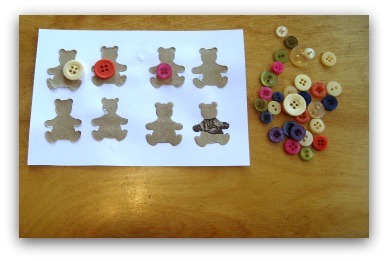 JDaniel practiced one to one correspondence by placing the correct number of button on each bear on a card.

Write the Number
Then JDaniel practice writing those numbers in the salt I had placed in a tray.
Shape the Number
JDanel loves buttons. I had him form the number using some buttons I had placed in a cup.
Here are some other activities for children I know you will love:
Making Learning Fun with Rainbows
Kids Sensory Learning Activities
Outdoor Activities and Learning Games
What other activities for children could we do with these bears?

Disclaimer: This post contains affiliate links. I was sent the book What Wonderful World by Tiger Tales Books to review. All thought about it are my own.