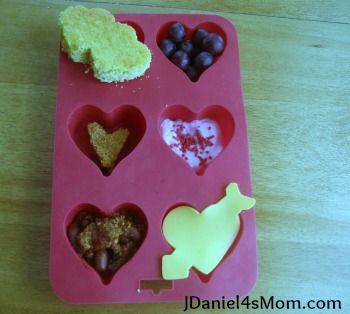 On Monday JDaniel came home from school and asked if I had made him a muffin tin lunch. For a long time he had a special muffin tin lunch with a theme a couple times a week. I have moved on to bento style lunches this past fall and I guess he has been missing them. I told him that I hadn't made him a muffin tin lunch, but I would dig around in the refrigerator for some foods we could have to create one. You want to try come up with  Valentine's Day ideas for kids lunch they will enjoy.
 Valentine's Day Ideas for a Kid's Lunch
Once I assembled a wide variety of foods, we used some heart shaped cookie cutters to transform a few of them into hearts. Others were red in color and were just placed into a heart shaped muffin tin that we have.
JDaniel ended up with cornbread hearts. (I tried to get rid of all the breadcrumbs, but as soon as I got rid of some others fell of the bread.) Red grapes also ended up in the top row. The second row contains a pumpkin bar cookie cut into a heart shape and strawberry yogurt with sprinkles. The bottom row has leftover chili and a slice of American cheese cut into a heart.
As I mentioned, I have started to make themed bento lunches for JDaniel to have when he stays for Lunch Bunch at school one day a week. Below is the lunch he took to school last week. It too has a heart theme.
The bento lunch contains a slice of ham, a corn tortilla, and a chunk of Laughing Cow cheese all cut into heart shapes in the main compartment. The top compartments contain dried cranberries and a heart shaped apple along with a heart shaped tomato.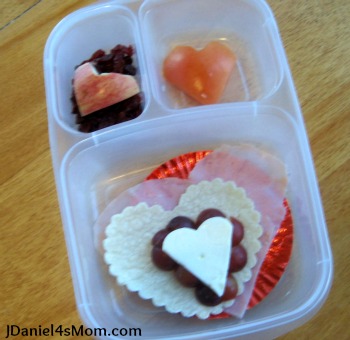 I have to confess that JDaniel did a much better job on the muffin tin lunch then the bento lunch. The bento lunch returned home with the cranberries, tomato, and ham still in the box. JDaniel likes tomatoes, dried fruit, and ham usually. I guess they just weren't foods in loved on that day.
What are some of your Valentine's Day Ideas for kids meals?
This post is linked to Muffin Tin Monday!