This post contains affiliate links.
This week we looked at the book Merry Christmas, Merry Crow
by Kathi Appelt. It is  wonderful tale of a crow who is constantly gathering treasure or bits of junk. Where ever he flies, he find something a ring, string, garland glimmering and so much more. Just about anything can be  a bird ornaments.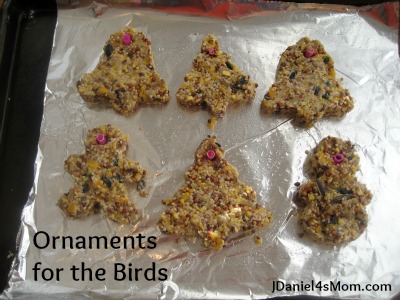 By the end of the book he has decorated a tree in the park for the other birds and everyone who stops by the park to see.
How did we explore Merry Christmas, Merry Crow?
Ornaments for Birds
Orange Shell Bird Feeders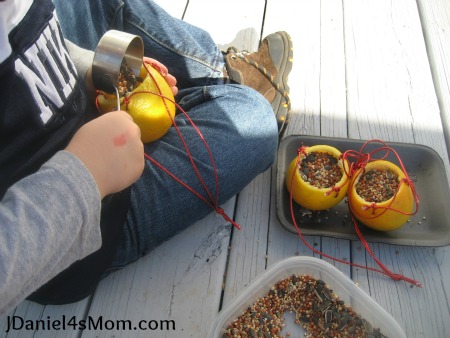 This tree in our front yard is the favorite resting place for many birds. JDaniel and I decided it was was the perfect place to hang our orange shell bird feeders. 
I hallowed out three oranges by cutting off their tops and scraping out as much of the pulp as possible. JDaniel thought it could have been in little cleaner inside, but wasn't interested in scraping.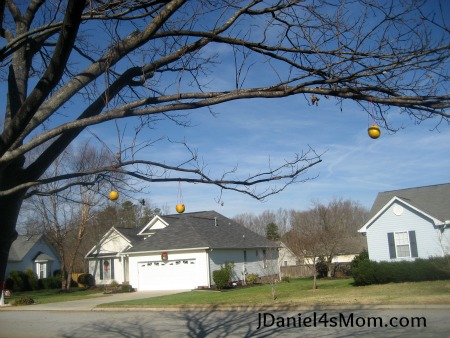 He enjoyed filling the oranges up with birdseed after I have attached colored twine to the oranges. At first he keep the oranges in the black tray to keep to birdseed from going everywhere. After I short time, he  decided to hold the oranges and do a forwards scoop into them.
The forward scoop idea actually did a great job of  keeping the seeds from spilling out. It looked cool too.
Bird Seed Ornaments
Every year JDaniel and I try to make bird seed ornaments and every year some fall apart before getting outside to hang on a tree for the birds. This year's ornaments is made of suet and birdseed.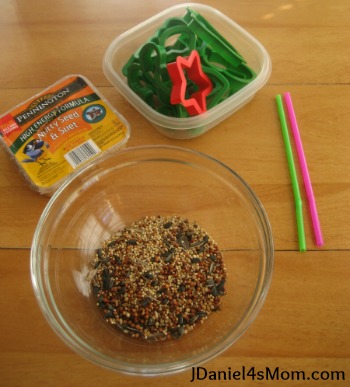 We started by gathering everything we would need. There was suet, birdseed, cookie cutters and straws. We started  by melting down the suet a little. Then we mixed the suet and the birdseed together.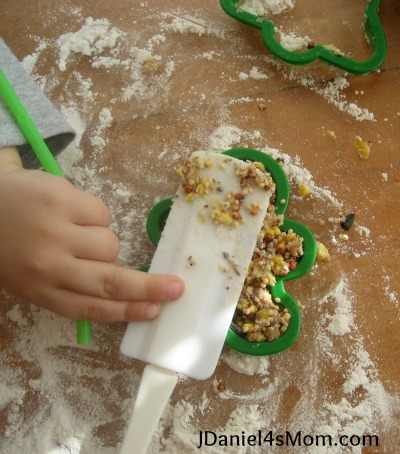 After stirring the birdseed and suet together, we molded the mixture into holiday shapes by putting it into cookie cutters. JDaniel used a spatula to push in as much as we could into each cookie cutter.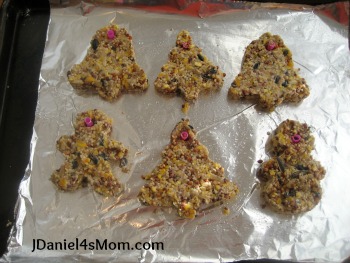 Once each ornament had been formed, we put it on an oiled foil covered cookie sheet to dry out. A small piece of a straw was pushed into each ornaments to make a place to put a ribbon through later.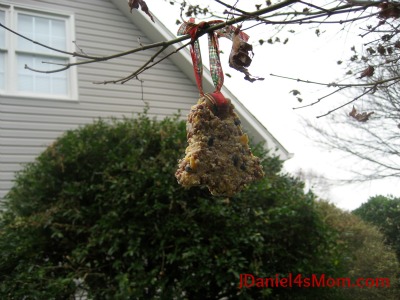 Finally I put ribbon through hole and we hung the  bird ornaments on a tree beside our house.
Here is wonderful posts from last week's link up:
How have you explored books this week?