JDaniel and I were browsing at the library last week when I noticed the book Rosie Sprout's Time to Shine
 sitting on top of the shelves. I have been wanting to start some spring planting projects with JDaniel so, I took it down and added it to our library pile. It is a wonderful book. The librarian that set it up on the shelf deserves my thanks!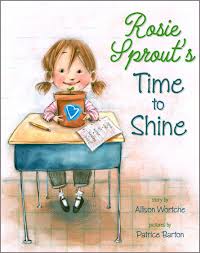 In the story Rosie Sprout's Time to Shine Rosie isn't the star of her class at school. Violet is the star and everyone else in the class agreed that she was.  Well, everyone except Rosie. She was tired of hearing everyone praise Violet including Violet.  Yes, she did everything well, but enough was enough.

When everyone is asked to decorate a flower pot, Violet's is the best decorated and Rosie contained a simple heart. Rosie and Violet are the first to have a sprout, but Violet shouts it out first.  When Violets starts to be taller than Rosie's, she can't take it. Rosie has to push soil over top of it.

Rosie regrets her mistake when she finds out that Violet has the chicken pox and won't be able to tend to her plant. That is when Rosie really shines. She is the best she can be and she is the best friend she can be. Rosie sings and tends to both her plant and Violet's.

You will have to read Rosie Sprout's Time to Shine to see what happens when Violet gets back from being sick. Just know that this really is Rosie's time to shine.
What did we do to explore Rosie Sprout's Time to Shine?
Number Recognition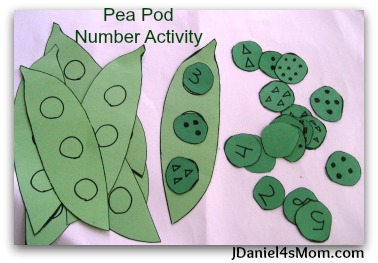 JDaniel and I worked with homemade pea pods. Some of the peas had number represented by numbers. Some peas had numbers represented by dots. Some of the peas had numbers represented by triangles.
The goal was to put the three peas that belonged together in the same pod.
Letter and Sound Match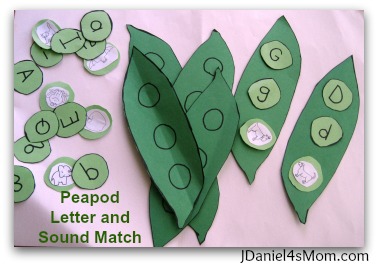 This pea pod letter and sound matching activity is just like the math pea pod activity. The goals was to find the three peas that belonged in the same pod together.
When pod had its three pods, it should have an uppercase letter, a lowercase letter, and an object that began with that letter.  I was really pleased to see that JDaniel could match each of the letters quickly and find the right picture for each pod. He did change the game a little, but I will share that story with you next Wednesday. It deserves its on post.
Decorating a Flower Pot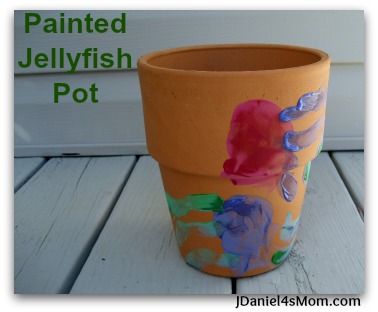 JDaniel was asked to paint whatever he wanted to on this flower pot. Rosie was told to decorate her post anyway that she wanted to and I told JDaniel the same thing.
He really wasn't into painting the afternoon I set out the paint and flower pot. He painted the jellyfishes bell shape and didn't want to paint the tentacles. I talked him in to doing some if I did some too.
I wasn't surprised that this pot as a jellyfish them. We read books about them everyday. You may remember I even made him a jellyfish mobile for his room.
Disclaimer: This post contains affiliate links.