The links below are affiliate links.
This week we looked a simple children's book that looks at a section of The Hobbit . It has amazing illustrations and only looks at brief section of the book. JDaniel really seemed to enjoy it. I think he will like reading or having the whole book read to him when he gets older.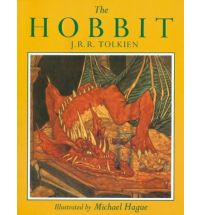 JDaniel is a little like a Hobbit. He doesn't have fur on the top of his week like they do, but he really like to snack like they do.
Here is the hobbit meal schedule:
1. Breakfast
2. Second Breakfast
3. Elevensees
4. Lunch
5. Afternoon Tea
6. Super
What did we do to explore The Hobbit?
Well, I looked at a number foods mentioned in The Hobbit along with recipes for them. Pork pie was mentioned as one. I wasn't sure I could convince JDaniel that he really wanted to try it. Biblo , the main character, was fond of seed-cakes. Again I wasn't sure how he would feel about them. Buttered scones are a favorite of mine and I found that they were probably served during tea in the Shire where Biblo lived. I am great a buying scones but, I am not great a making them. My scone are a little rock like.
Rather than make a dish from the book I decided to make a bento meal with symbols from the book.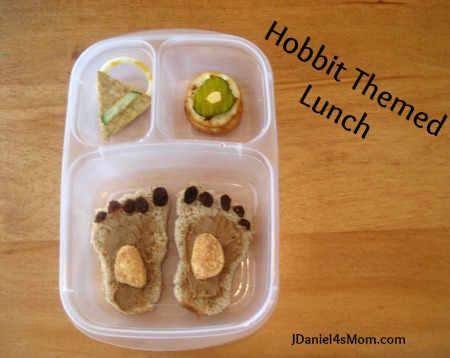 I made Gandalf's hat out of a cracker and a cucumber. The "Precious" ring is made of Colby Jack cheese. There is a Hobbit's door made of crackers, cheese and pickle. Biblo's door was green from some reason. Finally there are Hobbit feet. The feet are made of whole grain bread, nut butter, a toasted coconut marshmallow and raisins. Hobbit's have fur or hair on the top of their feet. I think that coconut looks a little hair like.
If you would like to see more Hobbit themed meals, you can head to Biting the Hand That Feeds You!  They are the next part of the Hobbit hop that this post is also apart of .
Here are some wonderful non- Hobbit posts that linked up last week. 
I love the little owls that Like Mama~Like Daughter made after reading Little Owl's Night.  We read Little Owl's Night and loved it too.
Fantastic Fun and Learning read One Snowy Night and then made the most adorable hedgehog. I bet Bilbo might have seen these animals on his travels in The Hobbit.
How have you explored books this week?