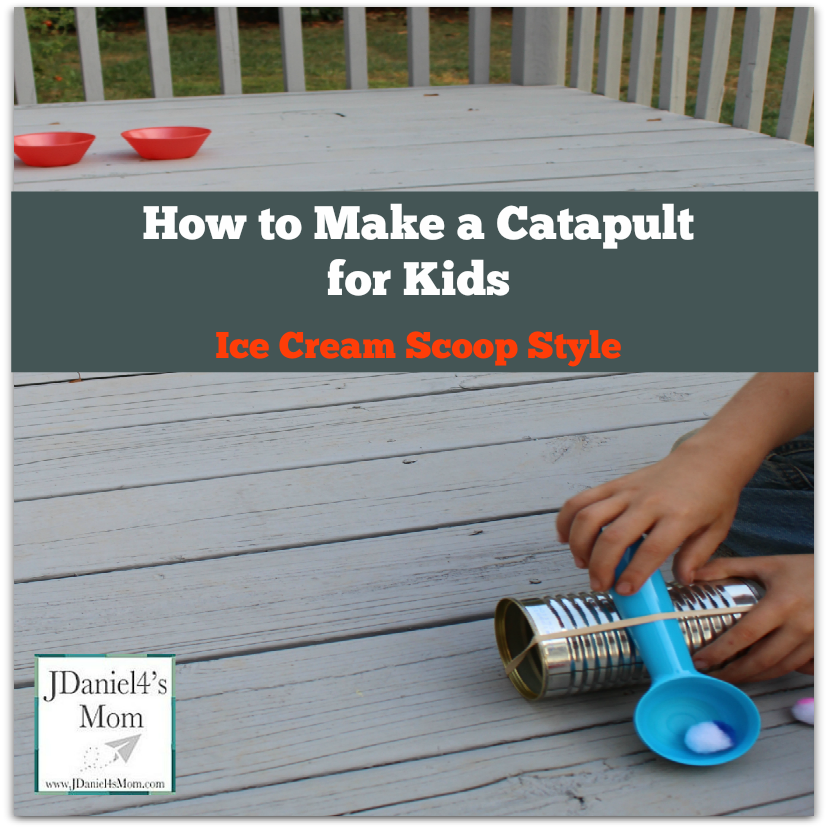 The book Should I Share My Ice Cream?
by Mo Willems is a favorite at my house. I recently asked JDaniel what he remember about the book. He remembered all the key points. "Elephant spent so much time deciding if he should share that his ice cream melted! Thank goodness Pig came along with ice cream to share!" he told me.  I am sharing with you today how to make a catapult for kids or with kids.  This activity has two bowls that kids will try to get the pretend ice cream balls into. It is important to share ice cream with both locations.
How to Make a Catapult for Kids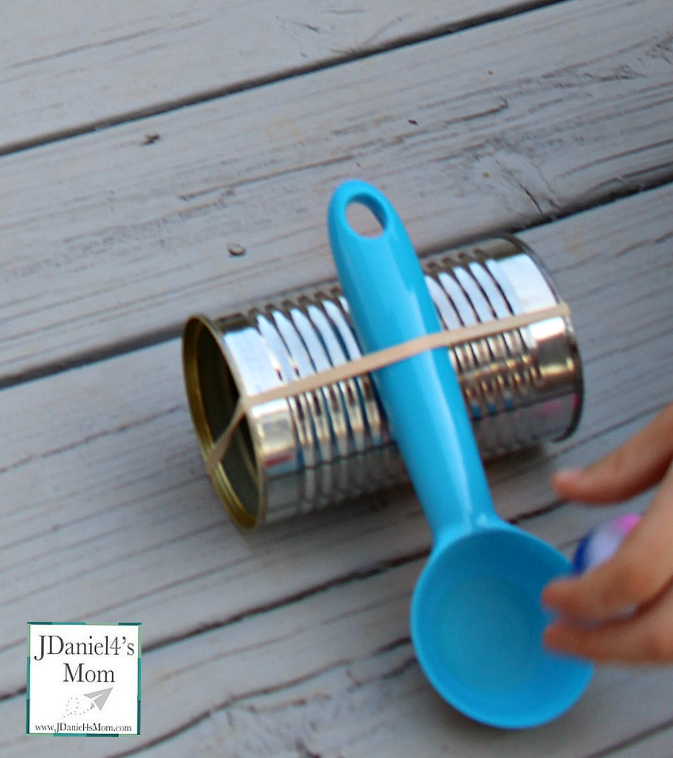 Supplies
Plastic Ice Cream Scoop (We found one at a dollar store.)
Metal Can (You can choose to use a full can with younger children.)
Rubber Band
Pom-Poms
Two Bowls
Putting the Catapult Together
How to make a catapult for your kids will depend on their ages. We used an empty can that had the sharp edges sanded down with sandpaper, an ice cream scoop and a a heavy rubber band at my house.
Other Options
You may choose to use an unopened metal can. The contents of the can will help the fulcrum or center point of the catapult stay in place.
You could use an metal can that has had rocks placed in it. A plastic lid can be place on the opened end.
How to Use the Catapult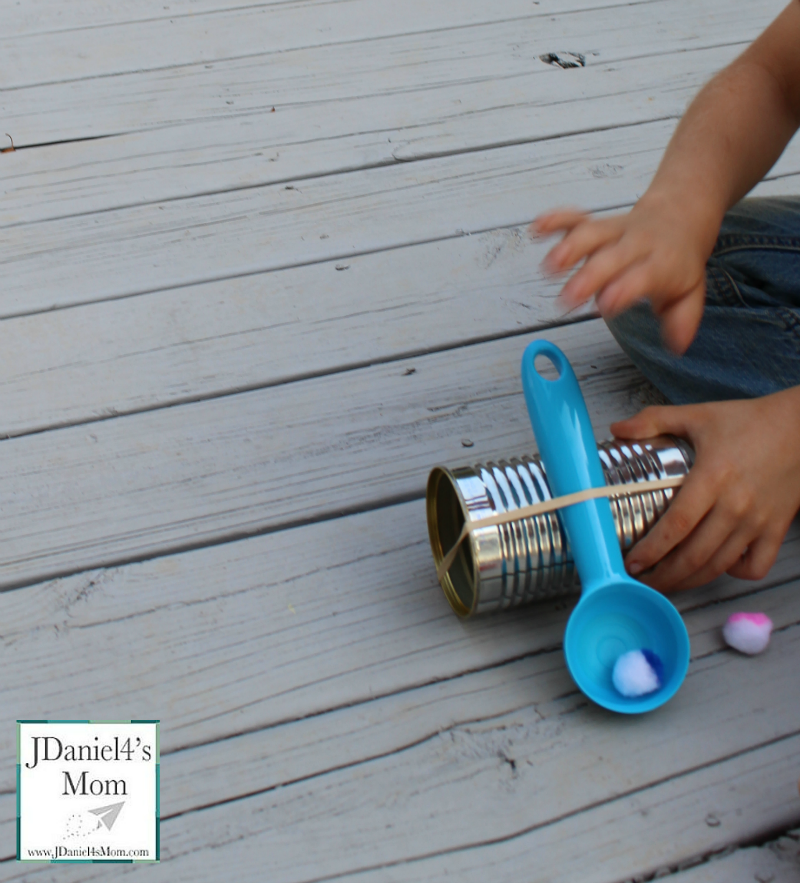 After slipping the scoop in place, the goal is to fling pom-poms into each bowl. You can move the bowls forward or backward after each attempt if necessary.  You can also move the catapult closer to the bowls if you like.
More Preschool learning for Should I Share My Ice Cream?
This is year I am participating in the Virtual Book Club with a number of other bloggers. This week's book choice is Should I Share My Ice Cream? Below you will find a wide range of activities that you can work on with your children. They cover a wide range of preschool concepts.
Here are the books coming up next in the Virtual Book Club. You may want to look for them at your local library ahead of time.
SEPTEMBER 26
Theme: Leaves
Featured Book:
Leaf Man
by Lois Ehlert.
Leaves! Leaves! Leaves!
would also be a great pick for this theme.
OCTOBER 3
Theme: Pumpkins
Featured Book:
Five Little Pumpkins
by Dan Yaccarino. There is a fun new
Pete the Cat: Five Little Pumpkins
book out that would also be great for this week!
OCTOBER 10
Theme: Farms
Featured Book:
Little Blue Truck board book
by Alice Schertle.
Big Red Barn
Big Red Barn is a great alternate read.
OCTOBER 17
Theme: Spiders
Featured Book: The
The Very Busy Spider
by Eric Carle.
Miss Spider's Tea Party
is a cute book you could substitute for this week. It seems to be out of print, but used copies are very inexpensive and it is still likely to be available in libraries.