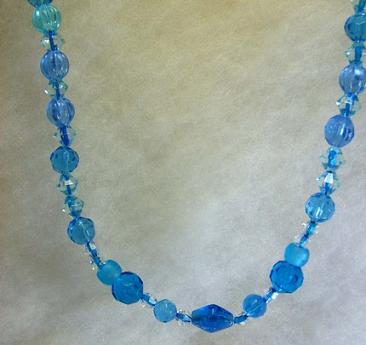 Sharon does such a beautiful job on her necklaces. I know the picture I am posting doesn't do it the justice it deserves. As the summer draws to an end, this necklace is the perfect thing to help you remember the blue of the ocean and the summer sky. The clear beads beautifully reflect light and will brighten any outfit you wear it with.
Bio on Etsy:
I love doing jewelry, painting, sculpting, sewing, wire wrapping, and drawing. I love working with copper, any kind of copper. I always enjoyed doing these kind of things, but I didn't even gave it thought that I could sell my items and ideas. My friend (Tinkershop.etsy.com) told me about this site and I sold an item the second night I was listing. It was such a thrill and it was from another seller here on Etsy. I thought that was nice thing to do. I always appreciate that this person gave me my first sale, but also my confidence. I've had to struggle with some health issues and close the shop for a while. So I am truly happy to be here this year.
What the artist says about her necklace 'Blue Waters and Ice'
The title says it all. It is blue and it is lovely. This is another of my all glass bead necklaces. I love to mix all kinds of beads, charms and textures, but nothing really shines like quality glass beads. My friend at(Tinkershop@etsy) and my daughter made many of the beads that I use. For this piece, I just used clear and vibrant-blue glass beads. It looks so pretty. Look at how the clear glass beads reflect light in a prism effect.
This giveaway begins August 17th and ends August 24th at 11:59 p.m.
What do you need to do to get this great necklace?
– Go to Sharon1420 and leave me a comment telling me about another of her beautiful items. (1 entry)
For extra entries do any or all of the following leaving a separate comment for each entry.
* Purchase any of her necklaces and come back leaving a comment telling me that you did. (2 entries)
* Subscribe to my blog or sign up as follower. Leave me a comment saying that you have subscribed or that you already do. (2 entries for each)
Look to the right to find what you need to do these options. If you already subscribe or follow, please leave a comment telling me that you do.
*Enter one of the other giveaways I am hosting. Leave a comment telling me which giveaway you entered.(1 entry)
* Blog about this giveaway, and then come back and leave me the link to your blog entry. (2 entries)
* Twitter about this giveaway with a link back, you must also be following me on Twitter. Copy and paste: Bluewatersandicenecklace@JDaniel4smom .(1 entry)
That is 6 ways to win. The winner will be chosen by using the random number generator at http://www.random.org/. )
(Visited 33 times, 1 visits today)