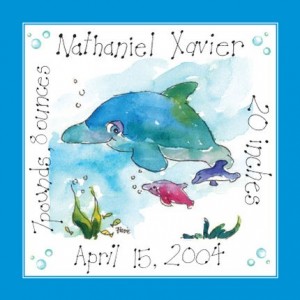 I love this print of Cheryl's Watercolor 'In the Swim of It'. The whimsical dolphin would fit perfectly into any nursery or child's room. It would hang beautifully over a changing table. Little ones would enjoy watching the dolphin and his friends swimming by.
Cheryl has a number of really fun prints to choose from on her site. She has been very generous and offered that you may select another print if you prefer that is of equal or lesser value. Please let me know in your entry if there is a different print you would like to win.
Biography of the Artist found on her Etsy site:
Hi, I'm Cheryl Peddie. I live in Calgary, Alberta with my husband Steve and Shih Tzus, Emma and Tucker. I work as a full-time artist and graphic designer.
I paint in a loose, friendly style with sunny, clear colors, and enjoy working with watercolors and oils. Over the 15 years I've been creating art, I've illustrated a selection of books and have participated in many local art shows. I'm also proud to have a line of greeting cards, published by Sharper Cards. If you're ever in the Calgary area, stop by Galleria Arts & Crafts – it's an art gallery in the Inglewood area. You'll find a variety of my original paintings there.
Where do you find her work on the web?
emergecreative.ca
pinkpaws.ca.
PinkPawsArt on Etsy
What the artist says about 'In the Swim of It':
Want to welcome a new baby or decorate your older child's room? 'In the Swim of It' is hand-personalized, so can can be ordered with just your child's name, or for baby – with name, birthdate, weight and length.
'In the Swim of It' is a print of my original watercolor painting. Sized at 6″ x 6″ and shipped in a presentation folder, it's ready for gift-giving, framing, or scrapbooking.
I print, hand-sign, date and package each one of my prints in my studio. Printed on Epson Ultra Premium papers with Claria inks.
This giveaway begins August 17th and ends August 24th at 11:59 p.m.
What do you need to do to get this great print?
– Go to PinkPawsArt and leave me a comment telling me which print you would select. Remember you may select 'In the Swim of It' or another print of equal or lesser value.
On Monday please go to PinkPaws instead and tell me what print you like. You can pick any of the Birth Record Prints. The Etsy site will be closed until August 31st while Cheryl is on vacation. If you love her work and don't win, please check her Etsy site after the 31st of August or order off her Canadian site. (1 entry)
For extra entries do any or all of the following leaving a separate comment for each entry
* Subscribe to my blog or sign up as follower. Leave me a comment saying that you have subscribed or that you already do. (2 entry for each)
Look to the right to find what you need to do these options. If you already subscribe or follow, please leave a comment telling me that you do. Yes, you still get two entries.
* Blog about this giveaway, and then come back and leave me the link to your blog entry. (2 entries)
* Twitter about this giveaway with a link back, you must also be following me on Twitter. Copy and paste: Intheswimprint@JDaniel4smom .(1 entry)
*Sign up for Pink Ink – The PinkPaws.ca Newsletter and let me know in a comment that your did (1 entry)
That is 6 ways to win. The winner will be chosen by using the random number generator at http://www.random.org/. )
Clue 1: For to
(Visited 31 times, 1 visits today)